Custom coachbuilding of the 1920s and 1930s was the ultimate form of self-expression for the rich and famous. Whether it was a Waterhouse-bodied Packard, a Figoni & Falaschi-bodied Delahaye or a Murphy-bodied Duesenberg, the affluent could essentially own a one-of-a-kind vehicle. Each of these famous coachbuilders was known for their specialized workmanship and was commissioned to build custom bodies over the years. Conversely, a company more accustomed to clothing buses and trucks with their commercial styling wouldn't be the typical choice to build the coachwork for a Rolls-Royce, yet Jonckheere Carrossiers of Belgium did just that when they re-bodied a 1925 Phantom I with what could arguably be considered the most ominous Rolls-Royce coachwork ever created.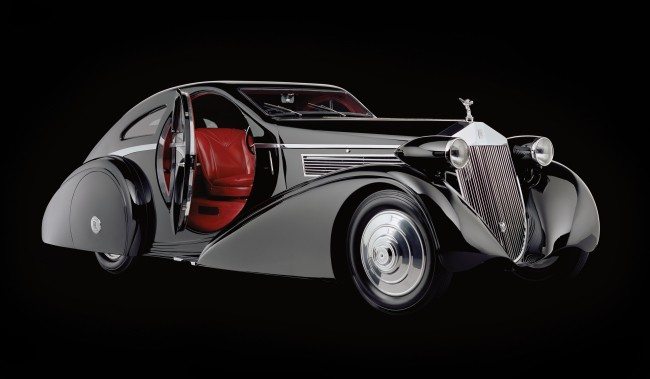 In May of 1925, Rolls-Royce launched the New Phantom (today noted as the Phantom I) to replace the 40/50 model, which was from then on referred to as the Silver Ghost. With increasing competition from the likes of Hispano-Suiza and Isotta Fraschini, a power boost was the logical upgrade. The New Phantom was, in fact, only the 40/50 chassis with a slightly larger engine. An increase in displacement from 7428cc to 7668cc and the change from side valves to overhead valves were the only major powertrain improvements! The braking system on the other hand was dramatically improved when front wheel brakes were installed. The conversion from side valves to overhead valves also meant a slightly higher bonnet and that would come to influence styling as PI chassis began the trek to various coachbuilders.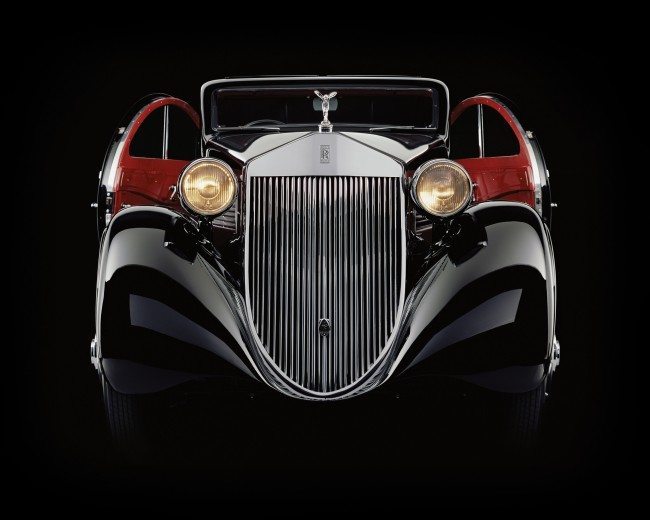 Beginning its life with a stately Hooper Cabriolet body, this particular Phantom I was never delivered to its original purchaser in Detroit, after a last minute change of opinion. Instead it was re-sold as new to the Raja of Nanpara. It left northern India and passed through several more owners before making its way to Belgium in 1932. Two years later the Hooper Cabriolet found itself in the Jonckheere shops undergoing an extensive makeover.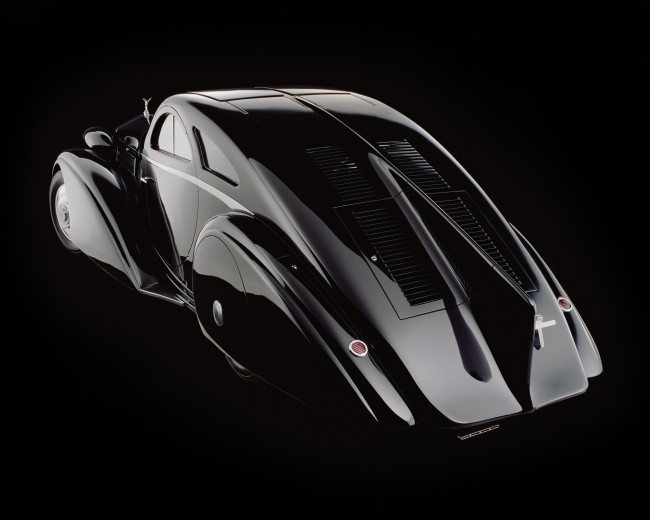 Established in 1881 as a carriage-builder, Henri Jonckheere built his first luxury automobile in 1902. Henri's son and successor Joseph, built his first bus body (and the company's fortunes) in 1922 although car bodies were still a large part of production into the early 1930s. The fashionably aerodynamic fastback body fitted to the PI today was undoubtedly inspired by the French luxury chassis of the day sporting coachwork from designers like Jacques Saoutchik, Joseph Figoni, and the house of Letourneur et Marchand.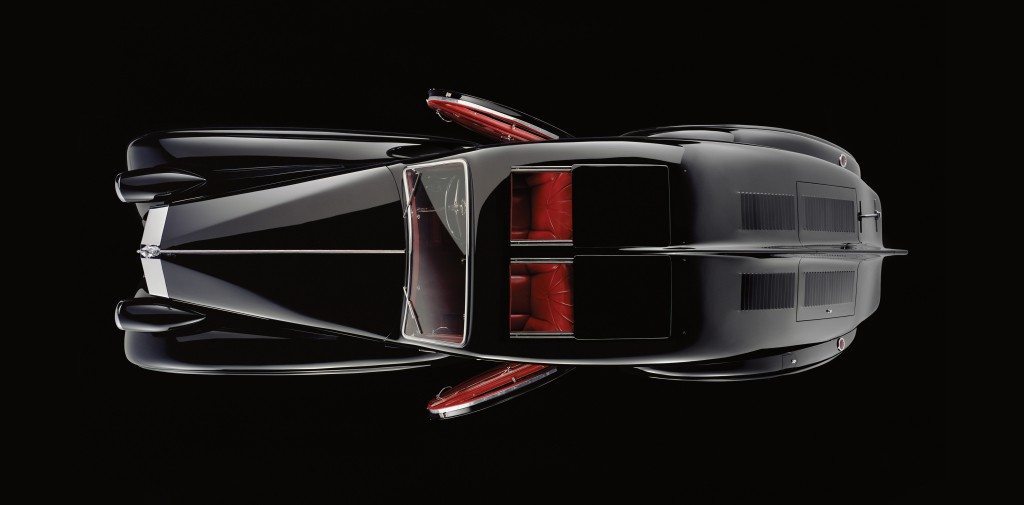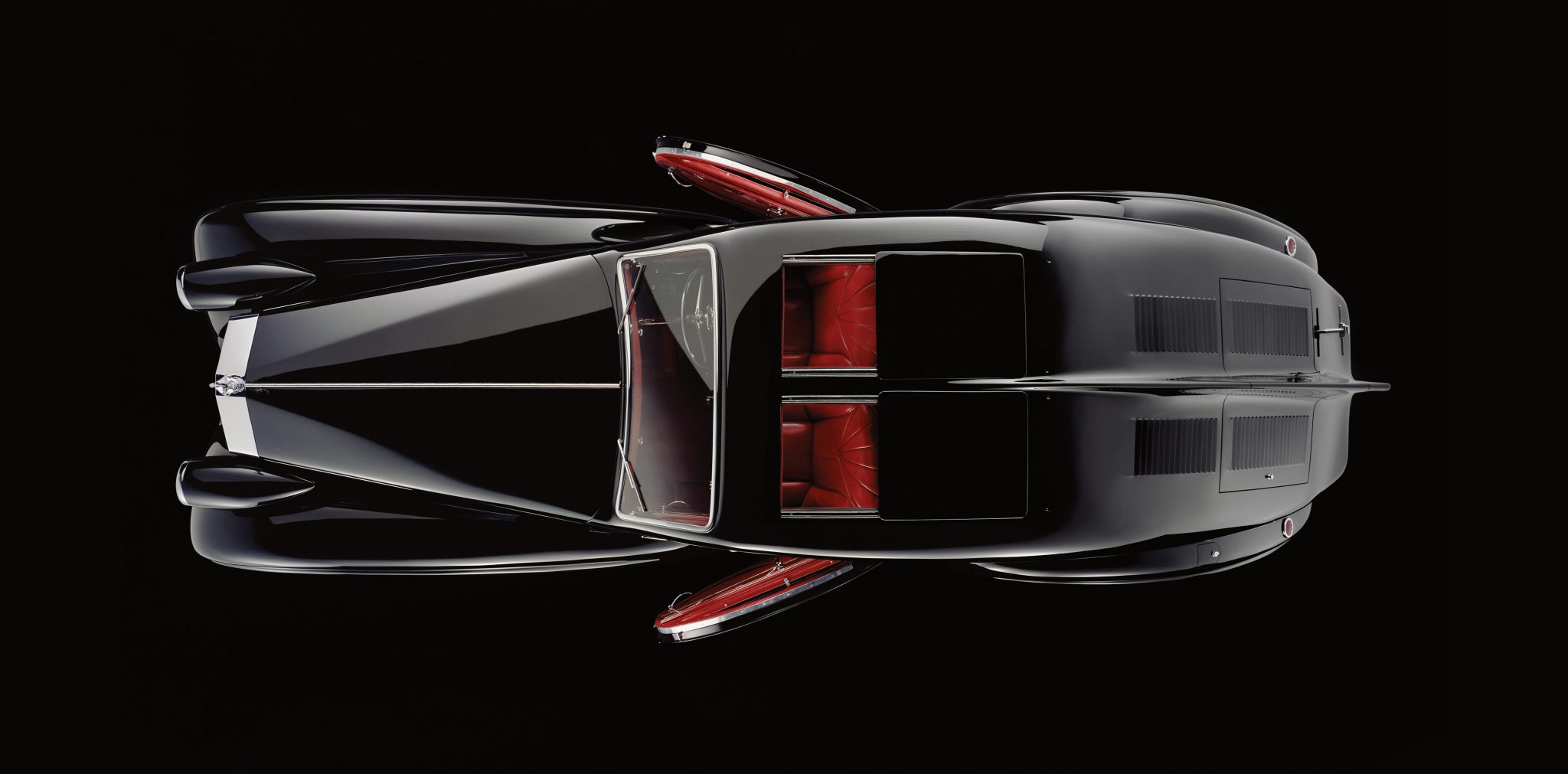 In the early 1930s very few designers had considered (or dared) to modify the traditional Rolls-Royce vertical grill but that alteration became essential to Jonckheere achieving a more streamlined profile for the Phantom's new body. Bullet-shaped headlights, flowing fenders, and a long vertical tailfin down the boot lid finish off the sleek contours. As Figoni experimented with oval doors, Jonckheere went with unique, large round doors which operate flawlessly and allow passengers into either row of seating. As attractive as round doors may seem, they did however present an issue for operating windows. The solution was to fabricate a two piece window that simultaneously split like scissors down into the door. At nearly 20 feet in length, it could very well be the largest 2-door coupe in existence. Unfortunately a few years later, the Jonckheere records were destroyed in a fire and it remains unknown who commissioned or designed this one-off masterpiece.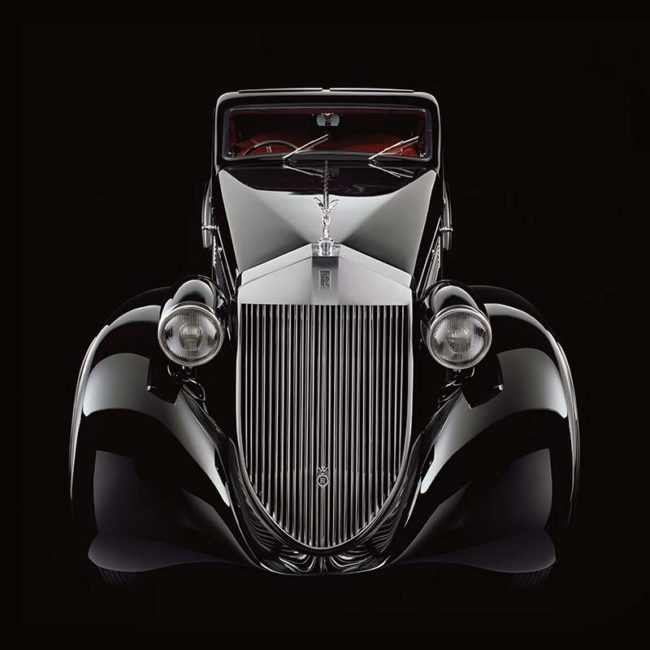 Although not a favored design by most die-hard Rolls-Royce enthusiasts, it did succeed in winning over the Concours d'Elegance judge's hearts. In 1936 it received the Prix d'Honneur at the Cannes Concours d'Elegance. It then passed through several other owners before making its way to the United States just before WWII. In the U.S. the exuberant styling was more openly accepted but due to owner neglect, the car fell into disrepair. Thankfully it was discovered once again in the 1950s but in near derelict condition and eventually acquired by East Coast entrepreneur and early classic enthusiast Max Obie, who began refurbishing it. He proceeded to paint it gold with several pounds of actual gold flake added to the paint for maximum visual impact. Even painted in gold, this monstrosity wasn't enough of a spectacle for Obie, who then initiated false rumors that it was once owned by King Edward VIII, later the Duke of Windsor. As outlandish as this statement sounded, it did its job to make excellent press. All of this assisted Obie's new money-making scheme. He toured the car around to shopping centers and other public areas offering a secretive peak at a "Royal Rolls" for a fee much like a freak show.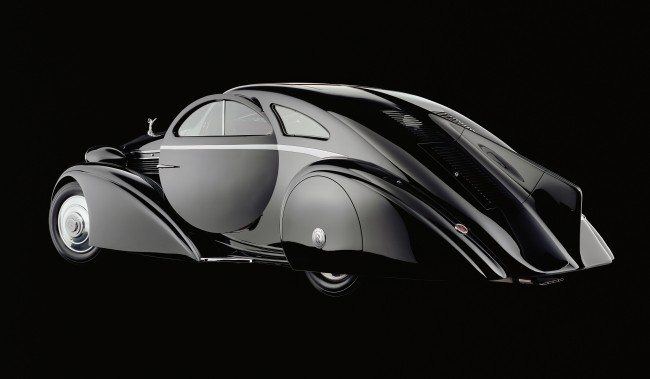 The Jonckheere Phantom or "Round Door Rolls" as it's commonly referred to today, remained on the East Coast, changing hands and color once again; now an unappealing off-white. Jumping ahead to 1991 and the peak of the international Classic Car craze, this unique Rolls-Royce crossed the auction block for the amount of $1.5 million to a Japanese collector. There it sat, un-shown and almost forgotten until the Peterson Automotive Museum obtained it in the spring of 2001. As with all of the Peterson's prized exhibits, this new acquisition deserved immediate attention and underwent an extensive ground-up restoration.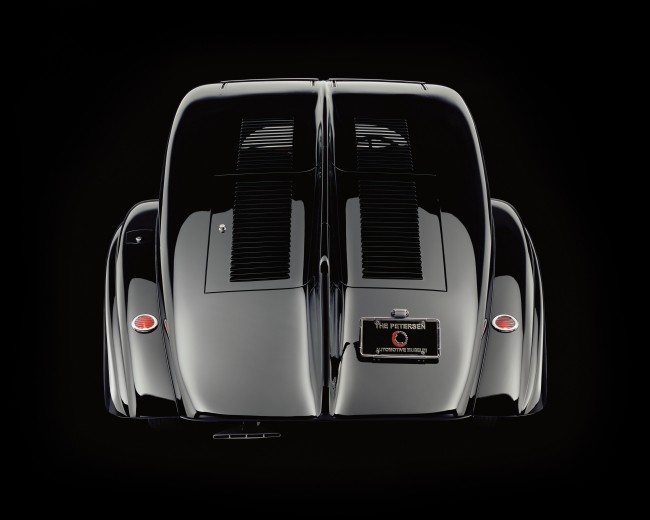 It was discovered that over the years the previous owners had taken upon themselves to renovate the car in certain ways, albeit not up to concours standards. That meant a lot of additional time spent on researching and checking virtually every component for wear and authenticity, then reconditioning or replacing parts as needed. Originally built in 1925, the chassis and drivetrain components were period correct while the body and interior, including the gauges were fittingly suited to the mid 1930s as expected. During the body preparation process, it was clearly determined that the existing white, nor the gold, or even the specks of robin's-egg blue paint found underneath were the car's original color. The decision to paint the Phantom black was made to help accentuate the flowing curves and massive proportions of the car. Nothing defines shapes better than a dark color.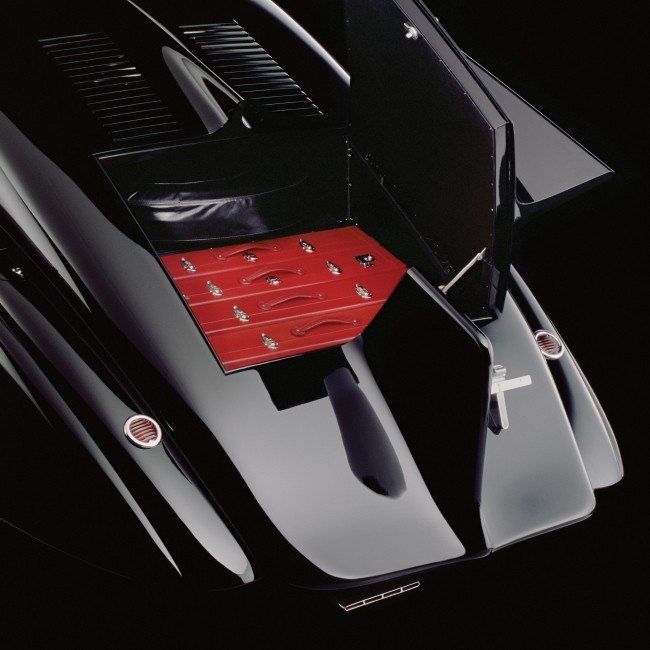 As with all Phantoms, this Rolls-Royce requires a lot of input from the driver. It's a beast to steer at low speeds, requires double-clutching during gear changes (much like an old Jonckheere bus), and understandably due to its weight needs adequate distance for braking. As for its turning radius, U-turns were probably not part of the driving experience. The car's very low ground clearance suits the overall silhouette but can also be troublesome when approaching slopes (driveways) or speed bumps due to the long rear overhang. The vehicle's high seating arrangement provides a great view of the road for the front occupants but the rear sloping roof cuts into rear passenger headroom to the extent of uncomfortable slouching.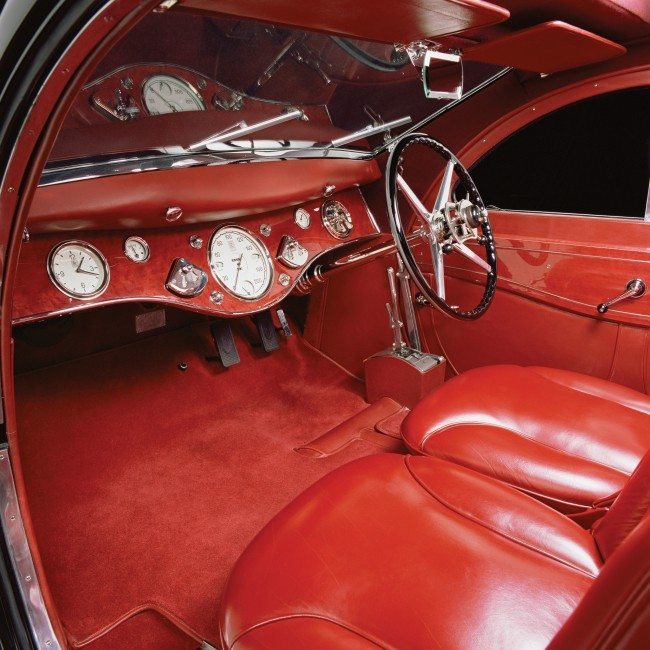 All of these apparently faulty design elements mean absolutely nothing when reflecting on the real purpose of this car; to impress all who see it. Whether it's viewed by pedestrians, other motorists or even concours judges, this behemoth makes a serious statement.
Since its spectacular restoration, the Round Door Rolls has prestigiously been shown at both the Pebble Beach and Meadowbrook Concours d'Elegance. Due to missing historical records it was regrettably ineligible for any top prizes, but did receive the Lucius Beebe Trophy reserved for the finest Rolls-Royce. At Meadowbrook the Peterson Museum appropriately collected the People's Choice Award for its appearance. And at Keels & Wheels in Houston, it won Best of Show European. Like countless other classic automotive beauties, this fine piece of art deco design has traveled a rough road and gratefully received the attention it so richly deserves.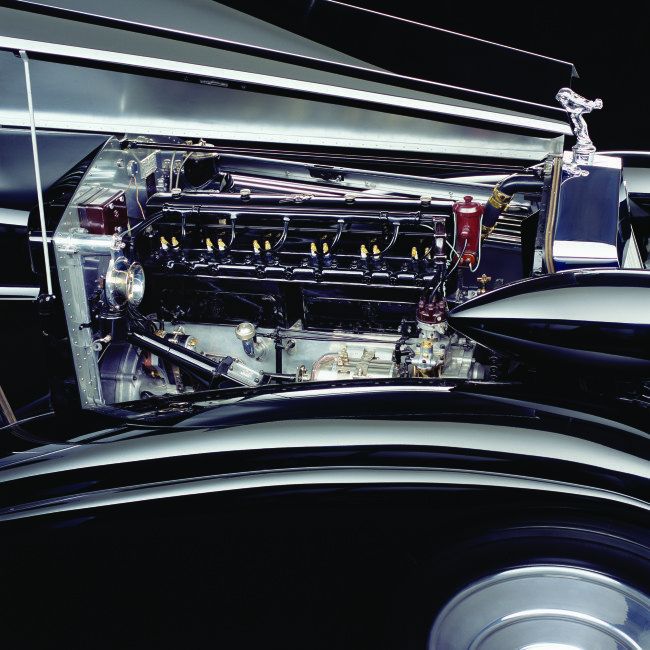 Specifications
Engine
Location: front, longitudinal
Type: naturally aspirated straight 6 with 2 cast-iron monoblocs with 3 cylinders each and detachable iron cylinder head
Displacement: 7,668cc
Bore × Stroke: 107.9mm (4.25") × 139.7mm (5.50")
Compression Ratio: 4:1
Valvetrain: pushrod overhead valves
Maximum Power: 108 bhp @ 2,300 rpm
Transmission: four-speed manual
Dimensions
Wheelbase: 3,822mm (150.50 inches)
Track front/back: 1,485mm (58.50 inches) / 1,460mm (57.50 inches)
Weight: N/A
—

By Rob Clements
Photography by Scott Williamson
© Car Collector Magazine, LLC.
(Click for more Car Collector Magazine articles)
Originally appeared in the May 2007 issue
If you have an early model Rolls-Royce or another collectible you'd like to insure with us, let us show you how we are more than just another collector vehicle insurance company. We want to protect your passion! Click below for an online quote, or give us a call at 800.678.5173.