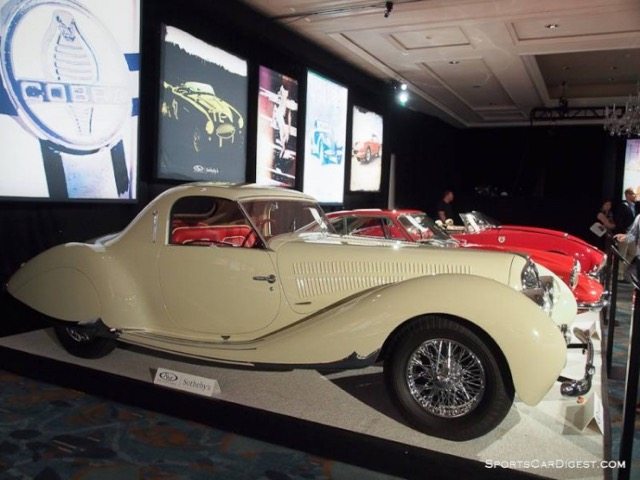 A highlight of the mid-30's, and arguably the height of the French Coachbuilt era was Figoni and Falaschi's introduction of the teardrop streamliners, which were offered by both Delahaye and Talbot-Lago. They made Figoni and Falaschi's stand at the 1938 Paris Salon a "must-see" attraction, and though they were built in small numbers, they were so immediately eye-catching that they became instant automotive icons, and they remain so today. This example, with the most-powerful MS (Modifee Speciale) engine drives like a far more modern car, with a top speed of 110 MPH.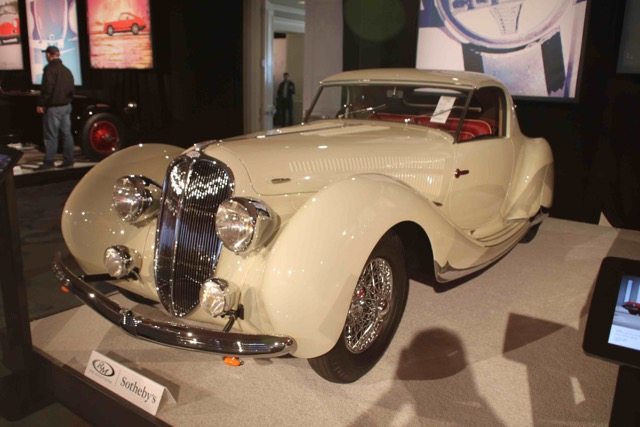 The crowd, as well as the brilliant auctioneer at the RM/Sotheby's sale at Amelia Island in 2016, thought this lovely Delahaye was a bit of a bargain, and we'd agree. The reserve was dropped at $900K, and despite ample opportunity on the block, it failed to advance from there, so it was hammered sold with fees at $990K.
It's rare that a group of automotive journalists agree that a vehicle deserves a #1 condition rating, but this lovely Ivory with red leather example was simply impossible to fault in it's presentation. A right hand drive example with rumble seat, #60112 was verified as the actual 1938 Paris Auto Salon show car. It was discovered in 1964 by Antoine Raffaelli, who finally managed to acquire it in 1985, and then restored by Conforti Freres in 1987. The Delahaye was acquired from the Dragone brothers in 1998 by Peter Kaus, and eventually re-restored by Tessier with consultation by Claude Figoni while in the possession of John O'Quinn, and today is essentially flawless.  AT the RM/Sotheby sale, it was a bargain, with great paint, interior and chrome, with the chassis done like new and period Marchal lamps up front. A high quality restoration and a very attractive car that looks better in person than in photos.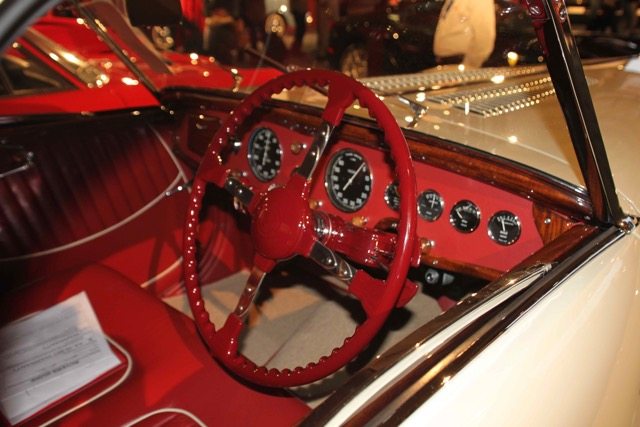 It's equipped with the more powerful MS overhead valve inline six-cylinder engine, which produces 130 HP, mated to the innovative Cotal electro-mechanical four-speed gearbox. The 114" chassis features fully independent front suspension, with quarter-elliptic rear leaf springs and 4 wheel Bendix drum brakes. The Motor wrote in 1938, "There are few cars with such superb roadholding and steering, such performance, and such instantly responsive controls."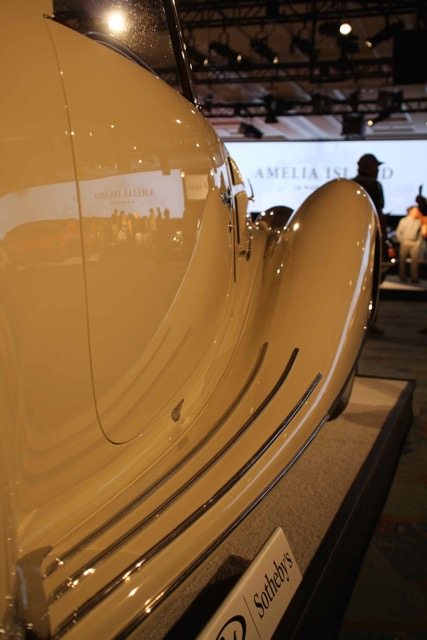 It was sold by Bonhams in 2006 before restoration for $1,712,000, then bought by O'Quinn from RM at Villa d'Este in 2011 with a high bid of $1,176,276.   RM's Arizona auction sold it again in 2013 post-restoration from the O'Quinn estate for $1,540,000. Why it should be worth this much less at Amelia Island is not clear, but represents an advantageous purchase for the new owner, and a very good value regardless of price, as the new owner will enjoy access to all of the world's fine motoring events as well as vintage 100 MPH performance behind the wheel.
If you have a Delahaye Motor Car or another collectible you'd like to insure with us, let us show you how we are more than just another collector vehicle insurance company. We want to protect your passion! Click below for an online quote, or give us a call at 800.678.5173.