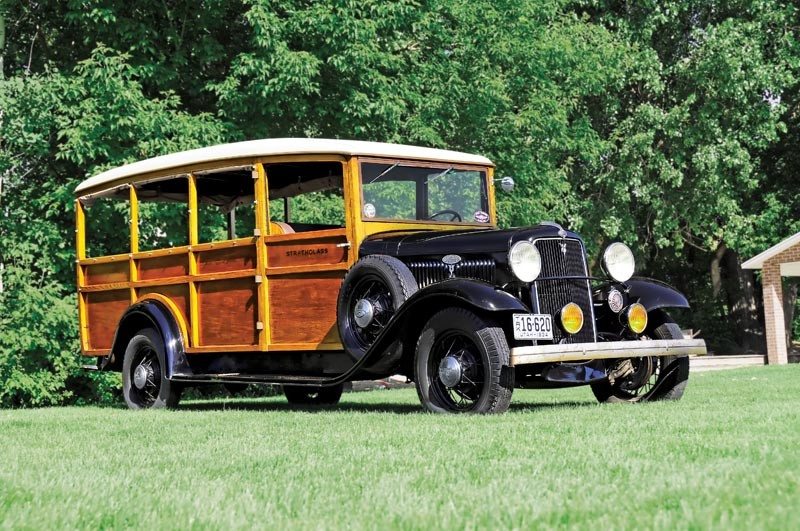 Hugh Chisolm was a wealthy and visionary man, who's father came from humble roots in Strathglass Carries, Scotland. Chisolm created major East Coast businesses in the paper, railroad, power generation, and airline industries.   He purchased a huge tract of land on a bend in the Potomac River for his personal estate, and named it "Strathglass". He commissioned one of the largest yachts on the Potomac, and used it to entertain the most powerful men in Washington. When he needed an estate vehicle, Mr.Chisolm purchased the chassis from Ford in 1934, and had this unique woodie wagon constructed to shuttle his guests to his yacht. It survives today in very original and largely unrestored condition, quite a testament to the craftsmanship of the day.
The ownership chain is well known and documented on this one of a kind wood bodied vehicle. Starting with a new commercial 1934 Ford chassis, it was lengthened by 24" and sent to the Olson Extension Company near Detroit for fitment of a one of a kind solid oak body. The wagon was used for transport around the Estate, particularly, to the docking area for Mr. Chisolm's 243' yacht Aras, which is named for his daughter Sara, but backwards. Very active both politically and socially, and fabulously wealthy, Mr. Chisolm loved entertaining and regularly invited the powerful men in the Washington DC area to join him. One can imagine countless parties aboard Aras, with heads of state and royalty enjoying an evening cruise on the Potomac. Several American Presidents were know to have enjoyed the yacht, with Harry Truman taking many evening cruises, no doubt, delivered from the Chisolm home to the dock by this actual woodie wagon. The stretched commercial chassis allowed seating for 8 – 10 passengers on the rear benches, along with 3 on the standard bench seat, for a total capacity of 13. With room for luggage, and what appears to be a custom tailgate ramp for a wheelchair, which is suspected may have been designed to accommodate President Roosevelt.
The truck was originally shipped with a 75 HP Flathead V8 from 1934, and was later upgraded to a 1946 Ford 59AB V8 pushing 100 HP in period. It is quite unique, as Ford used mahogany, ash, and maple for their production woodies, while this handmade coachwork is 100% oak. Beautiful plaques from Olson Extensions and the Swedish Crucible Steel Company still adorn the coachwork, along with an original Strathglass logo on the door. The original leather on the door panels and the seats is in good condition with a nice patina, and new side and rear curtains keep it weather tight.
Upon his death, Mr. Chisolm willed the wagon to his longtime friend and employee George Bowling, who stored the vehicle in Lewisburg, West Virginia in a building that was just a little short for the vehicle, thus a bit more weathering on the back end is apparent. It was purchased in 1954 by Marshall Musser, also of West Virginia, with the vehicle largely stored until the current consignor, a dedicated woodie enthusiast, pursued the vehicle for many years and purchased it in 1996. It is believed that the 50,424 miles indicated on the vehicle is correct, but cannot be confirmed, although the condition of the original leather seats and interior would certainly support that claim. The paint is largely original, with some touch ups, and the original woodwork is all present and is remarkably intact, having been beautifully restored by noted Woodie authority Nick Alexander.
The one of a kind coachwork appeals to any Ford enthusiasts, and the rarity of a coachbuilt, custom Oak body on a stretched commercial chassis rings the bell for all the Woodie fans. History buffs are hooked by the famous Washington figures who attended parties on the Potomac's biggest yacht, and the hundreds of guests brought to the dock in this vehicle. It's the kind of vehicle that always draws a crowd and is hard to forget.
If you have an early model Ford or another collectible you'd like to insure with us, let us show you how we are more than just another collector vehicle insurance company. We want to protect your passion! Click below for an online quote, or give us a call at 800.678.5173.