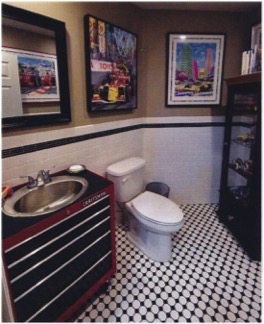 Charlie Arolla has long been a collector of vehicles and automobilia. Having spent 31 years in law enforcement, the former Santa Clara, CA Chief of Police had always found solace in his 2-car garage where he could "reset" after a long day. While considered a dream garage by most, Charlie had long outgrown it, renting a 7,000 sq ft storage facility across town to house the cars that didn't fit in his garage. As a result, they were rarely used because of the trek just to get them. Tired of not having all his toys in one place, he decided a bigger garage was in order. While visiting friends in Arizona, Charlie and his wife Snookie realized Arizona was the place to cost-effectively purchase their dream home and build a bigger garage, which was unrealistic in the San Francisco Bay Area due to real estate prices. The home they bought near Scottsdale came equipped with Snookie's dream kitchen and an attached 4-car garage. They decided to build their dream garage across from the house so it formed a nice enclave, creating a plaza environment with a fountain as the focal point of the entrance. Daughter Cristina would live in the CA house to enjoy her very own dream garage, with all parties visiting one another on a regular basis.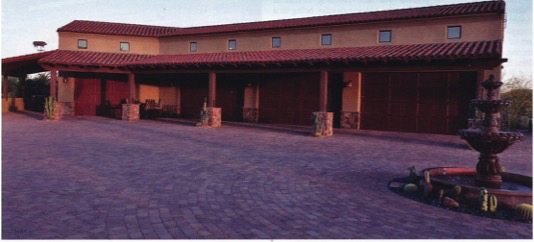 In November of 2014, the Arolla's contacted Scottsdale-based architect Tyler Green. Final garage plans were ready in December for a structure that would mimic their Tuscan-style home, with clay tile roof, a second story loft, office, showroom, and plenty of space for their Classic Cars – mostly Mustangs and 911's. Tall 18-foot walls offer plenty of space to showcase their vast collection of event posters and automotive art collected through the years at events like The Pebble Beach Concours.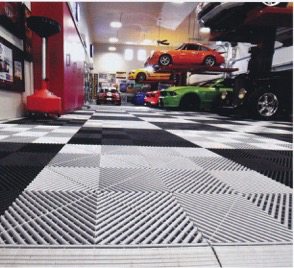 In March 2015, McKenzie Brothers Construction began the project, led by Jimmy Sheehan. After trenching, rebar, foundation plumbing, and electrical were completed, the concrete slab was poured. The 18-foot exterior slab walls were constructed onsite and erected with a huge crane, along with the pre-fabricated roof trusses and entry overhang. Once all the in-wall plumbing, electrical, and fire suppression was installed, the walls were filled with spray foam, sheet rocked, taped, and textured. Exterior walls were lathed and roof underlayment was installed to "dry-in" the building. Composition shingles were installed on the roof, 60 solar panels were installed, and the entire structure was painted.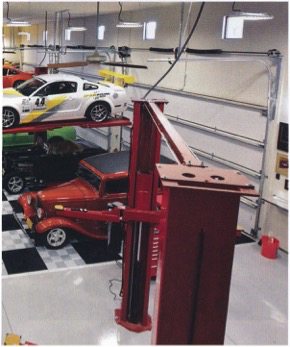 Arizona-based Lodi Garage Doors and More were brought in to work their own magic. Cortina arch-top Classica 3000 wood-grain doors by Aman Garage Doors were installed for their aesthetics and durability. Jack Shaft 8500 Liftmaster garage door openers were installed, allowing the Arolla's to control their garage doors by I-phone, a feature Charlie loves because he can let vendors and visiting family into the garage without being there. Over 6,000 sq. ft of Belgard pavers were installed in the courtyard in front of and along side the garage as well as the house. Once the tile roof was installed, American Custom Lifts from San Diego installed Maximum One single-post lifts that could safely store the Arolla's colorful car collection while greatly maximizing space within the garage. On August 2, two 18-wheelers arrived, carrying all the 4-wheel toys from California.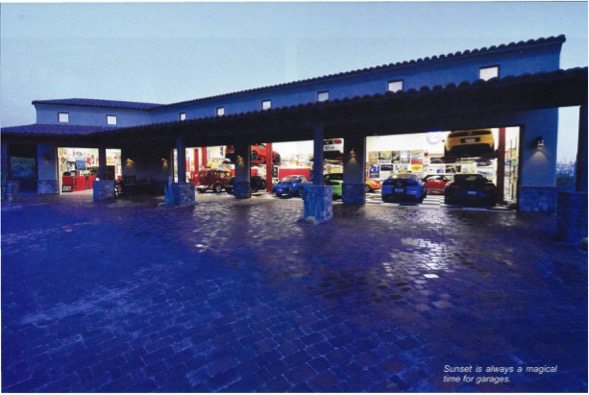 Working with Brad Davies from Swiss-Trax, the storage area floors were fitted with RibTrax flooring that would stand up to regular activity and beautify the garage, creating a strong first impression. Final touches included an epoxy floor in the service area and Automobilia mounted on the walls. The Arizona building process was nearly identical to that of California, with earthquake bracing required despite being in the desert. Ironically, a 4.6 earthquake occurred after the garage was completed.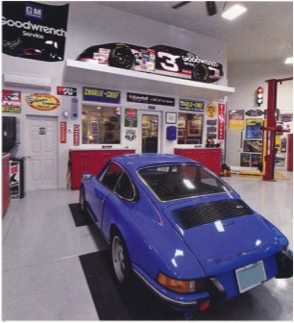 Along the way the desert presented it's own unique set of circumstances, such as doing construction during May and June, which is monsoon season. To combat the extreme heat, seven mini Daiken Mini Split air conditioning heads were installed, and 2 in the existing garage, run from a single compressor, chosen because there is no heat loss through a central ducting system. The ground floor of the Dream Garage is 3,400 sq ft, including the tool room and bathroom, with a 3,000 sq ft service area and a 400 sq ft loft. The garage was completed on March 5, 2015, just in time for Charlie's 70th birthday.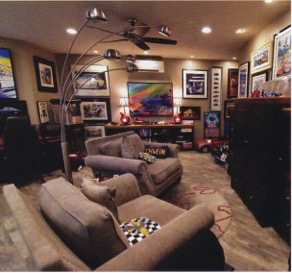 We'd like to thank our friends at Garage Style Magazine for allowing us to reprint this article, and special thanks to Cindy Meitle and Bos Coffman for their copy and photo skills, respectively.  Visit www.garagestylemagazine.com for even more great garages.
Do you have a dream garage protecting your collectible? Let us show you how we are more than just another collector vehicle insurance company. We want to protect your passion! Click below for an online quote, or give us a call at 800.678.5173.