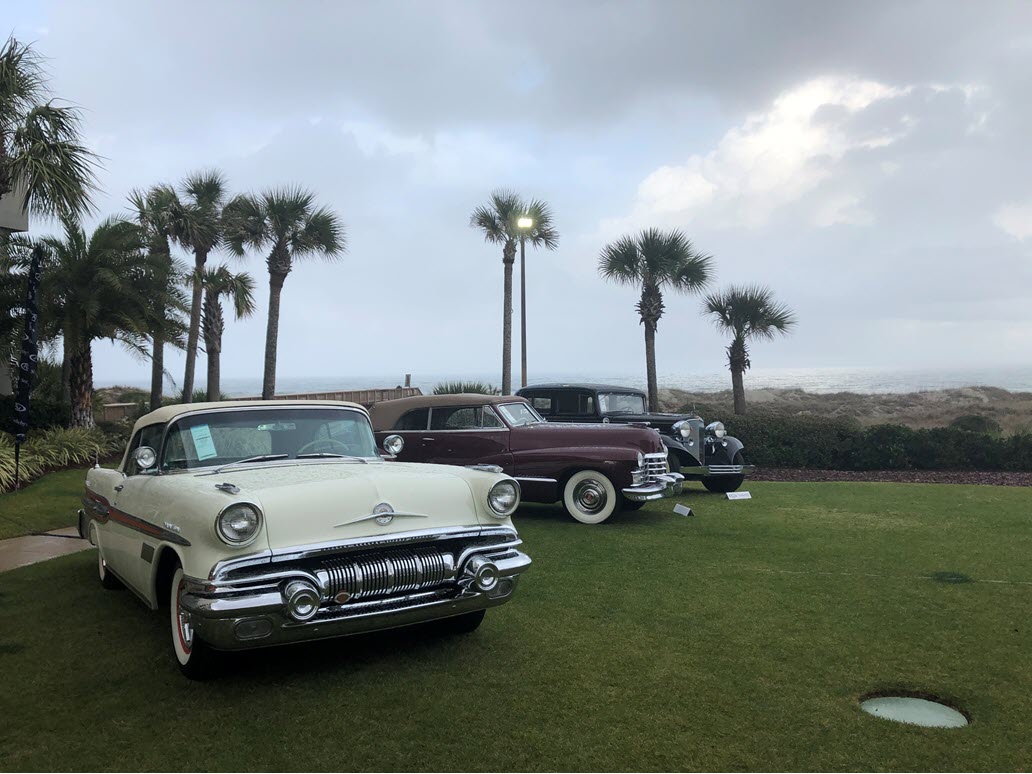 Amelia Island Concours d'Elegance is right around the corner and our team at Heacock Classic is kicking it into high gear as we make our way to sunny Florida this week for one of the top automotive events in the world. This 4 day event attracts 300+ collector vehicles and hosts a variety of auctions, dinners, seminars, and much more!
Similar to previous years, we will be set up in 3 prominent locations: The 18th Fairway, The MotoExpo Fairway, and inside the Ritz Carlton. Stop by to see the stunning cars surrounding our booths, request a free quote and/or pick up some of our newly updated swag that will come in handy throughout the weekend!
A few "must see" attraction at this year's event include:
The Concours Silent Auction: At the Silent Auction, you can bid on an array of unique film, television, automotive, and sports-related memorabilia and more! The goal of this weekend and Auction are to raise money for Amelia Island Concours d'Elegance Foundation. Since 1996, the Foundation has donated over $3.75 million to charitable organization across North Florida such as Community Hospice & Palliative Care, Shop with Cops, and Spina Bifida of Jacksonville to name a few.
RM Sotheby's Auction: Looking for unique or historic automobiles to add to your collection? Then the RM Sotheby's Auction is your go-to spot while at Amelia Island Concours d'Elegance. You can pick from over 100 stunning vehicles including a 1971 Ferrari 365 GTS/4 Daytona Spider or 1935 Mercedes-Benz 500 K Three-Position Roadster that will be at the Auction this year.
Cars & Coffee at the Concours hosted by Heacock Classic: Our personal favorite event of the weekend (outside of the Concours on Sunday, of course) is hosted by yours truly along with Revs Institution. Continue reading below for additional Cars & Coffee details!
Event: Cars & Coffee on the Concours
Date: Saturday, May 22, 2021
Time: 9:00 am – 1:00 pm EDT
There's nothing quite like coffee, donuts, and incredible Collector Cars first thing in the morning to get you off on the right foot!
On Saturday morning, join proud owners of a diverse group of vehicles for complimentary coffee and donuts at The Amelia Island Cars & Coffee at the Concours hosted by Heacock Classic Insurance. This event will take place on 18th Fairway Booth #74 and The MotoExpo Fairway Booth #335 from 9:00 am – 1:00 pm.
Check back in this week as we get closer to the event to see what cars we're displaying at the Amelia Island Concours d'Elegance and receive updates from our team. And, of course, don't forget to follow Heacock Classic on Facebook & Instagram for other live event updates throughout the show!

Did you recently purchase a new Classic Car or expand your collection?
Collectors with multiple cars and large collections have access to our lowest rates – Request a Free Quote Online Here!