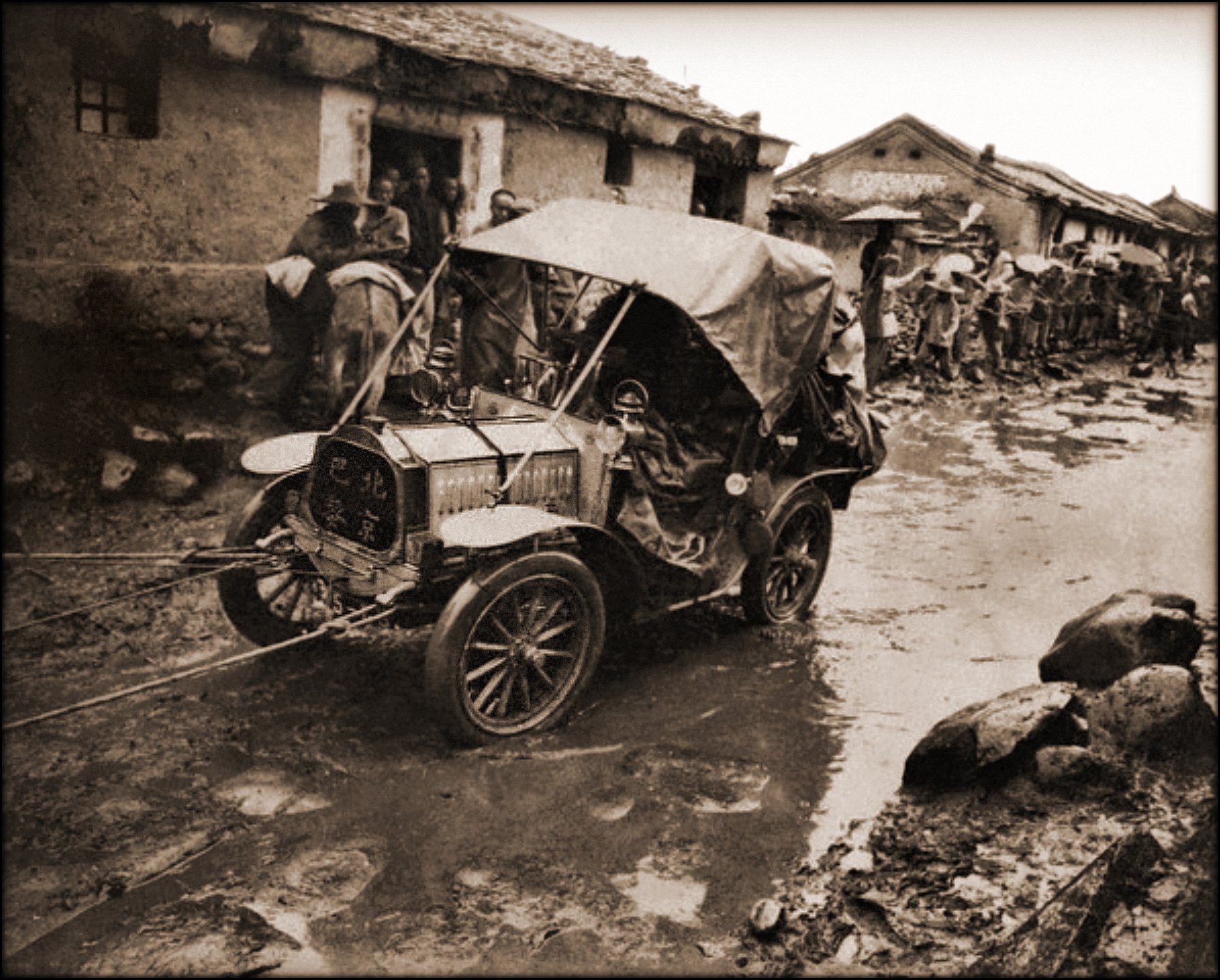 We thoroughly enjoyed this article passed along to us by Peter Bourassa in the Motorsports Marketing Resources (MMR) Community Newsletter. Check out all their great reporting, along with incredible photography by Michael Furman and others at www.mmrsite.com, or reach Peter at peter@mmrsite.com
Arguably, the five most significant events in racing history begin with the Peking to Paris race of 1907. In 1949, Ferrari won its first attempt at the 24 Hours of Le Mans race. The 1955 Mille Miglia won by Stirling Moss was an amazing personal feat which will never be duplicated. The 1966 Le Mans race win by Ford was the most important American team race win outside of the USA, and finally, the 1995 McLaren F1 GTR-BMW win at Le Mans with a 1-3-4-5 finish in their first attempt was incredible.
1907 Peking to Paris Race
The title of the book is Peking to Paris; the subtitle is "Prince Borghese's Journey across two Continents". It is remarkable for three reasons. First, it describes a 3000 mile, 60 day race in 1907 from China, over the top of Europe, and down to Paris. Second, both Count Borghese (whose wife incidentally, was a de Ferrari) and Luigi Barzini were and would have been remarkable people in any era. And third, it is a fabulously well written book. Even today, the original lives on as one of the top selling Italian books of all time. The translation by L.P. Castelvecchio is poetry and the final paragraph alone is worth the price.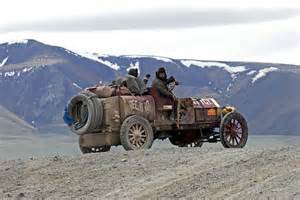 Though there were certainly races before this one, this is the first race which with the support of major French, English, and Italian newspapers, captured the imagination of the world. We urge you to read Helen V. Hutchings's excellent review at https://speedreaders.info/145-peking_to_paris_by_luigi_barzini at Speedreaders.com.
By the way, his son has produced a second version of the book, which includes more pictures and revisions of Castelvecchio's translation. We recommend the original by Demontreville Press 2007 version for a permanent spot in your library.
1949 Le Mans 24 Hours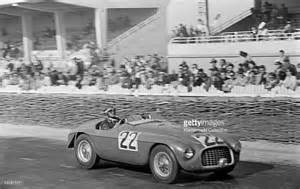 It was remarkable for several reasons. It was the first race held on the Le Mans circuit following the end of WW2. It was Ferraris first race as an entrant and the factory was so uncertain of their ability to win that they entered two 2 liter V-12 140 hp cars as private entries. Ferrari driver and later to be North American distributor of the brand, Luigi Chinetti, drove all but 72 minutes of the 24 hours. His average winning speed was over 132MPH. His co-driver Lord Selsdon, (Peter Mitchell-Thompson) was also the listed entrant of the car. The decision to drive all but one stint was Chinetti's. He had won twice before and felt they could save time in the pits by not making the change. This tactic caused Le Mans officials to modify the rules for future races.
1955 Mille Miglia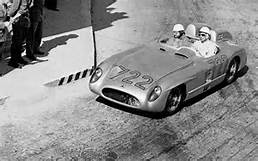 The 1955 Mille Miglia (one thousand miles) was run between Brescia and Rome on public roads. Stirling Moss and navigator-journalist Denis Jenkinson won the race at an average speed of 99 mph for 992 miles in their Mercedes 300SLR. Second was teammate Juan Manual Fangio in a similar 300SLR. Third was Maglioli in a Ferrari 118 LM and fourth was Giardini in a Maserati  A6GCS/53. The first four cars were all out race cars. John Fitch finished 5th in a comparatively stock Mercedes 300SL.
1966 Le Mans – Ford Victory 
There is no race more difficult or important than the 24 Hours of Le Mans. Ford finished Le Mans 1-2-3 in 1966. But that is not the story. In some ways, considering how much Ford invested in time and money, it was inevitable. In some ways this year's 1-2 win in GTLM at Le Mans was more remarkable simply because the car was competing there for the first time. The real story of the 1966 victory was Ford's commitment to the project and the people Ford involved to accomplish the goal, including the engineering efforts of five companies and the driving commitment of many of the best drivers of the day. Ford first raced at Le Mans in 1964 and won in 1966. The three major teams that developed the cars, FAV (Ford Advance Vehicles), Shelby American, and Holman & Moody all had different starting points and stories. Many are detailed in John Horsman's excellent Racing in the Rain and A.J. Baime's Go Like Hell. Burt Levy's fictionalized trilogy The 200 MPH Steamroller of the GT40 evolution is two thirds complete and available at www.lastopenroad.com.The number of strong personalities involved, from Henry Ford II (the Deuce) on down through the teams and even the part suppliers insure that the stories will keep on coming for years. A favorite story is that Ken Miles, lead test driver on the Shelby Team, should have been rewarded with the win at Le Mans. There was great sympathy for this. Earlier in this year he had won both Daytona and Sebring in America and this win would have been the triple. Ford staged a photo op finish with their three cars crossing the line together. The McLaren/Amon car, having qualified slower and therefore starting further back, deemed to have travelled the greater distance and was awarded the win. The Miles/Ruby car finished second, and he was bitter. Chris Amon was interviewed about the race. He has since passed but his comments, as you might expect, shed a new light on this story. You can hear his full interview with Peter Windsor on the MMR website homepage on our Video Gallery at: www.MMRsite.com.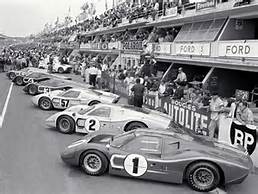 1995 Le Mans: McLaren Wins Four of Five Top Spots
It was McLaren's first win at its first Le Mans attempt! That is truly remarkable! Also remarkable is that it rained for 17 of the 24 hours. And, as a BMW executive who has said, "JJ Letho drove the wheels off the car". In fact, in the rain, Letho often turned laps 30 seconds quicker than the competition. Every Le Mans race has a human interest story. In the early morning, Andy Wallace brought in the leading McLaren he was sharing with 53 year old Derek Bell and his son Justin for fresh brake pads. Bell senior went out with a lead diminished to one minute and turned laps quicker than Letho. That is talent. But transmission issues plagued the lead McLaren and they had to slow to finish. The Mario Andretti/Bob Wollock/Eric Helary Porsche finished just three minutes behind the leaders and ruined a McLaren 1-2-3-4 finish. Read more about this fascinating race at: https://www.motorsportmagazine.com/database/races/3977-1995-le-mans-24-hours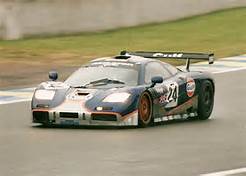 Did you know we insure race cars? Let us show you how we are more than just another collector vehicle insurance company. We want to protect your passion! Click below for an online quote, or give us a call at 800.678.5173.