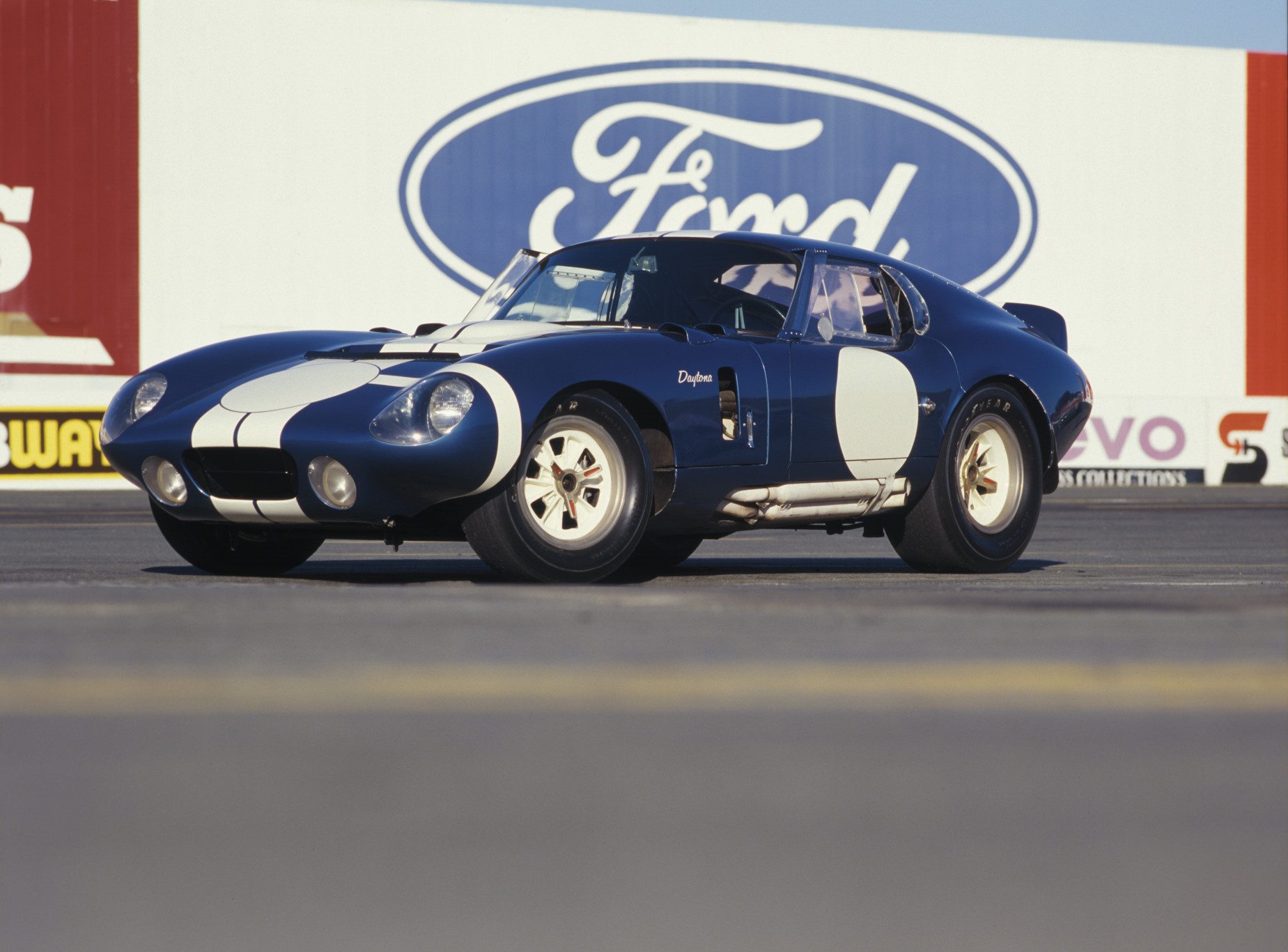 American dominance in international sports car racing is a transitory and rare thing, like sunspot activity or the appearance of the Tampa Bay Buccaneers in the Super Bowl. In recent years we've had Vipers at Le Mans and an aggressive Panoz organization to cheer on, but there have also been long dry spells when sports car racing was a wholly owned product of the European Union.
Arguably the peak of American sports car supremacy was a brief period in the mid-to-late 1960s. Ford led the charge, thanks to Henry Ford II's rivalry with Ferrari, and the results include a string of victories at the most famous sports car race, the 24 Hours of Le Mans. Want to pick one moment that still makes Americans grin? How about A.J. Foyt and Dan Gurney standing on the podium after 24 grueling hours in a MK-IV GT-40 at Le Mans in 1967?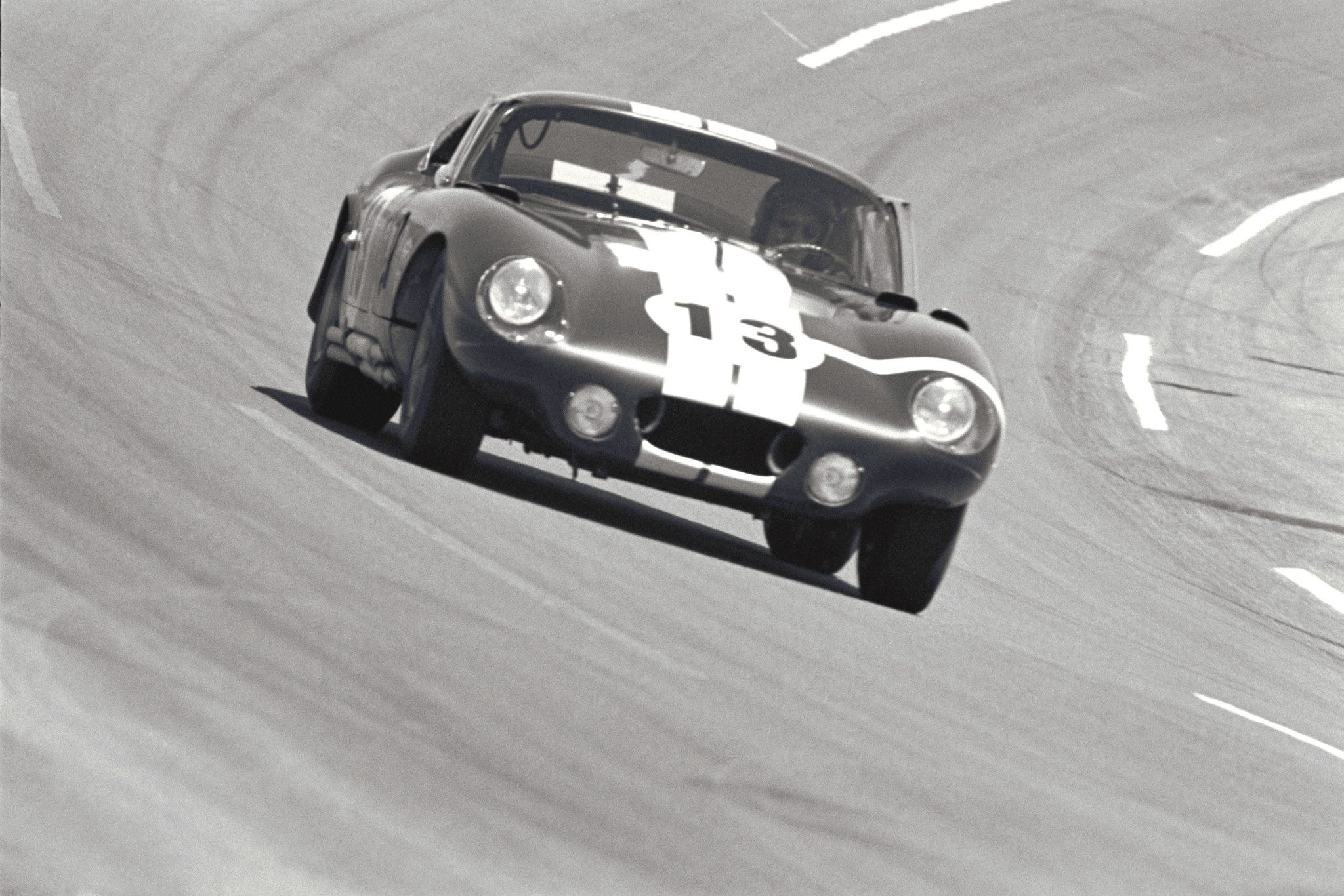 Before Ford staked its claim at Le Mans, however, Carroll Shelby was making racing history of his own with his far-flung Cobra empire. Among other glories, he brought home a prize in 1965 that had never been held by an American automaker — the FIA International Manufacturers Championship for Grand Touring cars.
That championship came thanks to the six Daytona Coupes fielded by Shelby American in 1964 and 1965. The original Cobra roadsters had done quite well in North American SCCA competition, but were handicapped somewhat when placed in the international arena.
Shelby explained the problem in his 1967 autobiography, The Carroll Shelby Story. "Our most pressing need, we realized (and Pete Brock had pointed this out some time back), was a much more streamlined body than was provided by the original AC roadster body which we were still using on our Cobras," wrote Shelby. "We had to have this in order to compete with those sleek GTO Ferraris on high-speed circuits, and there wasn't any use kidding ourselves about it."
Work began on the cars in October 1963. Pete Brock designed the swoopy bodywork (without benefit of wind tunnel), while driver Ken Miles labored to stiffen the chassis and reposition various components. The goal was a car that could achieve the 180mph necessary to run with the Ferraris.
Brock's eyeball aerodynamics hit the target. Testing at Riverside on February 1, 1964, revealed 15 additional mph on top speed over the Cobra roadster, and 25 percent better fuel economy, according to Shelby's recollections in his autobiography. "Even the brakes ran cooler," he wrote.
The Coupe's first competition, the Daytona Continental 2000km race later that February, gave the car its name. The Coupe showed promise, leading late in the race before a pit fire ended its day. The first win for a Daytona Coupe came at Sebring in 1964 (1st GT class, 4th overall), with Bob Holbert and Dave MacDonald driving.
The car pictured here is CSX2299, the second Daytona Coupe constructed. It had the richest racing history of the Daytona Coupes, including GT class wins at Le Mans in 1964 with Dan Gurney and Bob Bondurant behind the wheel, and again at Goodwood with Gurney driving.
It also has a slightly irregular roofline, thanks to an error during its assembly at Carrozzeria Gran Sport in Modena, Italy. The roofline was made two inches higher than specified, spoiling the car's aerodynamics somewhat, but by happy coincidence providing extra headroom for the lanky Gurney.
Although the 1964 campaign did not result in a championship, the Daytonas returned in 1965 and dominated the season. CSX 2299 won at Daytona and Sebring, while CSX 2601 added wins at Monza, the Nürburgring, Reims and Coppa di Enna. In many of the races Daytona Coupes finished 1-2. At Sebring they finished first through fourth in the GT class. Shelby American clinched the championship on July 4, 1965 at Reims.
The Daytona Coupes were scattered to the four winds after the 1965 season. Shelby and Ford had moved on to the GT-40 racing program by then, not to mention production of the Shelby Mustangs. Some of the Daytona Coupes were sold to independent racers and collectors. Some were used by Shelby for promotional purposes before being sold. More than one was driven on the street in the late 1960s and early 1970s.
We photographed CSX2299 in 1995 at the 30-year reunion of that 1965 championship season, held at Sears Point International Raceway. The car was owned at the time by Michael Shoen, noted Daytona Coupe historian and author of The Cobra-Ferrari Wars, 1963-1965. Four of the six coupes were in attendance that day, along with Shelby, Brock, Bondurant and other survivors of the campaign.
Americans may dominate international sports car racing again someday, but until that comes to pass we're left with just memories and a handful of surviving cars. Watching the Daytona Coupes and Cobra roadsters on the track that day in California in 1995 reminded us that's a goal worth pursuing.

By Steve Statham
© Car Collector Magazine, LLC.
(Click for more Car Collector Magazine articles)
Originally appeared in the June 2003 issue
(We stumbled upon this video and frankly . . .  it would be immoral not share this glorious sound with fellow racing nuts. Enjoy!)

If you have a Shelby or another collectible you'd like to insure with us, let us show you how we are more than just another collector vehicle insurance company. We want to protect your passion! Click below for an online quote, or give us a call at 800.678.5173.