Over the past few weeks, we've come up with various blog and social media postings regarding indoor Collector Car related activities including ideas to keep your kiddos busy at home and cleaning and/or organizing your garage and trailer. We're hoping some of you went so far as to throw a new coat of wax on your vehicle, maybe even changed the oil in anticipation of upcoming pleasure rides! But how many of you have thought about sanitizing your Collector Car's interior before hitting the open road?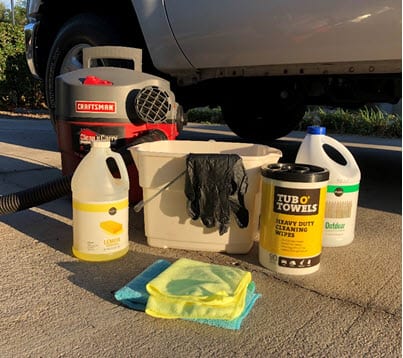 Your classic can always use the TLC, but in these times, it's likely that your daily driver could use a good sanitizing too! Maybe knock both out at the same time? Either way, without further delay, let's jump into my process!
TOOLS REQUIRED
• Gloves
• Shop vacuum
• Interior cleaning/detailing wipes (optional)
• Bucket
• Soapy water (dish soap and hot or cold water to your liking)
• Ammonia or Bleach (optional but NEVER USE TOGETHER)
• Microfiber towel (or something similar that can contour to the shapes of your interior easily)
If you believe that your car has been infected, it'll be best to wear gloves. Don a mask for extra precaution. Start by vacuuming your entire vehicle to get the big 'bits'. If you're a clean freak like me, and you vacuum your vehicle weekly or more, then you can skip this step.
Next, use your favorite automotive cleaning wipe to get the high traffic/high touch areas (I'm a fan of Tub O' Towels by Gojo):
• Steering wheel
• AC/Radio controls
• Door handle
• Window controls
• Sun visors
• Arm rests/center console
• Seatbelts, and seatbelt fastening point.
• Headrests
• Handbrake lever
• Trunk latch release
• Light switches (driving lights, courtesy/overhead lights)
• Mirror controls
• Window operators/controls
• Sat/Navigation and similar controls.
• Garage door opener
Basically, you want to use these wipes to cut through the oils left behind through out constant use/touching on a frequent basis. This step won't sanitize yet, but it will get the dust, dirt, and heavy deposits removed. Remember, your car's interior is a combination of hard, soft, and porous materials that can trap and hold grime like a champion.
Next, we will use the bucket of soapy water and microfiber towel to do a 'deep clean' on ALL SURFACES of the vehicle's interior. Remember to squeeze out the excess water from your towel – as you don't want to leave too much soapy water behind/puddling – and then have a wet or mold situation. I like to use a good amount of Ammonia in my cleaning bucket; lemon scent to help disinfect the surfaces.
Again, you're going to wipe down all surfaces that you normally touch with your hands/body, head. etc. Do this task: sit in your vehicle and act like you're driving down the road. Touch everything that you would normally touch getting in or out of the vehicle. Take a mental note, and then make sure to wipe those areas down to get them clean.
Once you have wiped everything down, and are happy with the results, let your vehicle air dry.
Most owners may only perform this task once or twice a year on their daily auto. You may want to up your cleaning routine for your daily driver, now weekly or even daily, depending on how often you are out and among others.
Stay healthy and safe out there but happy motoring!
Let's see if we can save you some money on Agreed Value Classic and Collector Car Insurance — Click to HERE to request a quote in minutes!