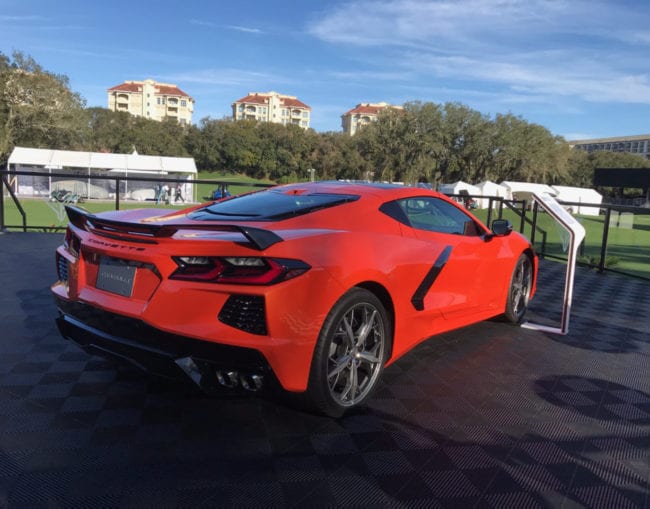 Update: Learn about the cars we're displaying at the Amelia Island Concours d'Elegance!
Scroll down for more information!
Car show season is now in full gear, and this March our Heacock Classic team is packing their bags and traveling south for a celebration of Collector Cars like no other, the Amelia Island Concours d'Elegance! Attracting over 300 collector vehicles and the two-time winner of the International Historic Motoring Awards, this year's event is a show you do not want to miss!
Must see events include the RM Sotheby's Auctions, where you can pick from over 100 unique and historic automobiles from all eras to add to your collection, and the Porsche Driving Experience, where you can sign up for an exciting ride with a professional driver. Not to mention, our Heacock Classic team will be hosting the Cars & Coffee on the Concours Saturday morning, where you can take the morning to enjoy a cup of joe and chat with your fellow car enthusiast about the marvelous machines at the show as well as back in your garage.
This year we will be setting up in 3 major hotspots: The 18th fairway, The Moto Expo fairway, and in the Ritz Carlton. Come check out the 500 cars surrounding our booths, get a quick free quote onsite to ensure you aren't overpaying for your collector vehicle, or just pick up some free swag to use throughout the weekend!
Cars & Coffee on the Concours: Saturday, March 7th, 2020. 9:00am-1:00pm
On Saturday morning, be sure to stop by Cars & Coffee on the Concours sponsored by Heacock Classic Insurance for complimentary coffee and donuts. Join the proud owners of these beautiful collectible and exotic vehicles as they awake early, shine up their prized automobiles and gather with like-minded car lovers on the first, tenth, and eighteenth fairways at the Golf Club at Amelia Island.
Here's what cars we're displaying at the Amelia Island Concours d'Elegance!
We're excited to announce that this year we will be displaying our founder Ford Heacock's very own 1961 Sunbeam Harrington Alpine Coupe!
The Harrington Alpine first made it's mark in the North American Race Team (NART) garage. As NART prepared their Ferraris for a 12-hour endurance race, they noticed this British impressionist, though lighter in build, mimicked the Ferrari prancing horse crest on both it's front wings and blue driver's seat just like its fellow 250GTO. After further inspection and some political pull, NART dubbed the vehicle an honorary Ferrari.
This rowdy, red racer competed in two events, Sebring 1962 driven by Fillipo Theodoli, and Sebring 1963 driven by Bill Kneeland. It was eventually taken off the track after its second competition due to heavy fuel needs and an incident in the 1962 race where the pit crew removed the cap sealing wire leading to the car gushing oil all over the track. Even gushing oil couldn't stop this British beast from competing though, jumping from 10th in its class in the first race to 4th in its class in the second race.
Continue reading here to learn more about how this 1961 Sunbeam Harrington Alpine Coupe left its mark on Collector Car history and be sure to stop by our Booth #60 on Fairway 18 to see this beauty, along with a Porsche 917 Race Car Replica, and several Vintage Corvettes.
Follow Heacock Classic on Facebook & Instagram for other live event updates!
Did you recently purchase a new Classic Car? Collectors with multiple cars and large collections have access to our lowest rates – Get Started Here!