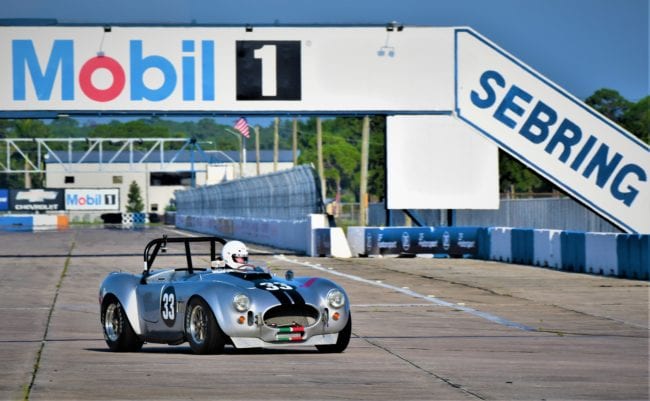 Once again, the Sebring Vintage Classic is taking us to the Sunshine State to bask in the sun and admire the old school machines taking over the tracks in this year's races. Being held at the most famous racing facility in North America, you do not want to miss the collection of vintage race cars this year's event will feature as part of the Historic Trans Am, International GT, and SCCA Trans Am Series!
Psst: We're giving out free tickets below, keep reading!
The Trans Am Series, started in 1966 by the Sports Car Club of America (SCCA), hosts various racing competitions throughout the year including Sebring Vintage Classic. Bringing new class models of the classic road racers, Trans Am partners with Pirelli to bring drivers and spectators high performance race cars to highlight the best of American racing.
Sticking with the classics, Historic Trans Am will be bringing in the greatest racecars of circa 1966-1972. Not reproductions, but the actual Trans Am race cars that were restored to their original condition and put right on the tracks to drive hard, the way they were meant to be. Don't miss Sunday's Feature Reunion race, where Historic Trans Am will be running their own group to display these marvelous machines of the late 60's and early 70's.
Finally, kicking off their 2020 racing season at the Sebring Vintage Classic, International GT is a racing series that includes three different championships – The Stuttgart Cup, Mission Foods GT3 Cup Trophy, and The Maranello Cup Championships. All three divisions will be competing at the 2020 Sebring Vintage Classic, with the first race of the International GT season kicking off on Friday, February 28th!
Never been to the Sebring Vintage Classic or can't get enough and want to go again this year? Here's your chance to get in on the action!
The days leading up to the race, Heacock Classic will be giving away free tickets to a few lucky winners. Click here to enter a chance to win up to 4 tickets! Follow us on Facebook and Instagram to easily access the link and share it with your friends!
Want to enhance your Sebring racing experience? When you get to the track, stop by the Heacock Classic booth located in the Trans Am Paddock to learn how you can win a chance ride in the pace car during the final race of the event!