The weather may not have ticked towards racing season just yet, but that doesn't mean that the auction and car show blocks aren't heating up.  We will be feeling the warmth in a few weeks as the Atlantic City Auction and Car Show kicks the season into overdrive just a few miles down the road!
We're particularly excited because for the first time ever we will be displaying our new pride and joy, our president Paul Choi's customized 1967 Ford Mustang.  Although we would rather be racing it on the track, for now we will settle for just getting it out on the road.
Do not forget to check out the auction listing ahead of the show! There are a ton of customs, exotics and antiques that have caught our eye and are sure to catch yours too. That's just from the auction taking place at the convention center!  You do not want to miss the opportunity to check out the Deuce's Wild Competition, the Joker's Wild Competition and the Atlantic City Invitation. These judged displays will be taking place in and around the convention center.
See you at the show!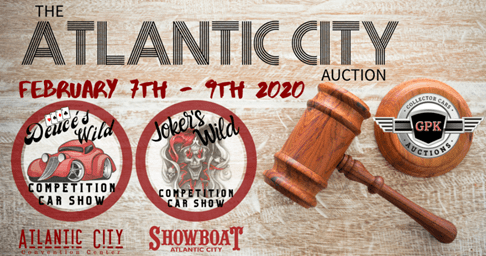 2020 Atlantic City Auction & Car Show
Location:
The Atlantic City Convention Center
Booths 915 and 916 – near the main entrance
1 Convention Boulevard
Atlantic City, NJ 08401
Event Dates & Times:
2/7/20 Friday 9:00-AM – 7:00PM
2/8/20 Saturday 9:00-AM – 7:00PM
2/9/20 Sunday 9:00-AM – 5:00PM
Can't make the show? Follow along with us on Facebook Live!
We'll be checking in on all the action throughout the weekend, so be sure to follow us on Facebook by liking our page so that you'll receive an update when we go live!