2002 Ferrari 360 Spider
Incredible performance with a 175 MPH top speed, aluminum space frame chassis that is 40% lighter than steel with an electrically operated hard top. 400 HP V-8 is visible through the clear engine cover.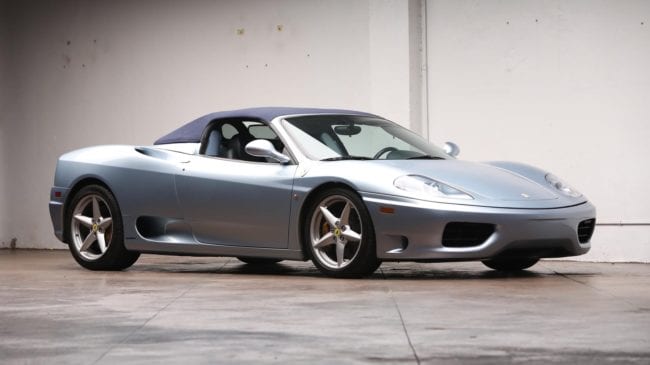 The Ferrari 360 Spider was unveiled at the 2000 Geneva Motor Show. It is Ferrari's twentieth road-going convertible in a long line of superlative touring vehicles. Rather than sticking to the status quo, Ferrari partnered with Alcoa to produce an entirely new all aluminum space-frame chassis that was 40% stiffer than the previous F355 which had utilized steel bodying frame members. The design was 28% lighter despite a 10% increase in overall dimensions. Along with a lightweight frame, the new Pininfarina body styling deviated from traditions of the previous decade's sharp angles and flip-up headlights with a more traditional and stylish body design.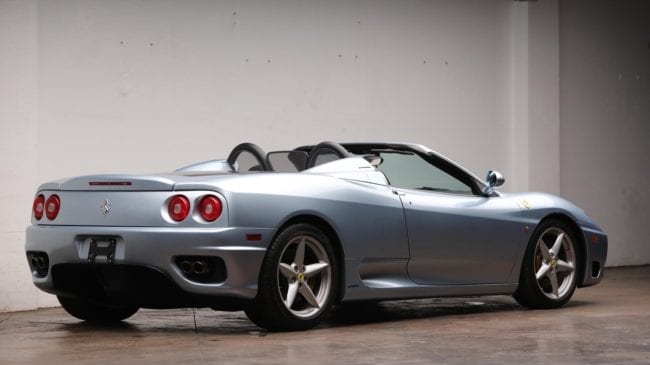 The 360 was designed with a convertible variant in mind; since removing the roof of a coupe reduces the torsional rigidity, the Spider was built for strength in the sills, stiffened in the floor pan, and it features a redesigned windscreen frame.  Ferrari was also able to increase passenger safety by adding the standard equipment roll bars.
Performance specs are impressive on this incredible Ferrari – 12.9 second quarter mile at 110 MPH, and a 175 MPH top speed – Formula 1 performance all while surrounded by Connolly leather.  By using light alloys for its body panels, engine, transmission, suspension, and chassis structure, Ferrari created an ultra-light chassis for their 3.6L/400-hp cinquevalvole (five valves per cylinder) V-8, which screams to a lofty 8500 rpm. This particular Ferrari has a manual six-speed gearbox, plus a set of the optional two-piece modular alloy wheels. It has been garage kept and only driven for maintenance in an impressive collection for many years. This is one of the first Ferrari models with the beloved paddle shifted gearbox that makes shifting a true driving experience!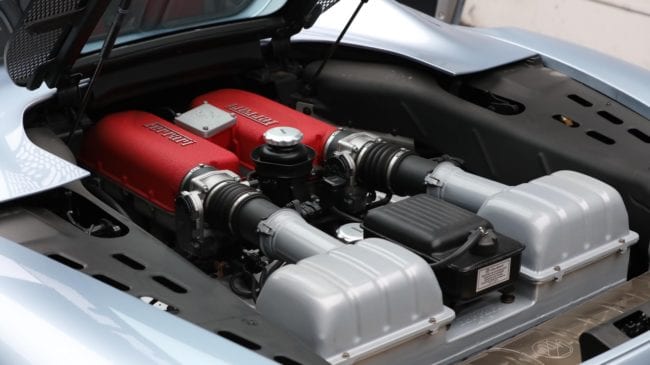 The fit and finish of the body is impeccable, with lovely straight panels and deep lustrous Tour De France Blue paint highlighting the Pininfarina design.  The leather interior features power seats, windows, locks, and mirrors, with AM/FM/CD stereo and an adjustable steering wheel.  Open air motoring is just a pushbutton away, but this 360 brings the best of both worlds to the table, because a quiet and dry hardtop is also just a pushbutton away if inclement weather arises.  The 360 is an impressive blend of classic and modern features, with a connected driving experience like few other vehicles.  Anyone who has owned a Porsche can attest to the quality of the build, the impeccable design, and stellar performance characteristics of all their sports cars, but the 360 is an enviable blend of style and performance that few cars can match.

3.6 Litre V-8, 400 HP, 6-speed automatic gearbox with paddle-shifters, 4-wheel independent coil spring suspension, 4-wheel power disc brakes, 102" wheelbase

/* Event search Custom Code */