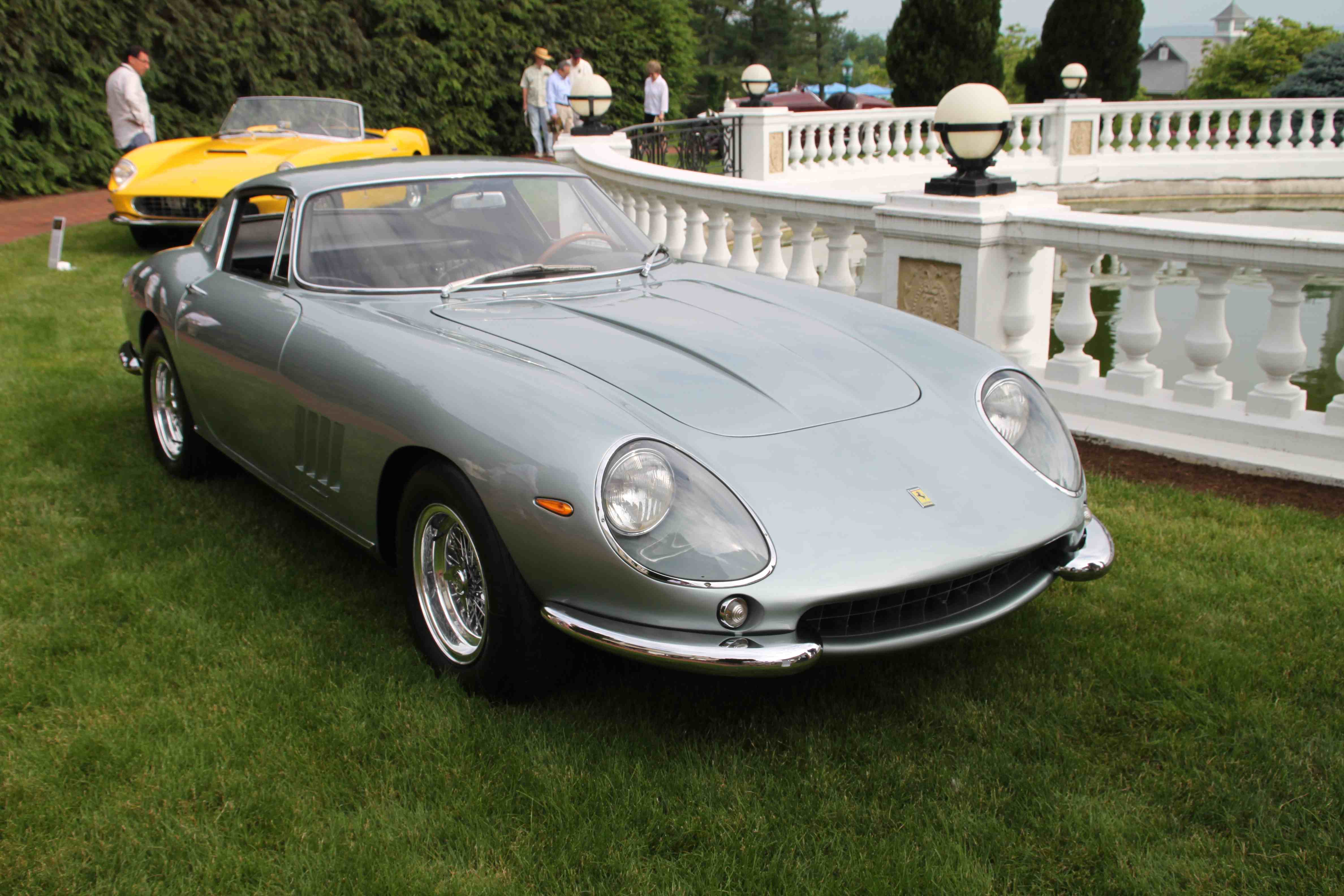 In late 1966, Ferrari used the Paris Motor Show to debut the latest development of its 275 GTB, the V-12 berlinetta that had been introduced to replace the long-running 250 series just two years earlier. With the addition of a second overhead camshaft to each cylinder bank, Ferrari squeezed one final iteration out of the venerable 60-degree, short-block Colombo motor that had powered the 250 and early 275 models, and in the process, they created the first dual overhead-cam engine ever used in a Ferrari road car. The new engine was equipped with six Weber carburetors, which was previously just an option on the single-cam motor, and its configuration distinguished itself by developing 20 horsepower more than the unit on which it was based.
The newly christened 275 GTB/4, aptly named for its four-cam valve actuation, did not visually compromise any aspects of the prior 275 GTB's beautiful Pininfarina body design, as it only added a sporty raised hood bulge to accommodate the revised engine's additional hardware. The 275 GTB/4 is increasingly being deemed by many Ferrari collectors to be the best-looking performing variant of the late 1960s V-12 berlinetta, and its collectability is increased by the fact that it was produced in a sparing quantity of approximately 330 examples. The model's rarity, ever-rewarding performance characteristics, and classic good looks have made it one of the most celebrated grand touring Ferraris of all time.
For many cognoscenti, the Ferrari 275 was the best looking of all Ferrari GTs in berlinetta form, which is attested by a roll call of such celebrity owners as James Coburn, George Harrison, Steve McQueen, Miles Davis, Eric Clapton, Clint Eastwood, and Peter Sellers. In 1964, it boasted Ferrari's first transaxle and all-round independent suspension, but after just a couple of years, it was majorly updated and uprated. Significant developments included not just the introduction of the smoother and more powerful dry-sump, four-cam engine but also a redesigned transaxle and steadying torque tube. With 300 brake horsepower at 8,000 rpm from the 3,286-cubic centimeter V-12, the 275 GTB/4 was capable of 0–60 mph in 5.5 seconds and a top speed of 163 mph.
In all, fewer than 300 Ferrari 275 GTB/4s were built, and they could easily be identified by their longer boot hinges and longer nose, which was a feature that was introduced for the berlinettas in 1966 to prevent high-speed lift. These 275 GTB/4s remain as exotic and coveted today as they were in period.
If you have an early model Ferrari or another collectible you'd like to insure with us, let us show you how we are more than just another collector vehicle insurance company. We want to protect your passion! Click below for an online quote, or give us a call at 800.678.5173.