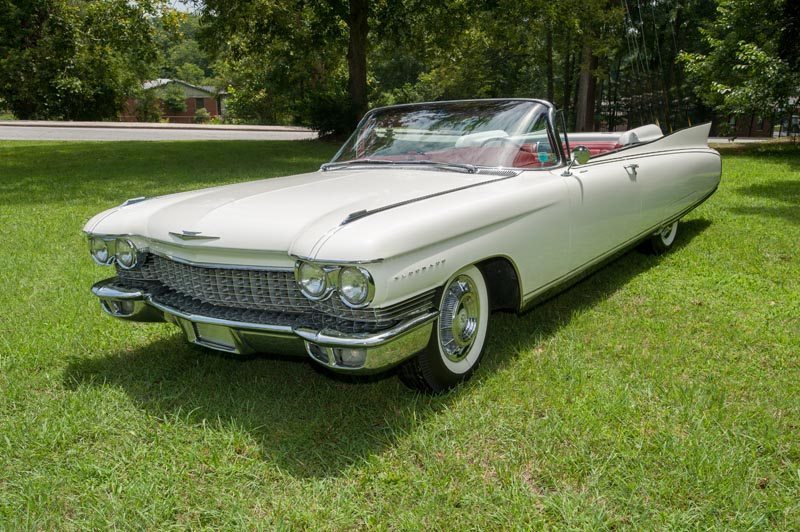 The 50's and 60's were a time of wonder and excitement in America, and Cadillac was on a roll – flashy styling and high performance made them the choice of the most successful of a new generation of buyers. Cadillac's fresh excitement displaced Packard as the leader in the fine car market. New models were eagerly anticipated, and 1960 was no exception.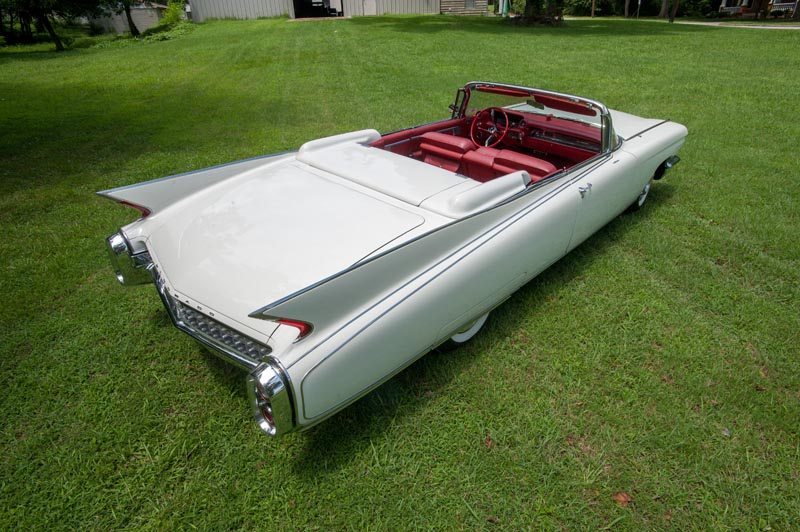 The new Eldorado, introduced in 1953, was based on the prior year's show car, and featured a unique new wraparound windshield, a custom interior, and a daring dip in the beltline. Priced at $7,750, it was the most expensive car GM had ever offered. They would produce only 532 of these impressive road cars in 1953.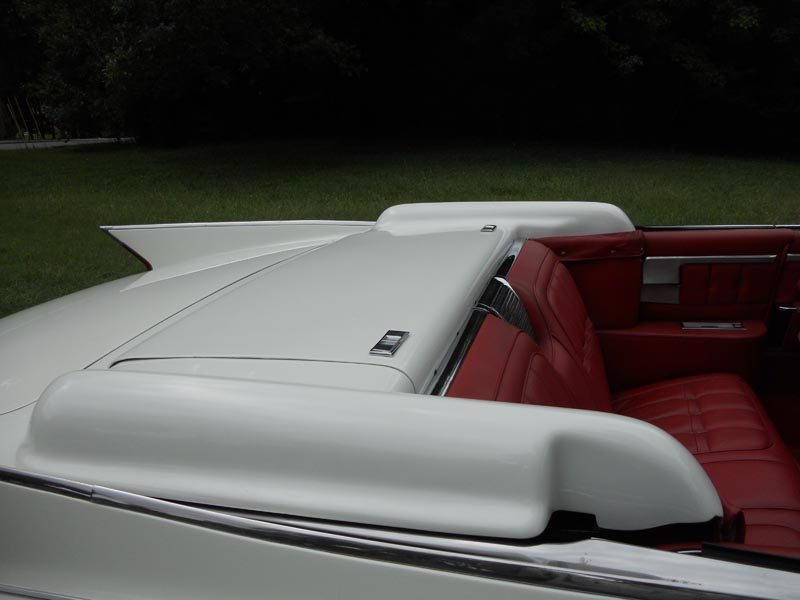 Harley Earl's infatuation with big fins would lead the Eldorado to become one of the most exciting designs to hit the automotive world, and by 1960, everyone knew that if you were driving Earl's sensuous Eldorado Biarritz Convertible, you were driving the best.
The equipment list on this urge-stirring design included everything Cadillac could offer in comfort, convenience, and style for 1960. Wearing the signature design of Dave Holls, in an era where no design was too wild, the 19 foot-long Cadillac Eldorado Biarritz convertible is an undeniable elegant statement. Powered by a 390 cubic inch, 345 horsepower V-8, wearing three carburetors, and riding on a 130-inch wheelbase and chock full of power equipment, this is the ultimate American convertible, and was clearly a car reserved for the most demanding buyer.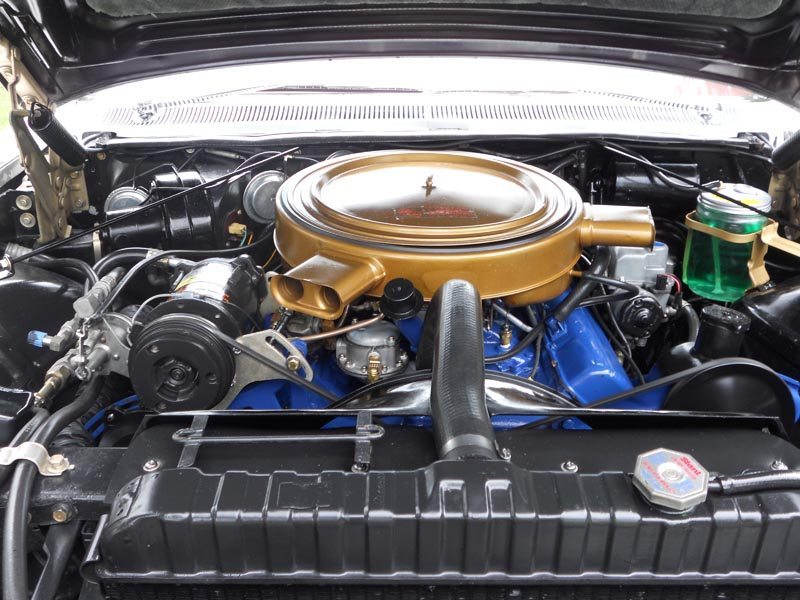 Standard equipment included air conditioning, power brakes, power steering, automatic transmission, dual back-up lamps, windshield wipers, two-speed wipers, wheel discs, outside rearview mirror, vanity mirror, oil filter, power windows, six-way power seats, heater, fog lamps, remote control trunk lock, radio with antenna and rear speaker, power vent windows, air suspension, electric door locks, and power convertible top.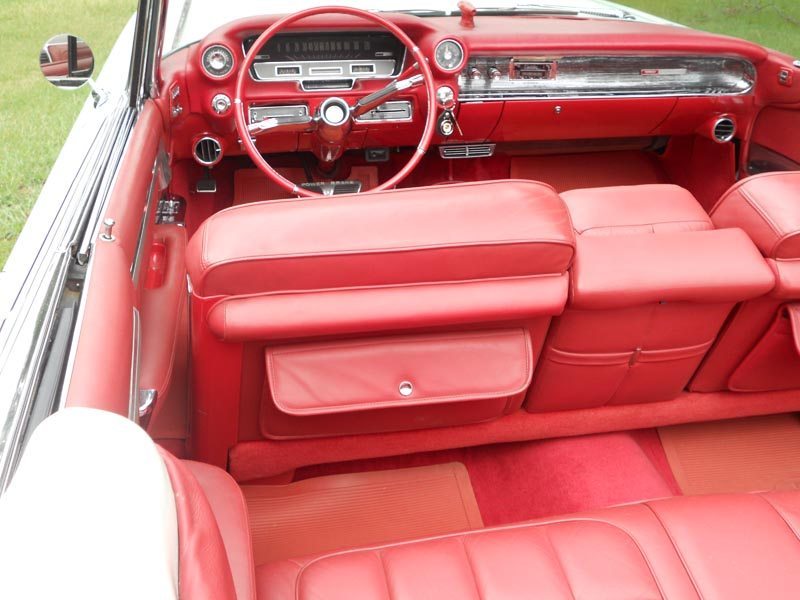 The subject of a very good restoration some years ago, this 1960 Cadillac Eldorado Biarritz has been in the current owner's hands for approximately 15 years. The Biarritz features elegant Sterling White paint with a black soft top and stunning red leather interior. The car is obviously been well cared for, and their efforts have paid off with a car that is both drivable with no worries and still fully able to compete on the show field. The finish and the chrome are outstanding, the leather interior is excellent, with fine brightwork and outstanding carpets, and the rare fiberglass parade boot is included.  The Eldorado Biarritz represents an age of glamour for America, and this example represents the pinnacle in its era.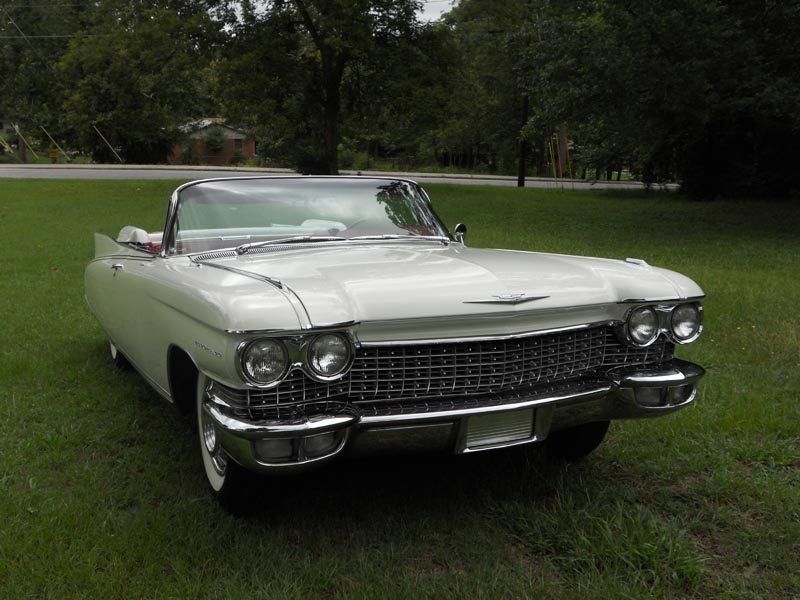 Technical Specifications
390 cid V-8 engine, 325 HP
Curb weight 5,058 pounds
Four-speed Hydramatic transmission
Front independent coil spring suspension
Rear air ride suspension
130.1" wheelbase
If you have an early model Cadillac or another collectible you'd like to insure with us, let us show you how we are more than just another collector vehicle insurance company. We want to protect your passion! Click below for an online quote, or give us a call at 800.678.5173.