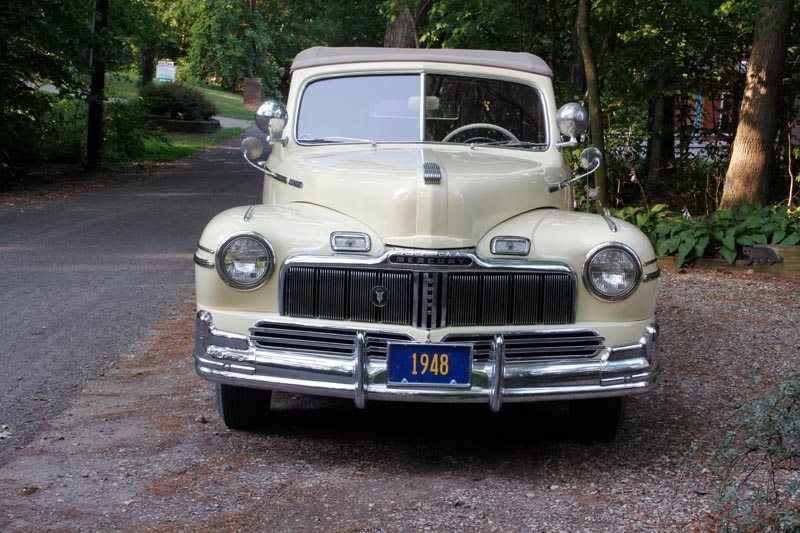 Henry Ford had already made automotive history many times over, but in retrospect, one of his greatest achievements was the refinement of the V-8 engine, starting with the 65 HP versions starting in 1932. Unlike other V-8's of the era, the now legendary Ford Flathead V-8 incorporated the crankcase and the cylinders into one simple casting, and with removable heads, it was not only fast, but reliable and easy to service as well. It's no wonder that the 1948 Mercury has always been desirable to collectors and hot-rodders alike.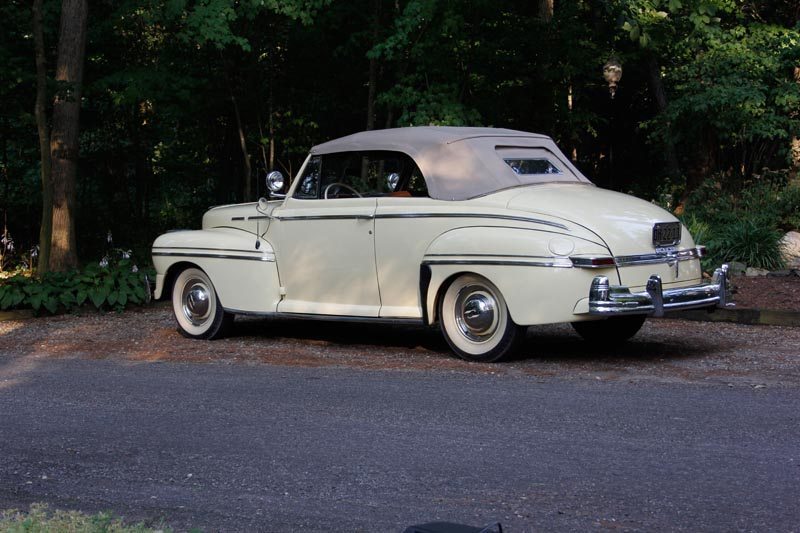 Ford continued to develop and improve their V-8, and soon the output increased to 75 HP in 1933, and 90 HP in 1939, when they began to share the engine with their new Mercury line of luxury vehicles. Post-war, the Flathead pushed out 100 HP by 1946, and Mercury continued using the engine through 1953.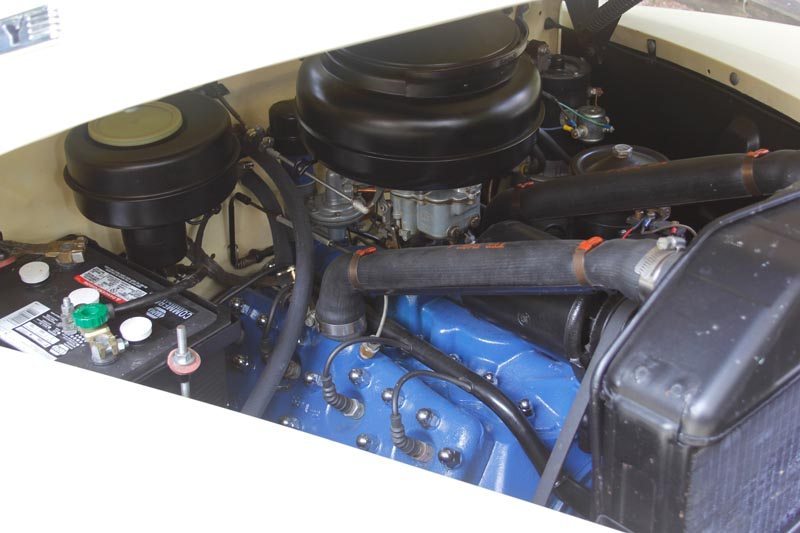 The 1947 and 1948 model year Mercury convertibles were very similar, as the factory production changeovers, the calendar, and the public were not yet in perfect synch post-war. The economy was churning ahead, and all auto manufacturers were working to keep up with demand. The 1948 model year was incredibly short, just 4 months long, due to the early introduction of the 1949 models in April of 1948. The wood bodied Sportsman convertible was gone, yet Mercury sold 50,268 vehicles in 1948.
This Mercury was restored in the late 80's utilizing a solid and very complete car for a starting point. It is nicely finished in a period correct soft yellow paint with brown leather interior and a tan Haartz cloth top, which was new in 2003, and the Merc is equipped with the accessory radio, clock, and spotlight.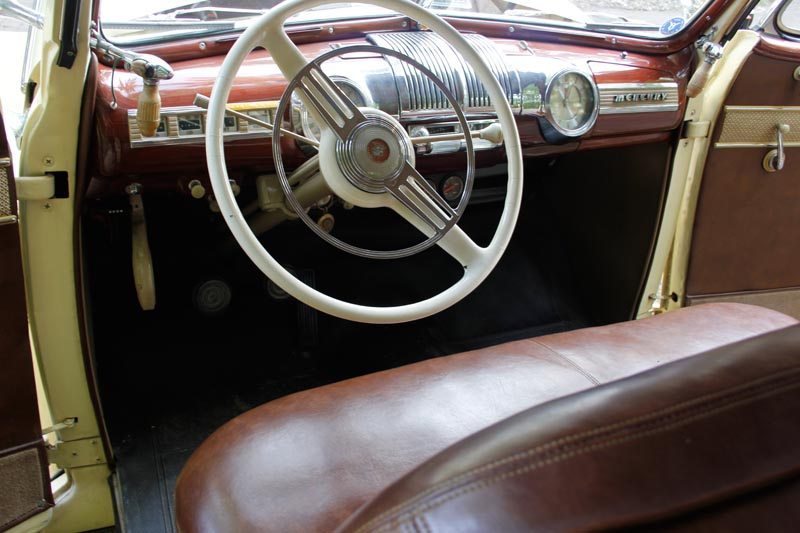 The interior is very clean and tidy, with a restored woodgrain finished dash and all controls and gauges in working order.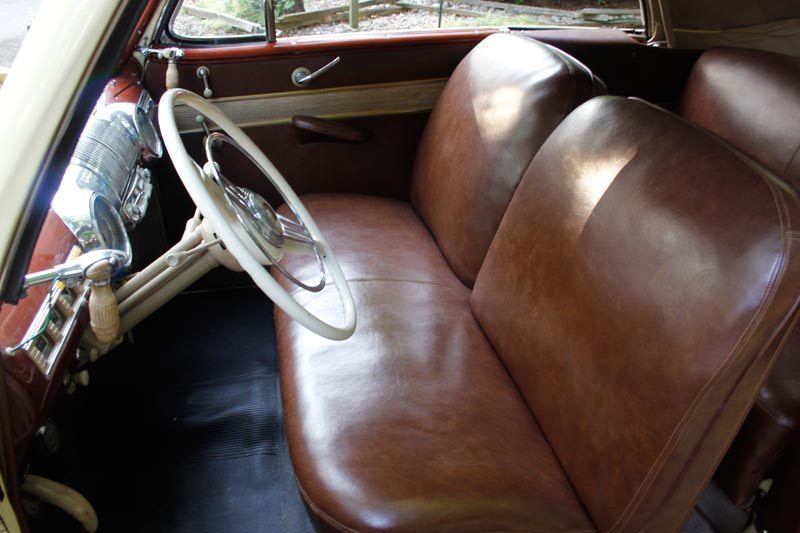 The panel fit of this Mercury is very precise, with even gaps and proper alignment. The paint is extremely nice and shows the long term care the vehicle has received. There are no apparent repairs to any of the sheet metal components, and the chrome and brightwork, always a Mercury hallmark, shine brightly.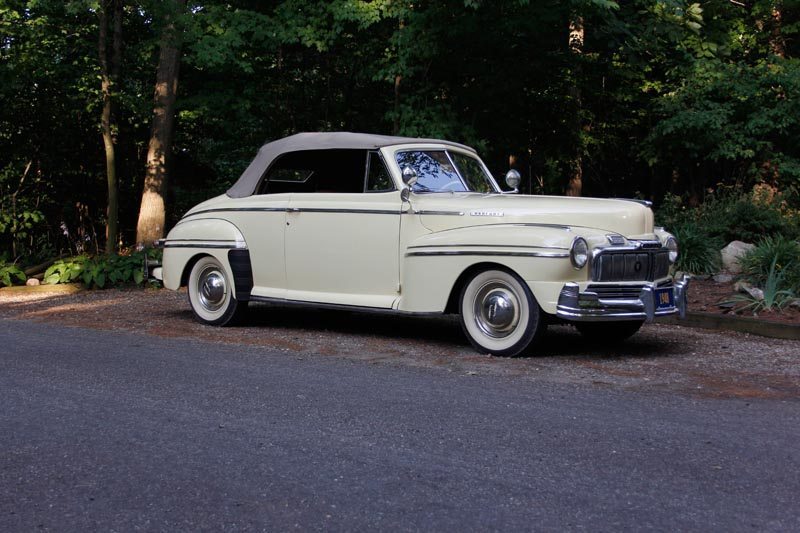 The engine bay and chassis are very presentable, with signs of use, but nothing unusual. The vehicle runs easily and drives very nicely, and these big Mercurys are one of the most comfortable riding cars of the era. Overall, it's an excellent example of a postwar Mercury with a clean and authentic restoration, and one that has obviously been meticulously maintained and still looks great.
239 cid Flathead V-8, 100 HP
3 speed manual transmission
Front coil springs
Rear semi-elliptical leaf springs
118" wheelbase
If you have an early model Mercury or another collectible you'd like to insure with us, let us show you how we are more than just another collector vehicle insurance company. We want to protect your passion! Click below for an online quote, or give us a call at 800.678.5173.