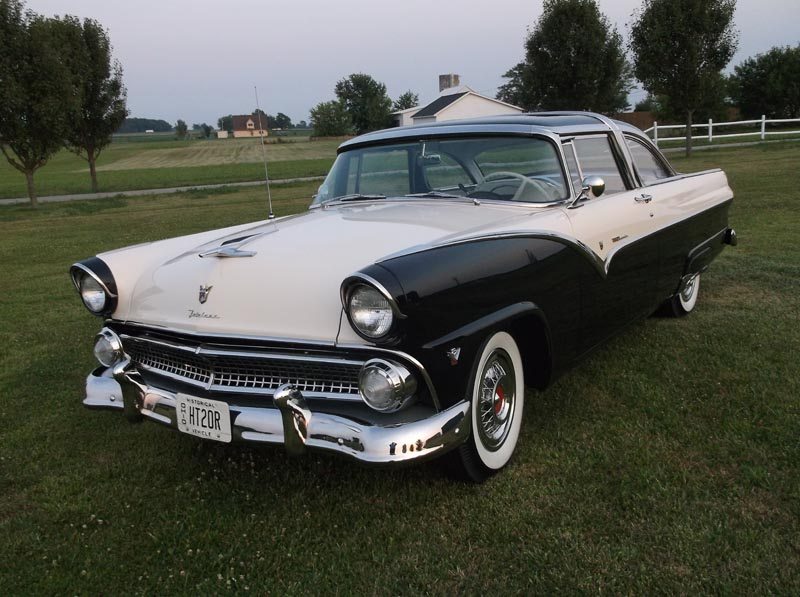 1955 was a great year to be shopping for your first new car.  Chevy finally had a V-8, and their new styling looked as cool as Kim Novak in a swimsuit. And Plymouth was hotter than ever, strutting the first year of Virgil Exner's "Forward Look" styling and boasting a V-8 of its own. Ford, whose overhead-valve V-8 was now in its second year, sported many advanced styling themes, with a deliberately strong association to the new Thunderbird. The top of the line Crown Victoria, new for 1955 and sporting a new wrap-around windshield, tubeless tires, disc wheel covers and tons of new options, was one of the icons of the "2 tone paint and chrome" era, sporting a unique chrome-pillar roofline, and in the case of the car presented here, the factory correct two-tone black and white color scheme both inside and out.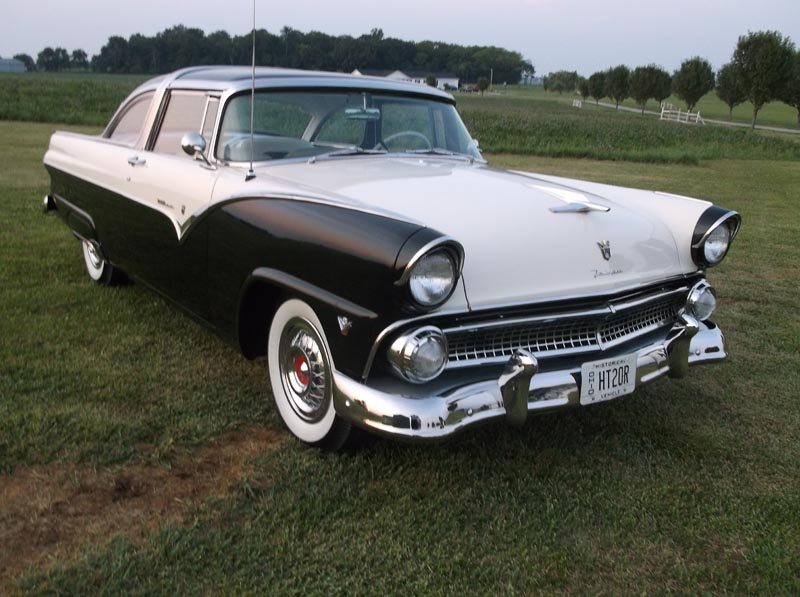 This great vehicle was a solid, no rust Texas car when it received a ground up restoration in 1994. It retains it's complete numbers matching drivetrain, and was meticulously restored to original stock condition. It is nicely equipped with the 272 ci Y-block V8, Ford-o-matic automatic transmission, power steering, power brakes, and even the very rare factory air conditioning.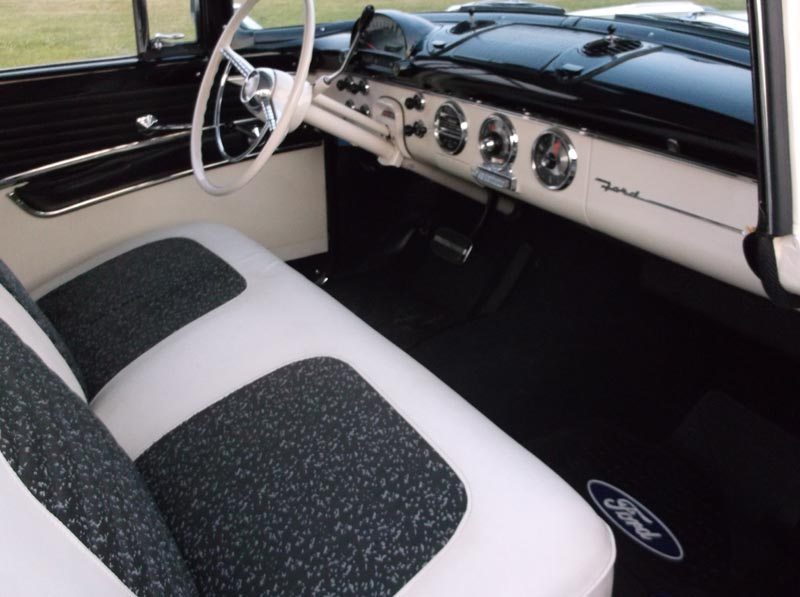 For the first time, Ford customers could purchase their new cars with air conditioning referred to as Comfortaire. The system included a condenser unit in the trunk, plus a pair of air ducts in the trunk and clear tubes which run from the rear package shelf into the headliner, where one found the air ducts. The system was very costly, and even in a huge production year of over 1,573,000 units created, only 402 Fords were produced in 1955 with factory air. Everything is very tidy and correct under the hood. New paint, chrome, and a great two-tone interior remain in outstanding condition, and round out the spectacular presentation of this award winning Crown Vic.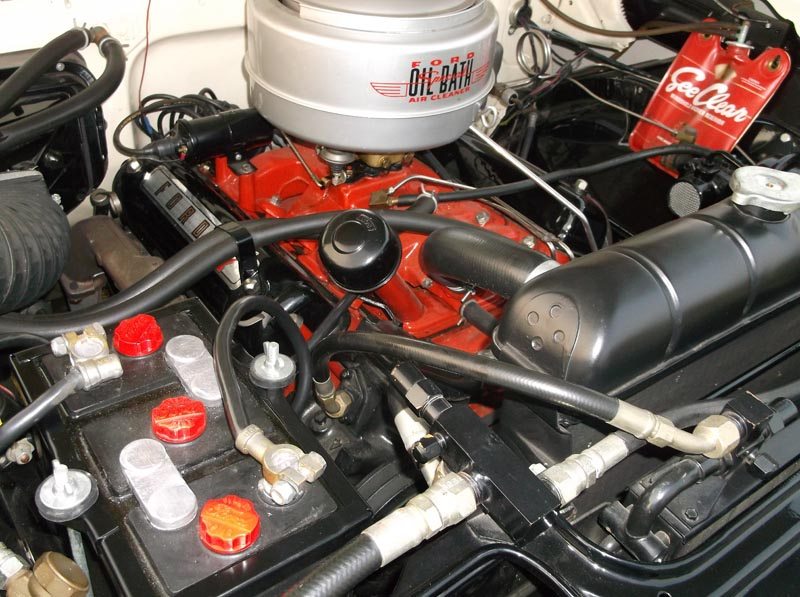 Beginning in 1995, the Awards began to pile up for the owner.  At the Crown Victoria Association's National Meet, it won Best in Class in it's first outing. After that, it was awarded both AACA Junior and Senior National Awards (Vehicle #21485), and has been nominated for the AACA Grand National Award as well, although it has not been judged yet, it is still eligible for this and the AACA Preservation Awards. It has won First Place Concours honors at Dayton, Dublin, Ripley, and most recently, the Glenmoor Gathering.
As you would expect from a concours-level restoration, the vehicle runs and drives wonderfully, with solid handling and great highway road manners. Coming out of nearly 20 year ownership, it has always been lovingly maintained, garage kept, and used for only shows and special occasion drives. The paint retains a fine lustre, and the trademark "bright metal roof transverse molding", along with the distinctive side spear, showcase the impressive level of attention to detail this car received during restoration.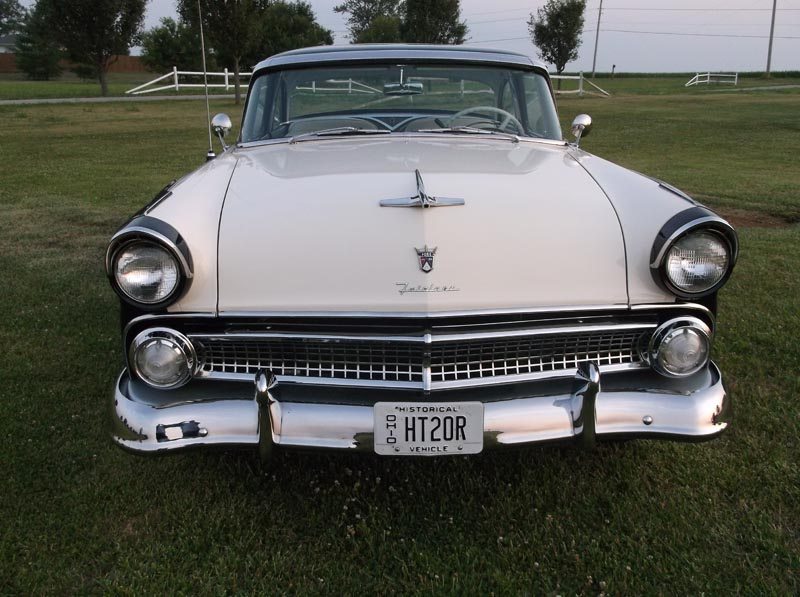 The Crown Victorias were lower and longer than any fixed roof cars that Ford had ever produced, and they made sure that loyal Ford customers had a full luxury option from the Blue Oval. Certainly one of the most attractive and rare post-war Fords, this Crown Vic is also one of the nicest examples we have seen in quite some time, and drives well to boot.  It's great to see solid western cars restored to such a high level of originality, with absolutely nothing skipped or added.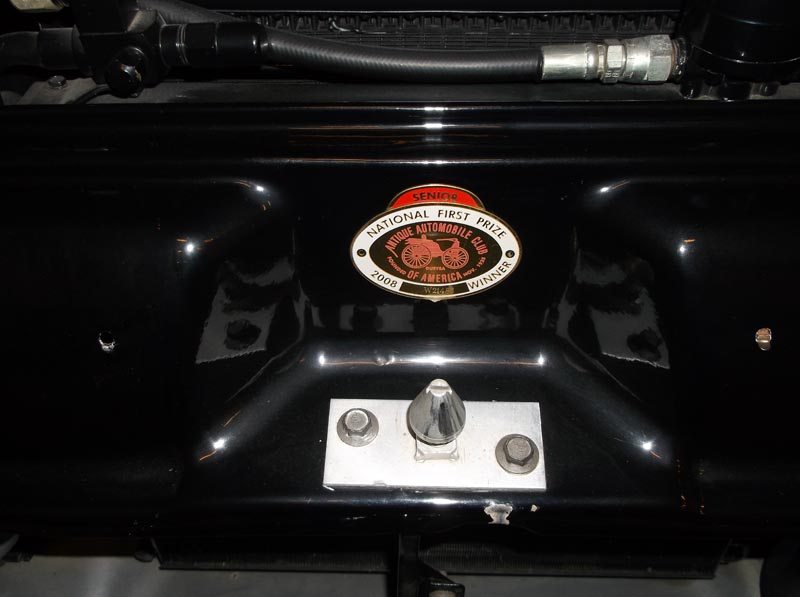 Specifications
272 ci Y-Block V8 engine, 162 HP
Ford-O-matic automatic transmission
Power steering
Power brakes
Factory in dash air conditioning
Front transverse-link type suspension with tubular shocks
Rear semi-elliptical leaf springs
115.5" wheelbase
If you have a older model Ford or another collectible you'd like to insure with us, let us show you how we are more than just another collector vehicle insurance company. We want to protect your passion! Click below for an online quote, or give us a call at 800.678.5173.