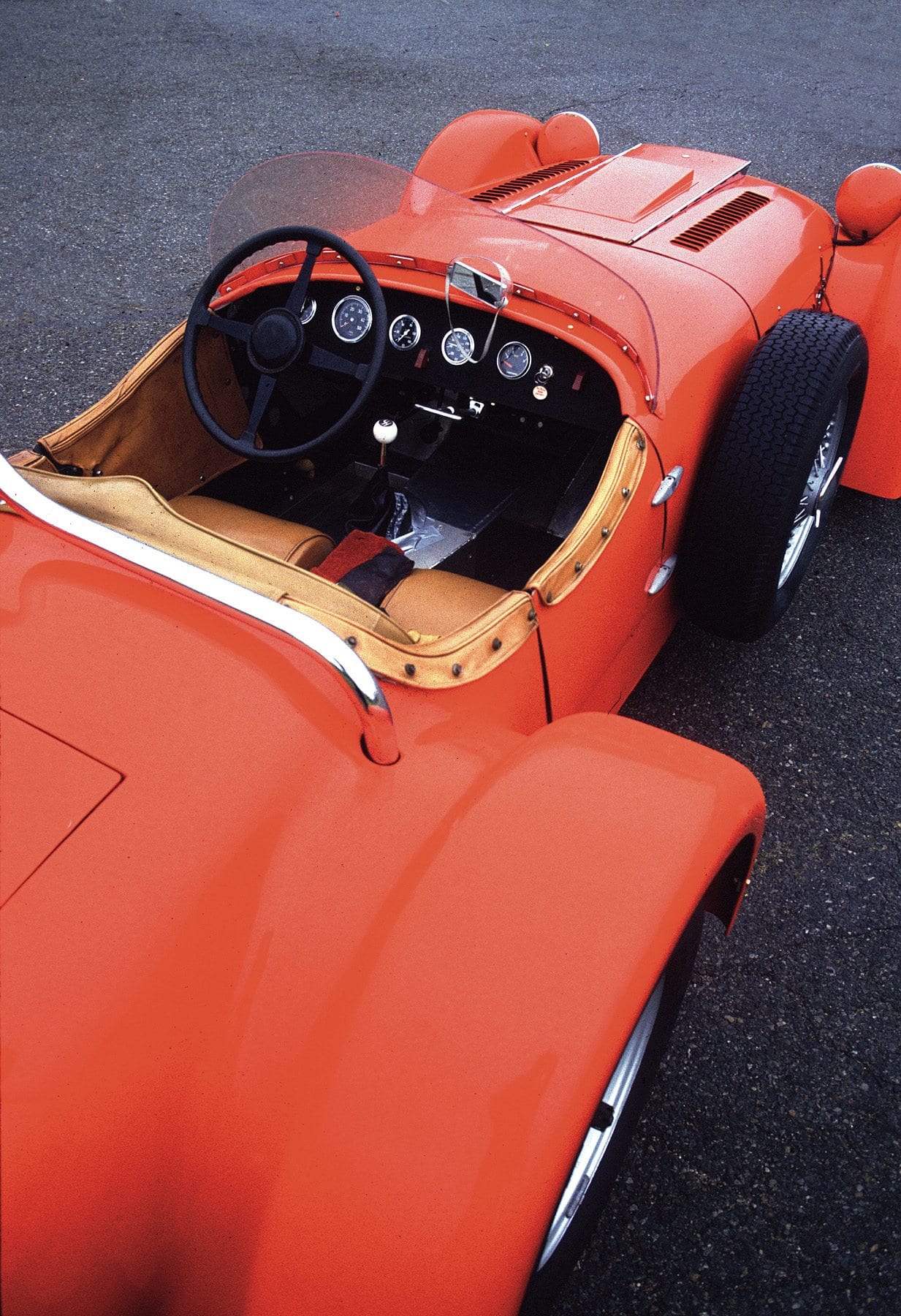 The Korean War of early the Fifties is often referred to as the "forgotten war." It is little talked about today for some reason; though for those who lived it, the memories are vivid. Also during that same period, another conflict was threatening our shores in the form of an invasion from Europe, and it too has largely been forgotten. Small, fast, nimble cars from Great Britain and later, Germany and Italy, began tearing up America's highways and tracks. They called them sports cars. Everybody wanted one.
America had once produced its own sports cars, such as the Mercer Raceabout, the Stutz Bearcat and the Kissel Gold Bug during the jazz age, but the Great Depression saw the end of them. Sedate sedans dominated our markets after that, especially in the early postwar years. But our returning G.I.s craved some of the more exciting cars from the British Isles where so many of them had been stationed during the conflict.

As a result, Jaguar XK 120s, Triumph TR2s and M.G.TCs all became big hits in the States. In fact, they were so popular that American automakers also began trying to move into the market niche these cars were creating. Most of our early postwar attempts at building sports cars were under-funded and abortive, but then Chevrolet brought out the Corvette in 1953 and the race was on.
However, in addition to the Vette there was the Crosley Hot Shot, the Kaiser-Darrin, Kurtis' custom offerings and the Muntz Jet; all very exciting machines in their own right. And all of them rare and much sought after today. Those who yearned for raw speed could get it in spades with a Kurtis or a Muntz Jet. If continental elegance was seductive to you, the Kaiser-Darrin was an attractive option. But if you were looking for low-buck racing action, the Crosley Hot Shot was irresistible.
Hot Shot
Powel Crosley made a fortune in the 1930s selling inexpensive radios, and the first refrigerators with shelves in their doors, called Shelvadors. Flush with success, Crosley decided to try his hand at auto making in 1939. Again, he went for the low end of the market with a tiny car powered by an air-cooled, two cylinder, Waukeshaw industrial engine. At first he didn't market his new offerings through car dealers at all. People purchased them at the local appliance store. The convertible coupe sold for just $325 making the Crosley the lowest priced automobile in America.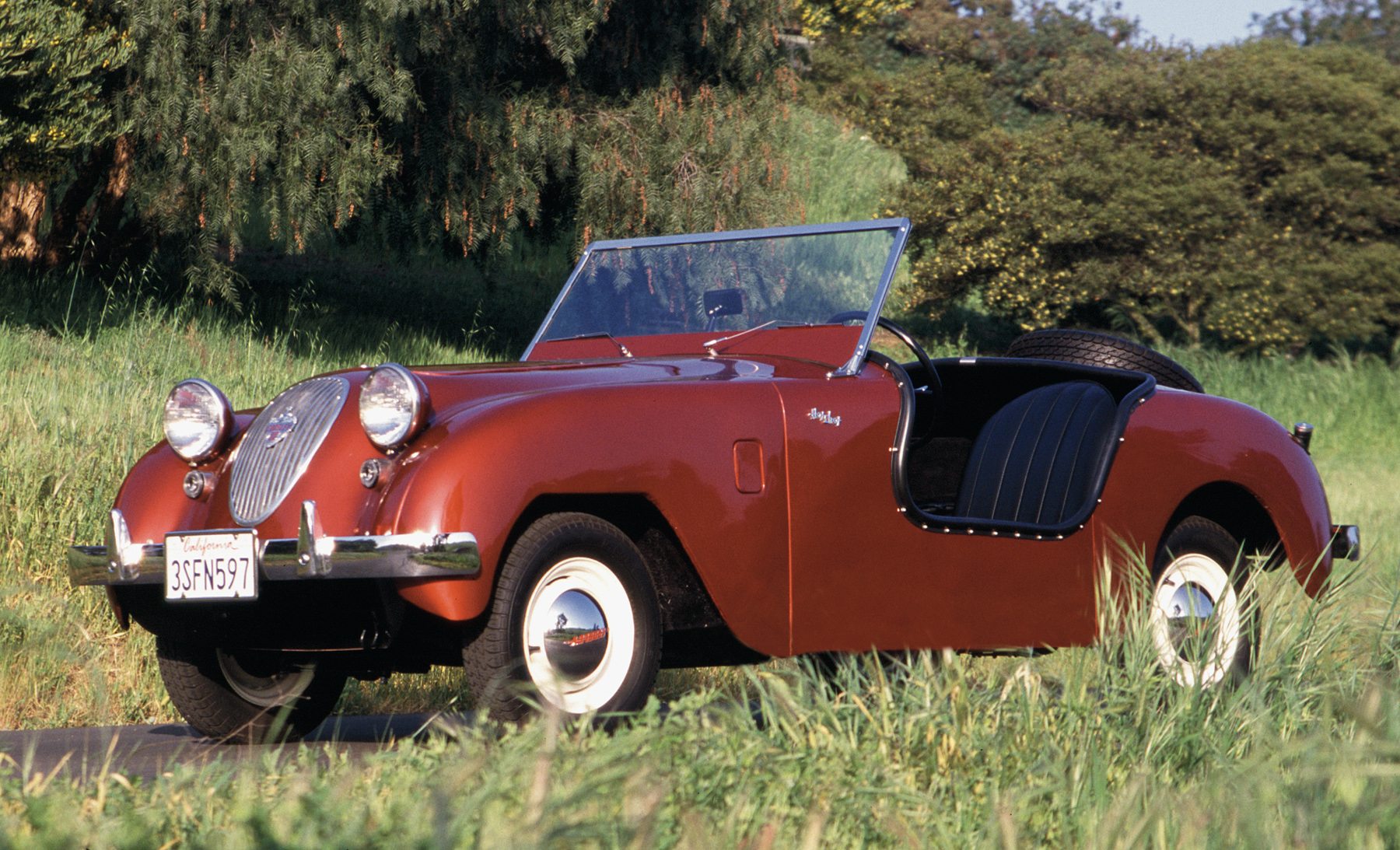 Manufacturing continued until 1942, when war production stopped the building of automobiles, but during the prewar years Crosley had sold over 2,000 of his tiny machines. When the war ended, an all-new Crosley was introduced for 1946 that sported a 44 cubic-inch, four cylinder, Cobra engine featuring a cylinder block made of copper-brazed sheet steel. Because Crosleys were so small and light, they performed surprisingly well with these tiny, tinny power plants, though electrolysis made them rather short lived.
The Cobra engine was soon replaced by an updated cast iron version with five main bearings and an overhead cam that proved to be quite rugged and dependable. In stock form these engines only made 26.5 horsepower, but they could propel the Hot Shot to 90 miles-per-hour. Many of these later engines were breathed upon for use in dirt track midget cars and other racing applications.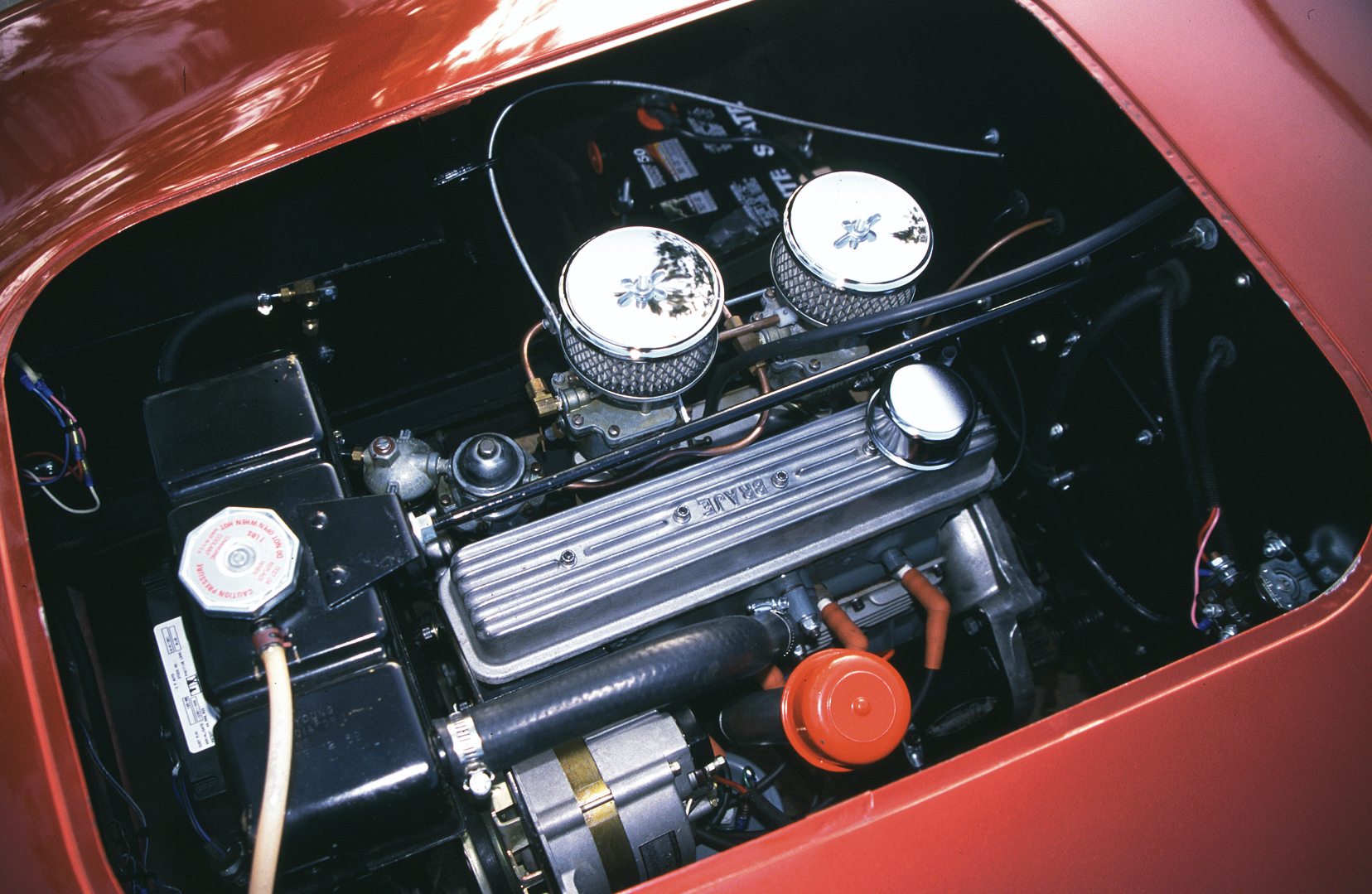 Crosleys had a rather high, narrow, squeezed look about them that was dictated by the fact that Powel Crosley insisted they be shipped two abreast in rail cars to save money. In the postwar years Crosley offered a two door sedan, a convertible and a station wagon, as well as a sports roadster called the Hot Shot. All came with four-wheel disk brakes, which—along with Chrysler's Town and Country Newport—was a first in the U.S., though they proved to be trouble-prone in service and were later replaced with conventional drum brakes.
The Crosley Hot Shot looks like an even smaller version of Austin Healey's Bugeye Sprite. It has no doors, and suspension that is only slightly more sophisticated than that of a go-cart. But it weighs only 1,175 pounds, so even though its engine only displaces 722cc, it goes like a bad smell and corners as if it were on rails. In fact, a Hot Shot comported itself well in 1952 at Le Mans until its voltage regulator failed, and one actually won in its class in the Index of Performance at Sebring in 1951.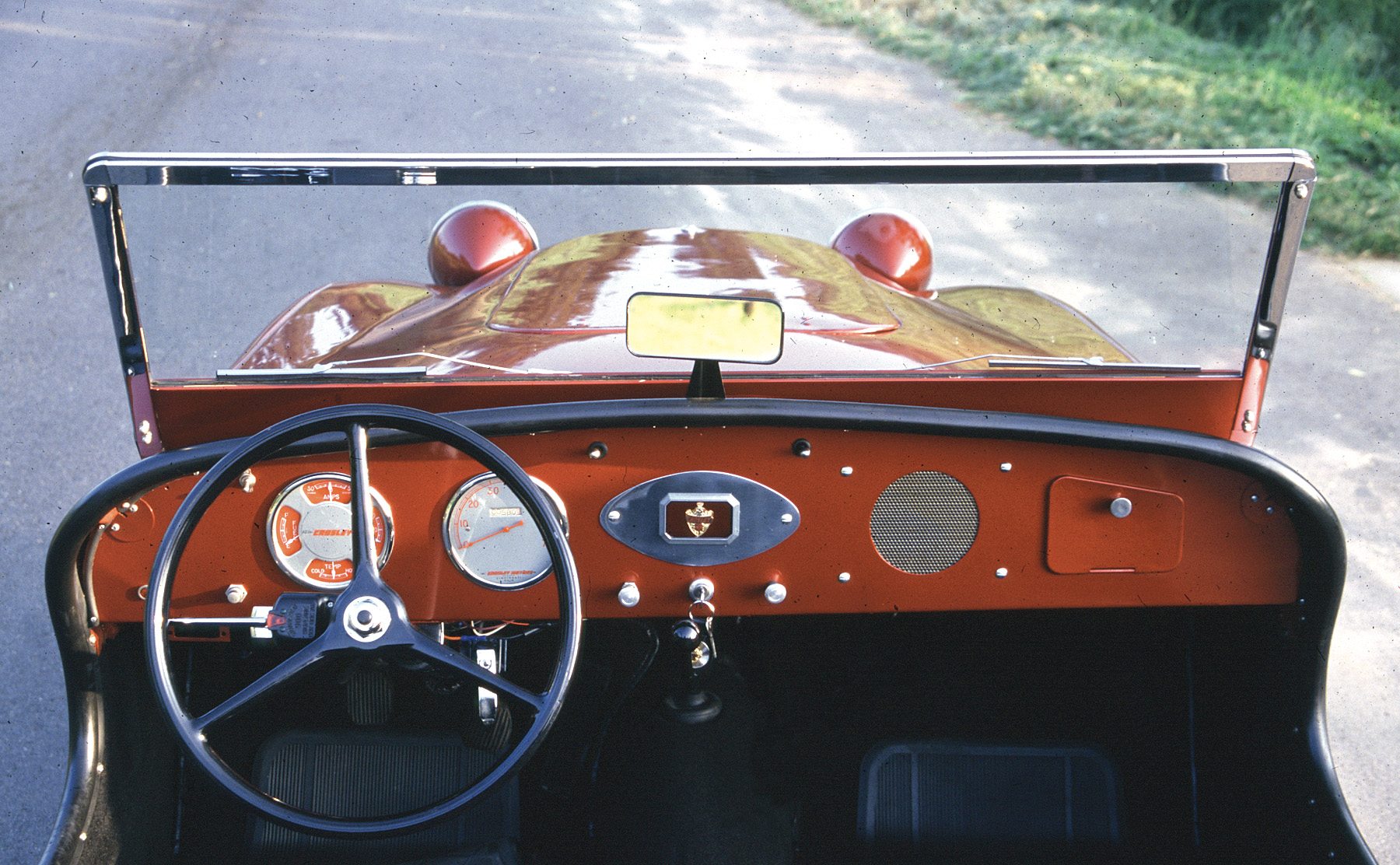 A slightly more deluxe version of the Hot Shot, called the Super Sport was also offered. It sported such decadent amenities as operable doors and a fold down top. In both cases, the spare tire was mounted on the rear, and both the Hot Shot and the Super Sport rode an 85-inch wheelbase. Unfortunately, Crosley's fortunes went the way of many of the independents, and the company ceased production in mid-1952.
Kaiser-Darrin
Howard "Dutch" Darrin had been a custom coachbuilder in Paris in the days of the great classics. His styling graced Duesenbergs, Minervas and Hispano-Suizas, and later he custom built sporty looking Packard 120 roadsters out of his shop in Hollywood, California. His Packard Darrins were so successful that the prestige automaker offered them in their catalog in the early Forties, and Darrin is even said to have designed the sleek '41 Packard Clipper.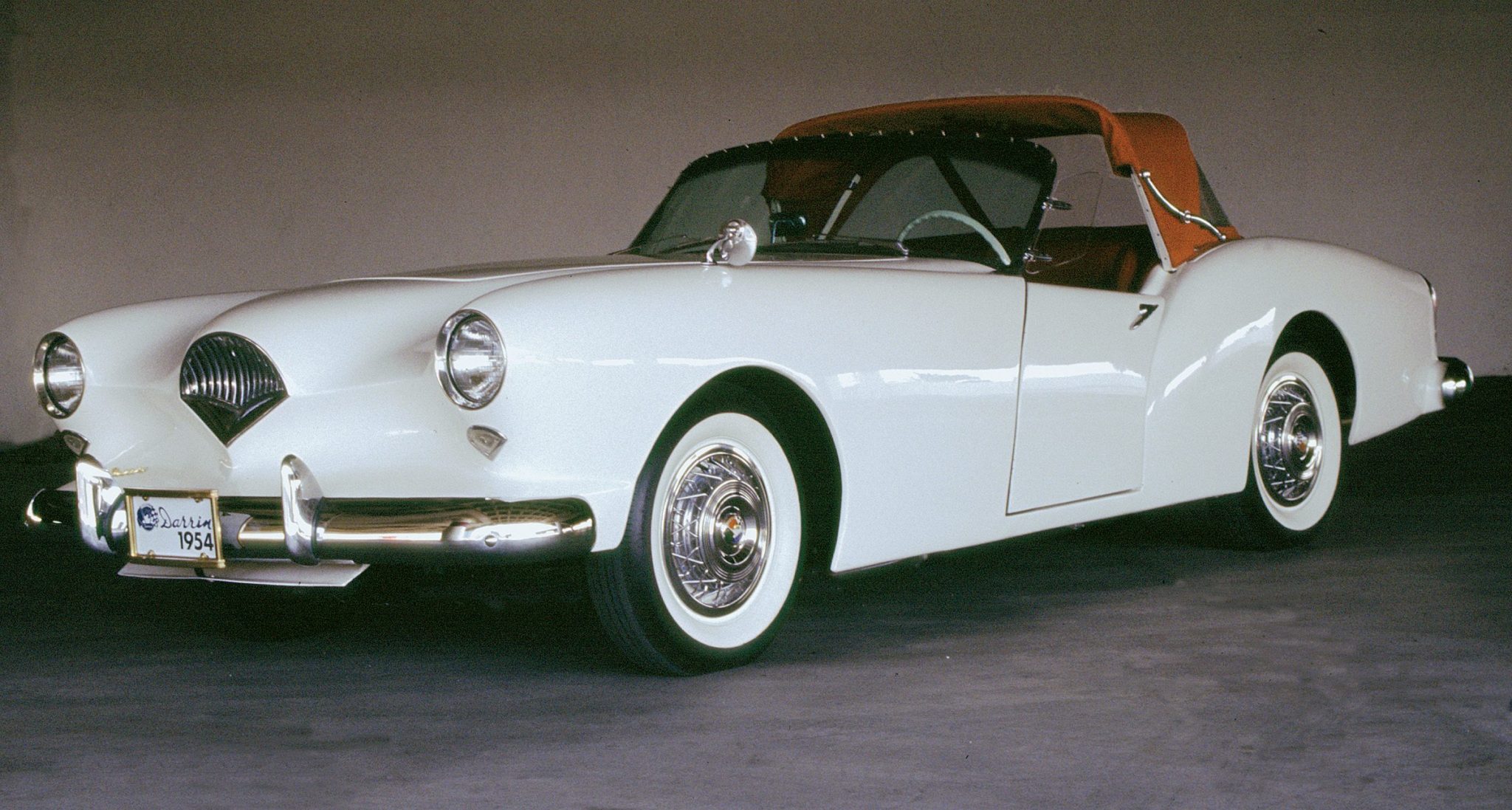 Then, during World War II Henry J. Kaiser, the great construction mogul, ship builder and steel magnate, decided to toss his hat into the ring and build his own cars. Like all the American automakers of the time, he too was interested in producing practical sedans that would appeal to the family man. His Darrin-designed four- and two-door sedans sold well at first, but by the mid-Fifties a series of financial setbacks, steel shortages and poor management decisions had combined to end his foray into auto making.
From 1946 until 1955 the Kaiser-Frazer Corporation produced the Kaiser—a car intended originally to compete with the Fords and Chevrolets of the time; the upscale Frazer—intended to compete with Buick, Mercury and Dodge; and later, the Henry J which was an ill-timed foray into the compact car field. Also during that period Kaiser-Frazer merged with Willys.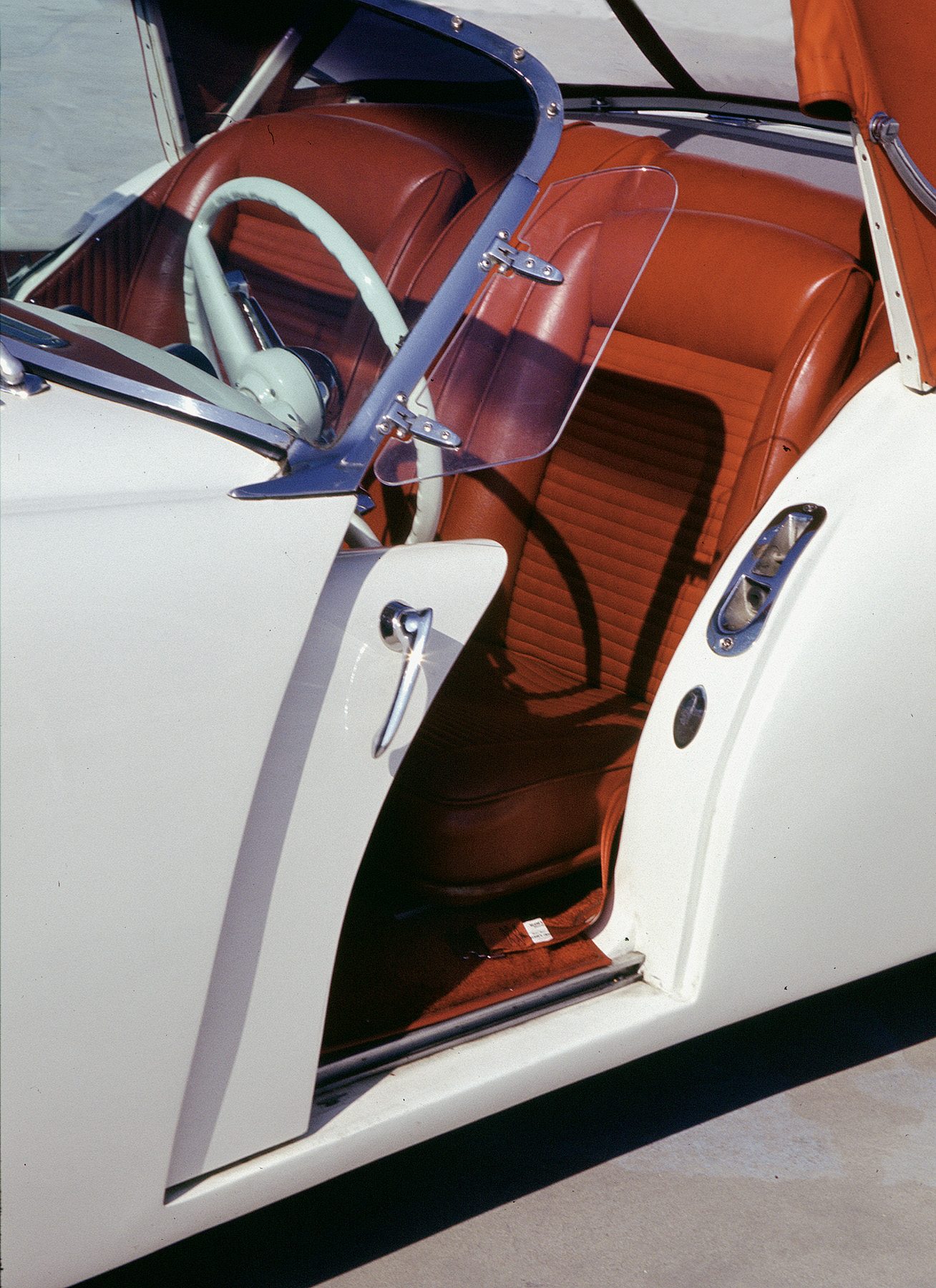 Dutch Darrin was never really satisfied with how his passenger car designs had been adapted for production, so he decided to use his own money to produce a prototype Kaiser sports car of his design. The result was long, low and elegant. It used a Henry J chassis and a Willys F head six-cylinder engine that produced 90 horsepower. And thanks to the car's rather light 2,175 pound weight, it was reasonably fast for its day. A few were even treated to McCulloch superchargers, making them one of the hottest offerings of 1954.
Henry Kaiser was put out that Darrin would take such liberties until he found out that Darrin had built the car on his own time and with his own money. And then Kaiser's wife saw the handsome, KD-161 convertible and fell in love with it. She remarked that it was the most beautiful thing she had ever seen. That was enough to get the car into limited production. The body was all fiberglass, and the doors slid forward into the long front fenders. The trunk and tonneau opened rearward and was all one piece. The Darrin's top could be partially folded to become a landau top, or put into the tonneau for a sleeker look.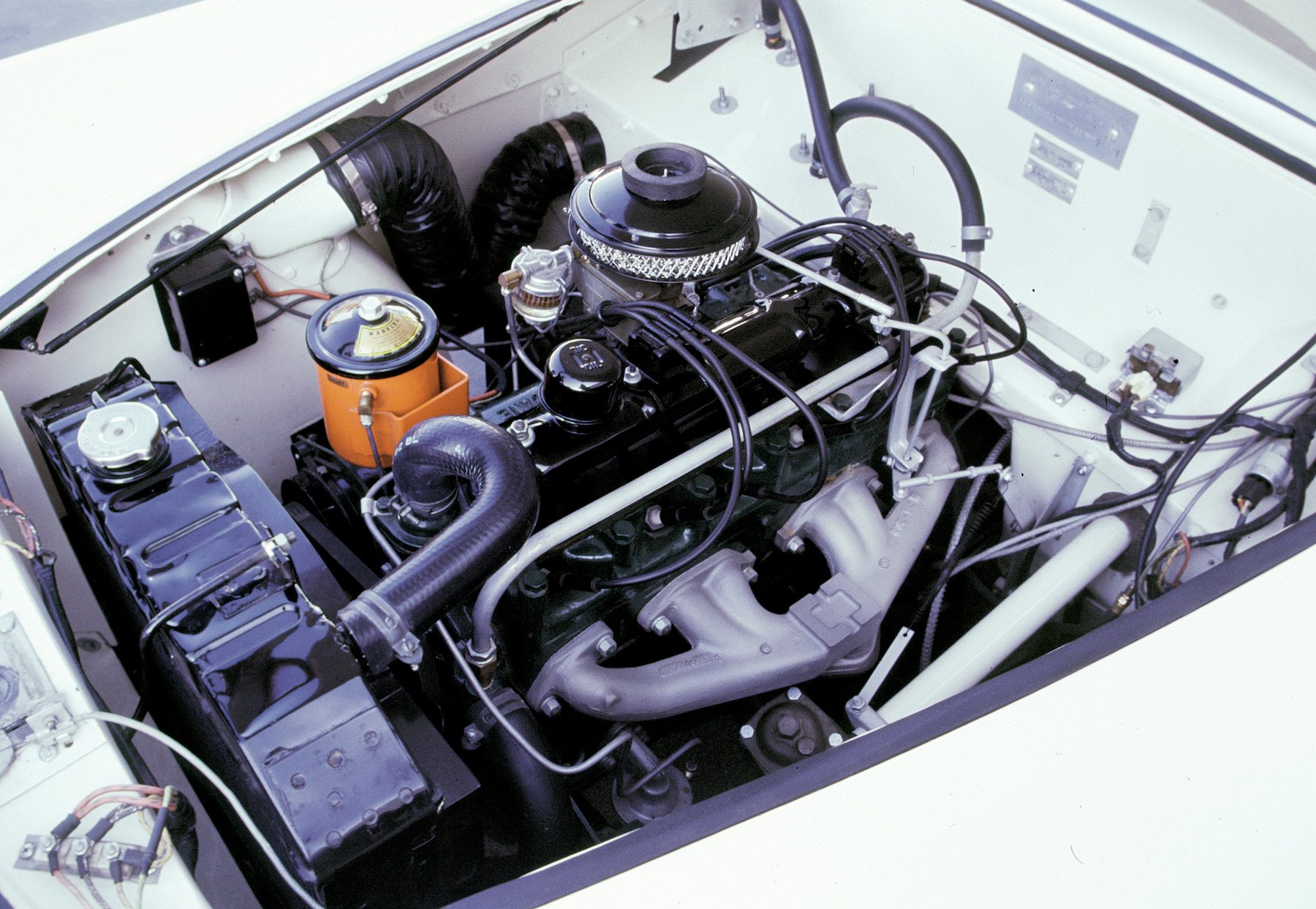 The problem was, the Kaiser-Darrin was too little too late. Apparently the last 100 of them were left out in the elements when production stopped at Willow Run in 1955. Dutch Darrin couldn't bear to see his creations languish, so he bought up the whole lot remaining and later powered several of them with Lincoln motors, making them truly quick as well as graceful looking.
Kurtis Kraft
How would you like to own a race-winning early Fifties Indianapolis car with fenders and headlights that you can take out on the street? Well, it is an exciting reality for a few lucky owners of the remaining Kurtis 500S series sports cars. They are a tiny bit wider than the Indy racers from which they were derived so two people can ride in them, but otherwise they are basically street legal Indianapolis roadsters capable of 142 miles an hour in street trim running a stroked Merc flathead.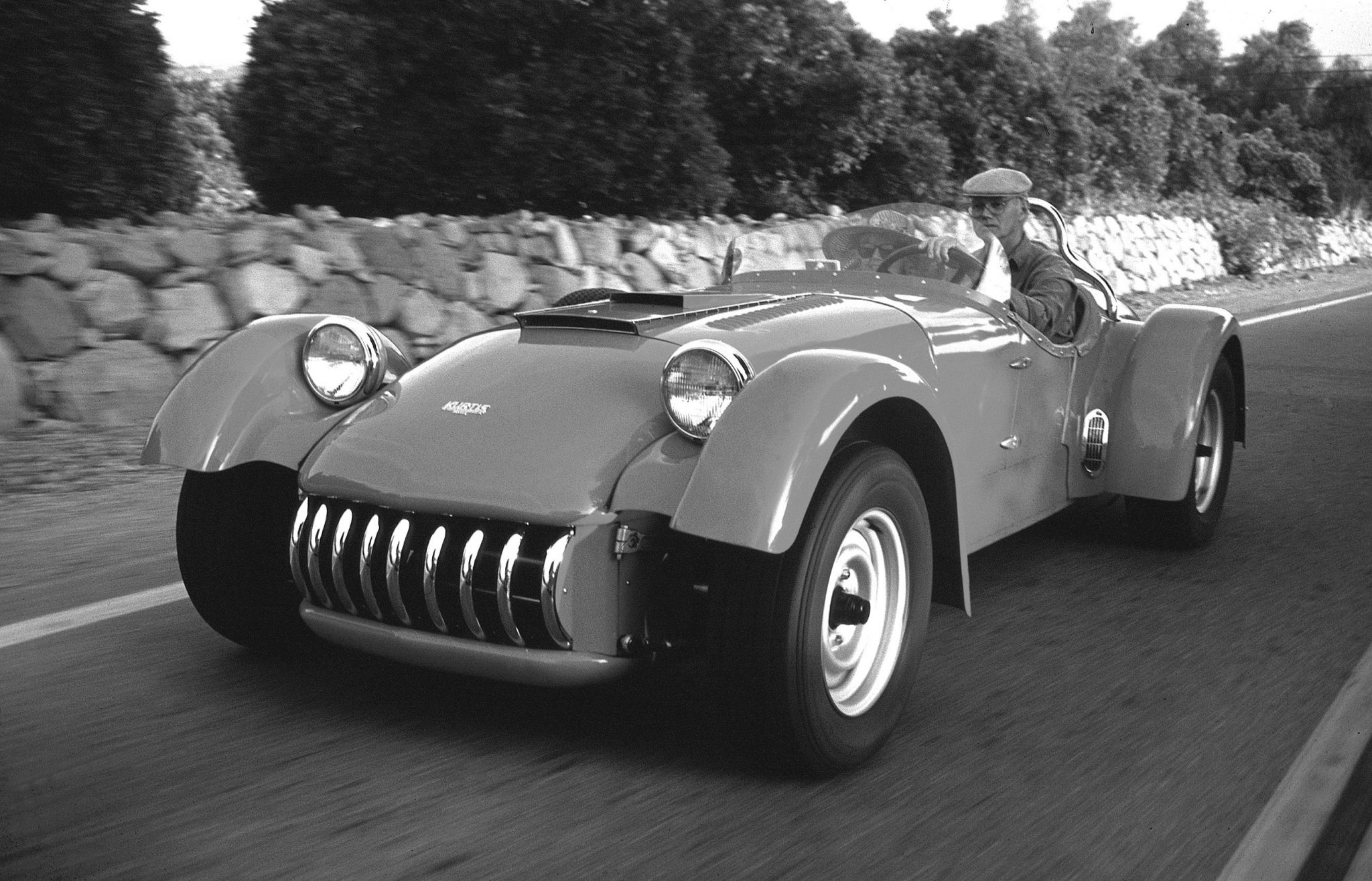 People who know the history of the Indianapolis 500 know that Frank Kurtis' racing cars dominated the event in the late Forties and early Fifties. Nothing could touch them. In 1954, Kurtis Kraft entries took 1st, 3rd, 4th, 5th 6th, 8th, 9th and 10th places! To finance his racing, Kurtis decided to field a line of sports cars built using the same basic design as his race cars. Nothing could touch Kurtis cars in competition on the ovals, and the same was true on the sports car circuits.
American muscle in a lightweight tubular space frame, fiberglass bodies, torsion bar suspension and beam axles with the bare minimum of creature comforts made for some extremely quick machinery. These were really, as much as anything, very sophisticated hot rods much like the British American hybrid Cadillac Allards and Nash Healeys of the same period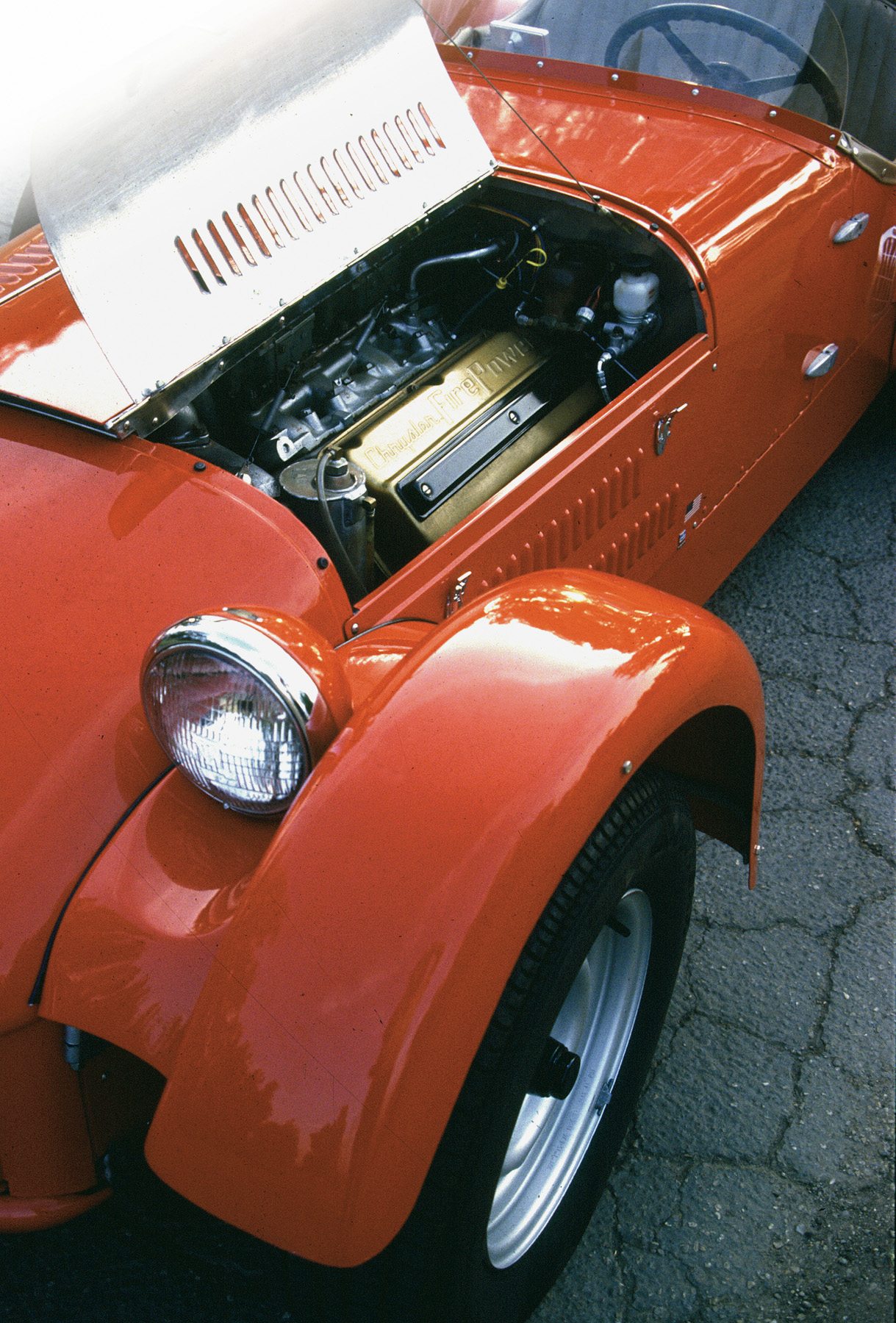 Kurtis' early street offerings were available with super-tuned Mercury flathead engines as well as Oldsmobile, Cadillac and Chrysler Hemi V8s, and all of them went faster than Mike Tyson's prize money. Unfortunately, Kurtis' race cars were soon copied and improved upon by builders with bigger bankrolls, so by the late Fifties they were no longer competitive. Frank Kurtis didn't have the resources to compete in the manufacture of sports cars either, with the likes of the Jaguar, Corvette and Porsche, so he too ceased producing them by the mid-Fifties.
Muntz Jet
Earl "Madman" Muntz' story is at least as fascinating as the sports cars he produced in the early to mid-Fifties. He started selling used cars in Chicago and gave himself his nickname when he was a car dealer in postwar Southern California where he would go on radio and rave that he was mad, and that he wanted to give the cars away but Mrs. Muntz wouldn't let him. SHE'S CRAAAZY! he would scream.
He even stated in his ads that if he didn't sell a certain car by the end of the day, he would smash it with a sledgehammer. He was also known to go around his lot dressed in red long johns and a Napoleonic three-cornered hat. An obvious allusion to his madman image.
He amassed a fortune in just a few years selling automobiles, and later had the most successful Kaiser Frazer dealership in the United States. He then turned his attentions to making and marketing televisions just as that market opened up in the late Forties. Muntz televisions sold like nickel hamburgers and made yet another fortune for him. But one venture that didn't make him any money was the Muntz Road Jet—his only foray into auto making.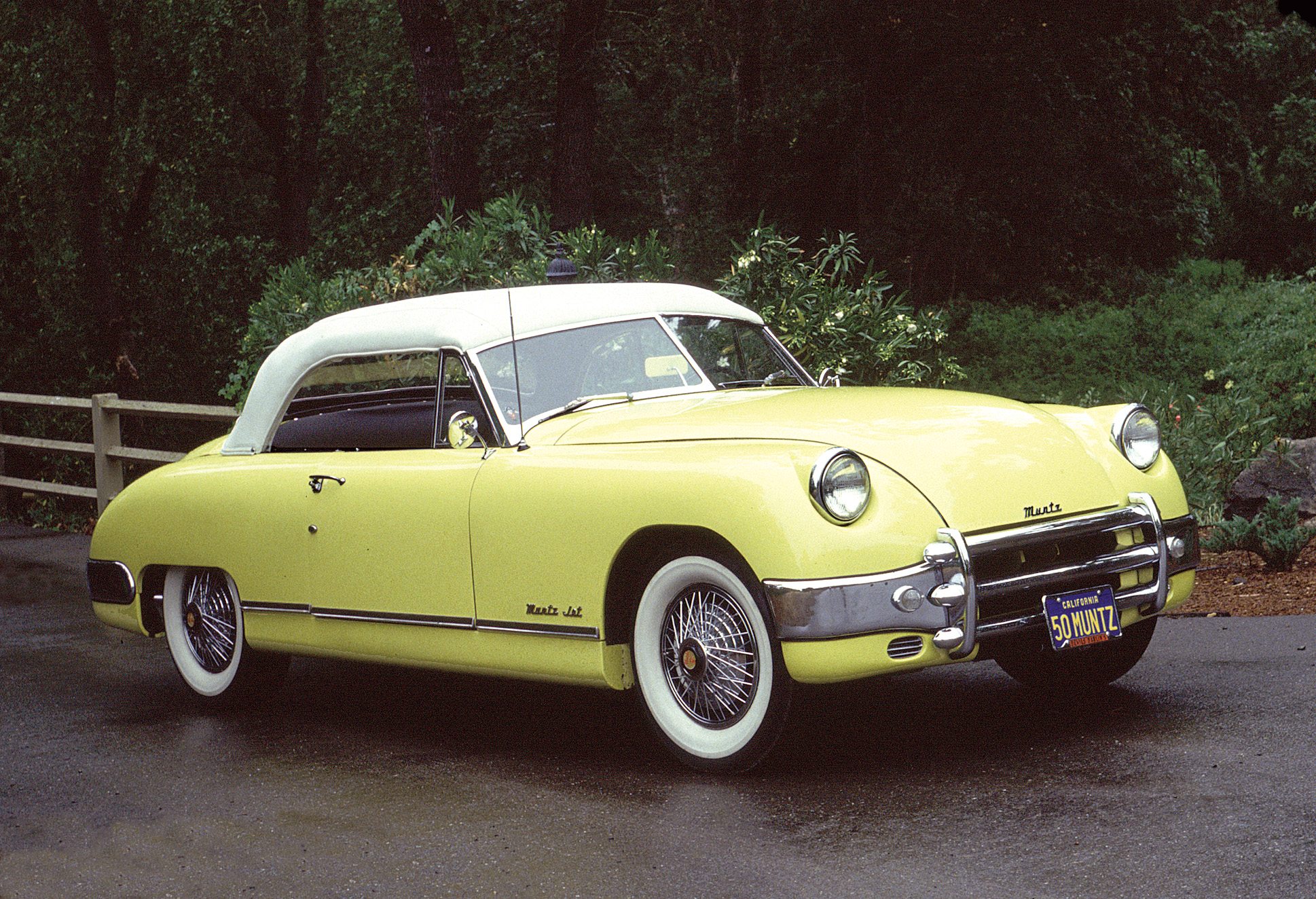 In 1950 Muntz had a falling out with Henry J, Kaiser, so he purchased all the tooling and dies for one of Frank Kurtis' sports cars and then, along with Kurtis and race driver Sam Hanks, set about reworking the car to give it wider appeal. There were 39 two-seat cars built, equipped with Cadillac engines and Hydramatic transmissions; then the wheelbase was lengthened 13 inches to allow for a back seat, and numerous suspension tweaks were added to make the car more roadable.
The early Muntz cars were built in Evansville, Indiana, and came with 5.5-liter Cadillac V8s, but later the plant was moved to Chicago, where Lincoln's flatheads and later, overhead valve engines were installed. Much of the Muntz consisted of Ford components, and Ford dealers even agreed to service them.
The first Muntz Jets equipped with Cadillac engines and Hydramatic transmissions could do zero-80 miles per hour in nine seconds and it is said that the Cadillac equipped Muntz could cruise at 125 miles-per-hour with plenty of revs to spare. Later overhead valve Lincoln powered cars were even quicker.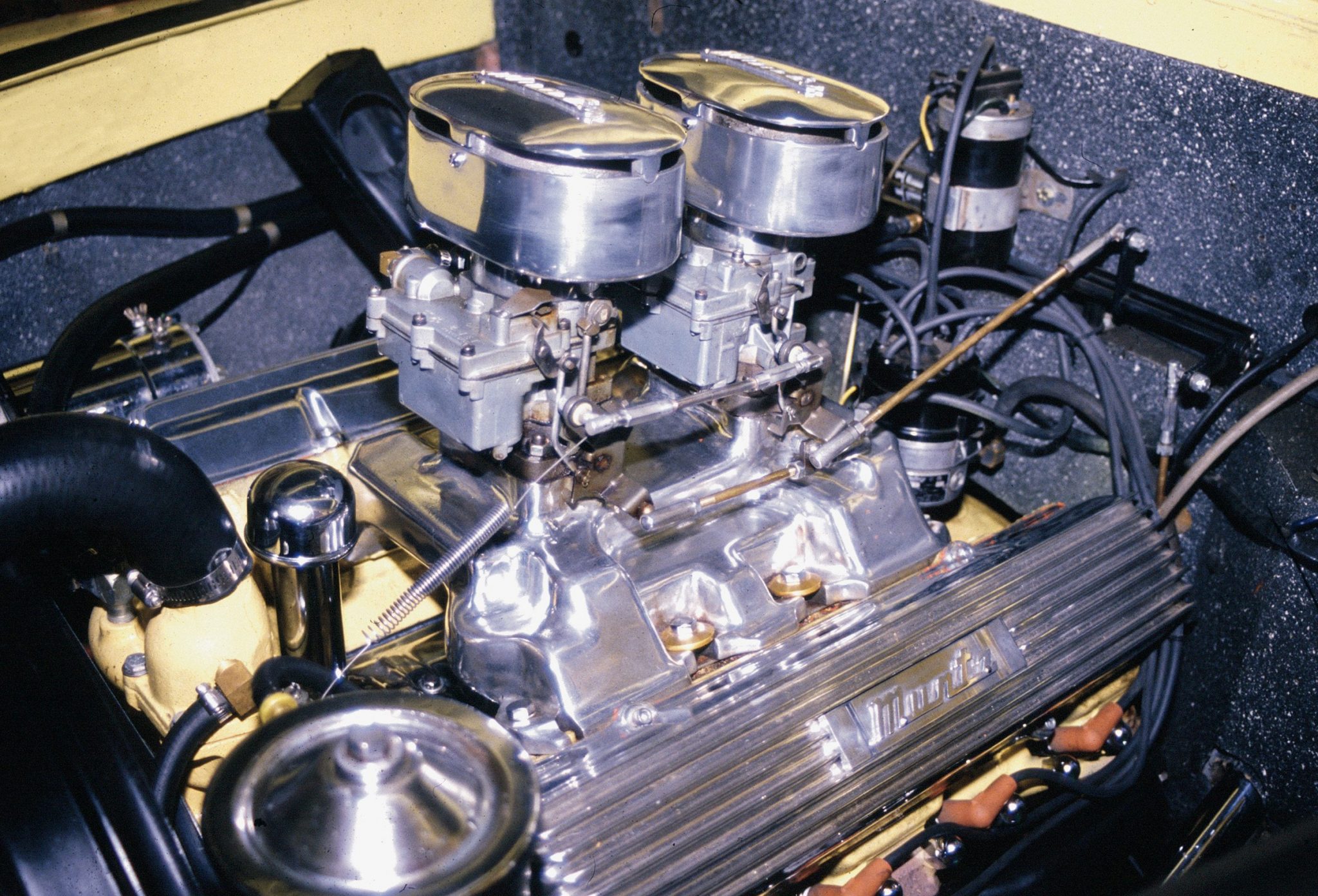 Muntz Jets built from 1950-54 were very popular with Hollywood celebrities who had them accessorized to the hilt with padded dashes, bars and zebra or emu skin upholstery. And most Muntz Jets were painted bright colors such as pink, chartreuse, and lemon yellow. Also, speed equipment could be ordered installed at the factory, making the Muntz even quicker. But even so, success was limited by the $5,500 base sales price.
And even at that, Muntz claimed to have lost $1,000 dollars on each one he made. The flow-through body design required a lot of custom fitting and leading, and the small total production didn't allow for any economy-of-scale discount buying of components. In fact, by 1954 Muntz was in a bad way financially, having lost money on his cars, and not having prepared for the advent of color television had cut into sales in that area too.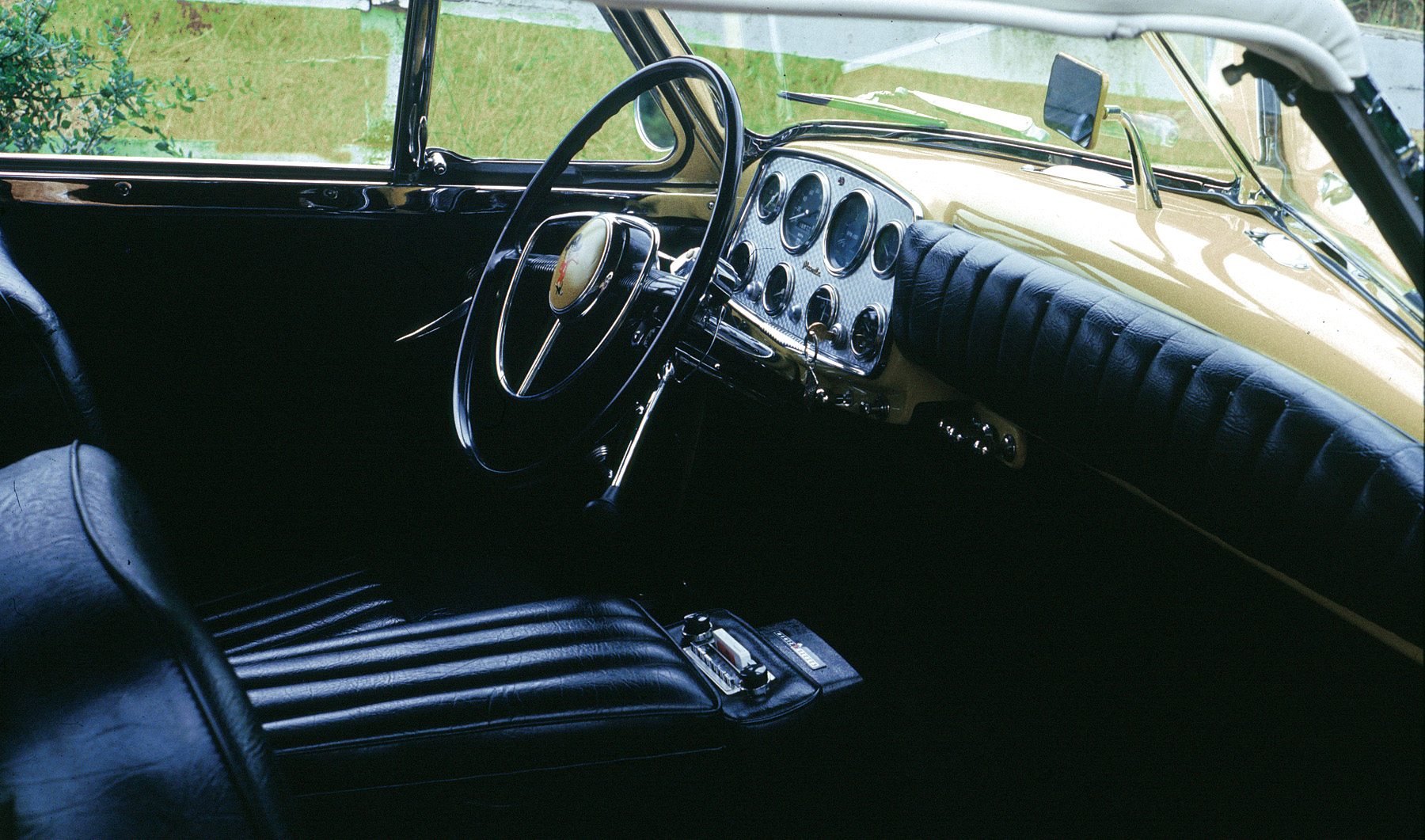 Muntz filed for chapter 11 that year, but went on to pioneer four, and eight track stereos, along with other creative endeavors that made him yet another fortune. Earl Muntz died in 1987, and at that time he was poised to do it all again by pioneering cell phone technology. All together Muntz claimed that there were 394 Jets built, of which only 49 are known to have survived.
All of these pioneering postwar sports cars were innovative and ahead of the curve, and all of them were under funded, and ultimately doomed by the major manufacturers. But their visionary builders could see where the future lay, and their efforts inspired later successes such as the Corvette, Thunderbird (which was said to be inspired by the Muntz Jet) and later the Shelby Cobra and Mustang. Today, any of these early American sports cars in restorable condition would a great find, and a rare and wonderful machine to drive.

By Jim Richardson
© Car Collector Magazine, LLC.
(Click for more Car Collector Magazine articles)
Originally appeared in the January 2004 Issue
Did you know we insure both early and late model exotics? If you have an exotic or another collectible you'd like to insure with us, let us show you how we are more than just another collector vehicle insurance company. We want to protect your passion! Click below for an online quote, or give us a call at 800.678.5173.