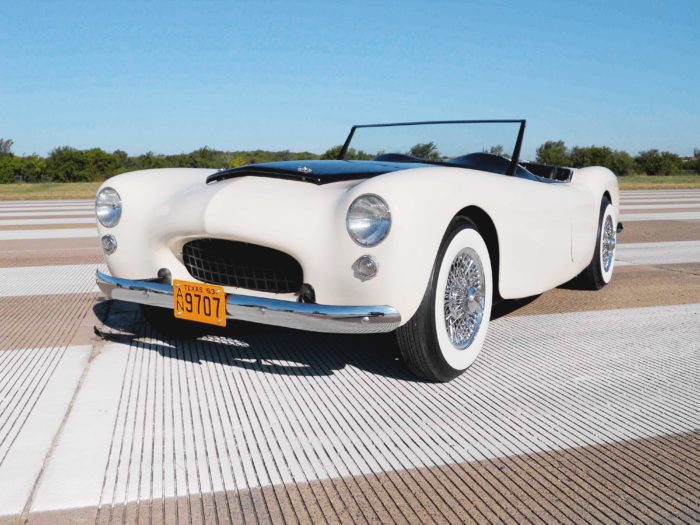 AU 12 Ref 119 – 1953 Woodill Wildfire Series II
200 cid Ford Flathead V8 with speed equipment, 3 speed manual transmission, 2 speed Columbia rear end, independent suspension,
Just 1,602 actual miles
Nicely built Ford Flathead V8 with period speed parts
One of 2 Series II factory cars known to exist
Postwar America saw a number of attempts by would-be automakers to produce new – and often novel – sports cars. They all failed: Bobbi-Kar, Davis, Playboy Keller, Kurtis, Muntz, and others. To that list must be added B. Robert "Woody" Woodill's two-seater sports car, the Woodill Wildfire.
Woody was always a car nut, and eagerly went into partnership with his father at the family Dodge Agency after World War II in Downey, California. In 1948, he bought out his dad's share, and with buildings available, he soon added a Willys franchise.
With success in the car business, sports car fever soon afflicted Woody.  He wanted a Jaguar, but his service manager talked him out of it as an undependable and costly to fix choice.
Undaunted, he decided to build his own, and to do it largely with Willys parts — an assembly plant was nearby. So was Glasspar, a pioneer in fiberglass technology, who also was busy building bodies for the Kaiser Darrin.   Also close at hand was the Post Body Shop, which built a frame out of "angle stuff," as Woody put it. Thus, Woody ended up with a car with a custom-built frame, Willys engine, and a Jeepster front axle and bumpers, and called it the Series I.   He later modified the original Glasspar body with a higher hood, rear deck, and doors, as well as a dummy hoodscoop and neatly integrated Aero-Willys taillights, and created the Woodill Wildfire Series II.
The Woodill Wildfire was first seen at the November 1952 Motorama in Los Angeles — not the General Motors show, but one put on by Petersen Publishing Company, of Motor Trend fame. Interest ran high, so Woody set about getting his sports car into production, both fully assembled and as a high-quality kit car. A rectangular steel frame was devised, with the idea that it accept Ford engines and running gear, although other engines and transmissions could be — and were — fitted. With the motor pushed rearward in the chassis, most any engine chosen still left the Wildfire with close to 50/50 weight distribution. The fiberglass body kept weight low — only 1620 pounds with the Willys engine — so performance was brisk, even with the little Willys six in Wildfire #1.
Soon, Ford Flathead V8's were used for more power, which proved to be a potent combination.  Our auction car today has a well-built Ford V-8 with the best period speed equipment, including Offenhauser heads and intake, an Isky cam, and twin Stromberg 97 carburetors.  It features a 3 speed column shift transmission with a Columbia 2-speed rear end.  This rare example wears new 72 spoke outside laced 2 bar custom Dayton Wire wheels and proper wide whitewall tires.  The car runs and drives well, with brutish power and impressive acceleration, and is one of the fastest sports cars of the era.
Brock Yates believes there were 15 Series I cars built in the factory, and just 9 factory assembled Series II cars.  The 1953 Wildfire seen here is #23 of the 24 factory built cars, with the factory VIN plate in place on the passenger side door jam.  It features the authentic Woodill chassis, and is one of just 2 Series II factory built vehicles known to exist.
This example was purchased in 1976 by a noted Corvette restorer, who had been searching for one for years.  He knew the history, and knew fiberglass cars, and paid the then-princely sum of $7,000 for the car – more than any new sports car of the day.  It was stored and lightly driven for decades, and the car remains in highly original condition, including the original white body paint and dashboard.  The leather seats were re-created recently, and only sympathetic and essential repairs have taken place to the mechanical systems.  It's easy to see why it survived is such intact condition, as the car shows only 1,602 original miles.
The Wildfire is believed to be the first production fiberglass sports car, predating both the Corvette and the Kaiser Darrin.  Woodill received a lot of publicity in movies like Knock on Wood, Written on the Wind, and Johnny Dark, – a racing film starring Tony Curtis and Piper Laurie where the Wildfire is prominently featured in the racing segments.  The Wildfire also received publicity in Time, Life, Newsweek, and of course, all the car enthusiast magazines were enamored by the new technology.
No matter, the Wildfire never really did become a major production car, as only about 25 were built, plus an estimated 100-300 kits.  Part of the challenge was the new Corvette, which did not sell in large numbers in 1953, but make no mistake, the Vette was here to stay, as it was backed by a national dealer network and had a lower retail price than a Wildfire.
Though it certainly deserved a better fate, the Wildfire can be appreciated for the pioneering role it played in using fiberglass bodywork, and like hundreds of small manufacturers in the early 20th century, it came down to Woody Woodill's drive to simply build a better sports car.  He produced a bona fide, high-quality, handsome, and competent sports car that today is considered to be a landmark vehicle, with performance on par with anything in the world.   Today, you can become the caretaker of a piece of automotive history, and enjoy owning a fast and very rare American sports car.
If you have a Woodill or another collectible you'd like to insure with us, let us show you how we are more than just another collector vehicle insurance company. We want to protect your passion! Click below for an online quote, or give us a call at 800.678.5173.