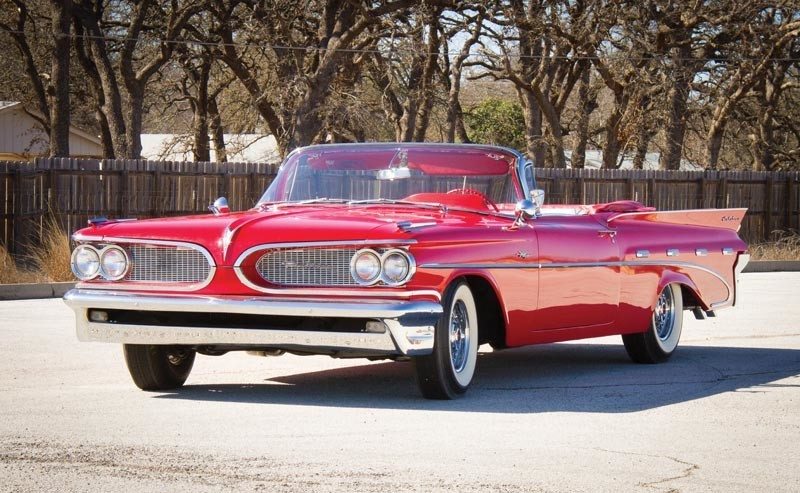 A fully equipped Pontiac Catalina in 1959 was one of the most powerful and desirable cars available from General Motors, but car styling was leaping forward at a record pace towards the jet age 60's. The Catalina represents the debut year for many of Pontiac's trademark features that would propel them to record sales just a few years later.  From 1950 to 1958, all Pontiac Hardtops were designated Catalinas, but in 1959, they created a one-year only lineup of multiple Catalina body styles, including sleek new sedans, coupes, Safari wagons, and convertibles. The Catalina wheelbase was stretched to 122", and they all carried the distinctive split-grille styling treatment, which was a fortuitous design accident that became a trademark for decades.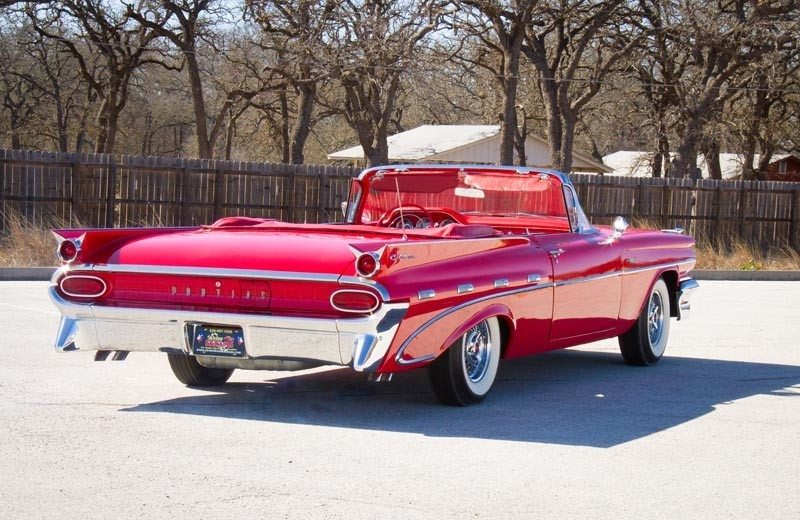 Pontiac designers were experimenting with a design for a conventional, full width oval grille, containing horizontal quad headlights, and in frustration, they cut it in two pieces and transposed the halves. With the lights remaining at the extremities, this gave them the new split center, open-ended look for the '59 Catalina. Along with the wider body came a wide track chassis that was a full 5" wider, which really pushed the wheels outward to fill up the fenders. This not only improved the appearance of the car, but Pontiac engineers discovered that pushing the wheels further out also led to vast improvements in ride and handling – hence the term "Wide Track" which Pontiac would use in its promotional efforts for many years to come.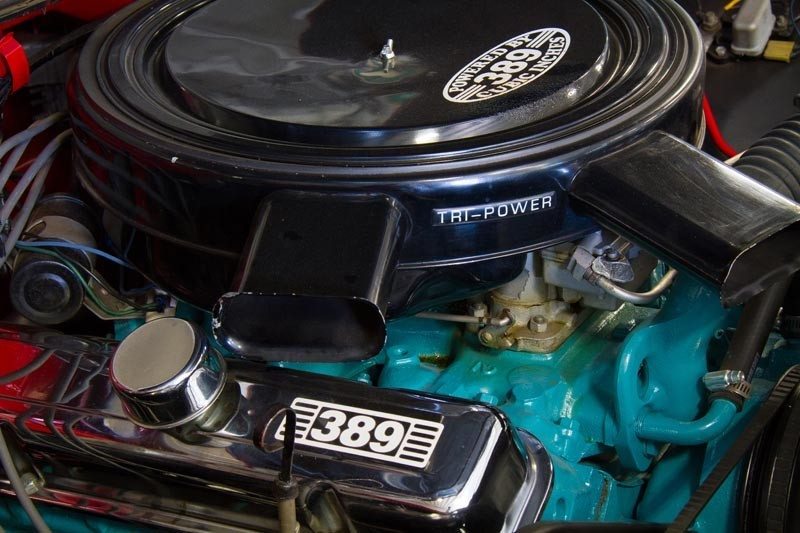 The Catalina also had more to offer than most of its rivals under the hood, where a 389 CI V-8 was the biggest engine in its class, and in the case of this rare convertible, when equipped with the rare optional Tri Power carburetion setup, where 3 Rochester 2 barrel carbs make a class-leading 345 HP. Coupled with the 4-speed Hydra-Matic automatic transmission, this big 2-door convertible remains clean and correct under the hood, and a first class highway cruiser today.
This factory-born Cardinal Red convertible was assembled in Canada and fully restored in 2012, with a lovely paint finish and sharp bodywork. This Catalina goes the extra distance in distinguishing itself with an incredible custom interior incorporating a fresh leather upholstery with White and Silver accents, salt-and-pepper carpeting and oodles of bright new chrome. There is extra flash outside as well, highlighted by a bright Red convertible top, distinctive Bonneville side trim, glittering chromed wire wheels with whitewall tires, and dual outside chrome mirrors. The dash is simply incredible, and the big six-person convertible features both power steering and brakes, making it a comfortable boulevard cruiser that's both reliable and very easy to drive.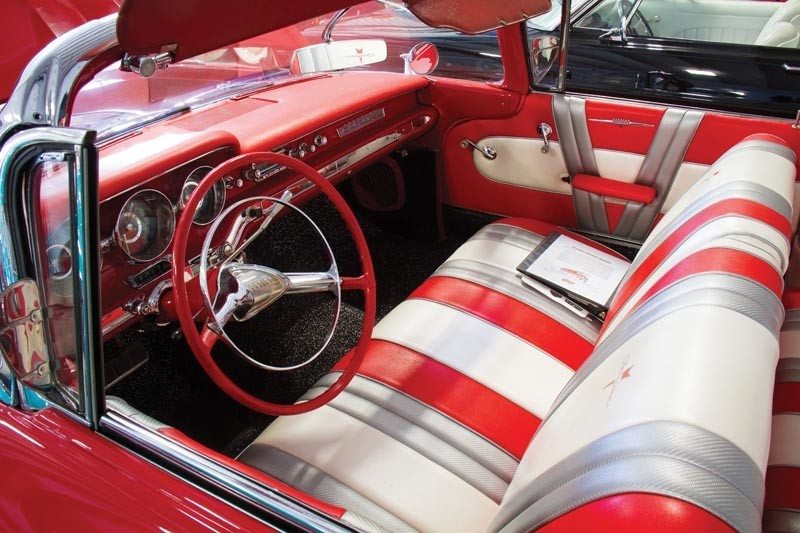 Pontiac enthusiasts know that the '59 Catalinas are quite rare, especially the Tri-Power Convertibles, and will always be looked at as the start of the big, wide, powerful era at Pontiac. These features served to propel Pontiac to great success for the next several decades. Long and low, big and brawny, with Pontiac power underfoot and a drop top – what's not to love?
289 ci Tri-Power V-8 engine, 345 HP
4-speed Hydra-Matic automatic transmission
Independent front suspension
Semi-elliptic leaf springs
Four wheel power drum brakes
122" wheelbase
If you have a Pontiac Catalina or another collectible you'd like to insure with us, let us show you how we are more than just another collector vehicle insurance company. We want to protect your passion! Click below for an online quote, or give us a call at 800.678.5173.