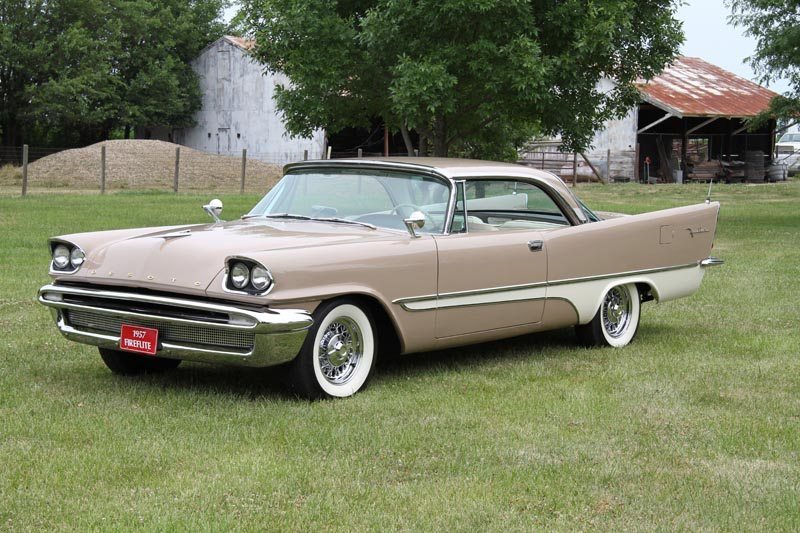 In the fall of 1956, Virgil Exner's "Forward Look" for the entire Chrysler Corporation caused a stir among designers around the world and a number of competitors launched crash-programs to in their concept studios to come up with new looks for their now outdated automobiles. Probably the most dramatic presentation of this new school of design was in the 1957 De Soto line, which shared platforms with the lower priced Dodge and Plymouth vehicles, as well as the luxury Chrysler lineup.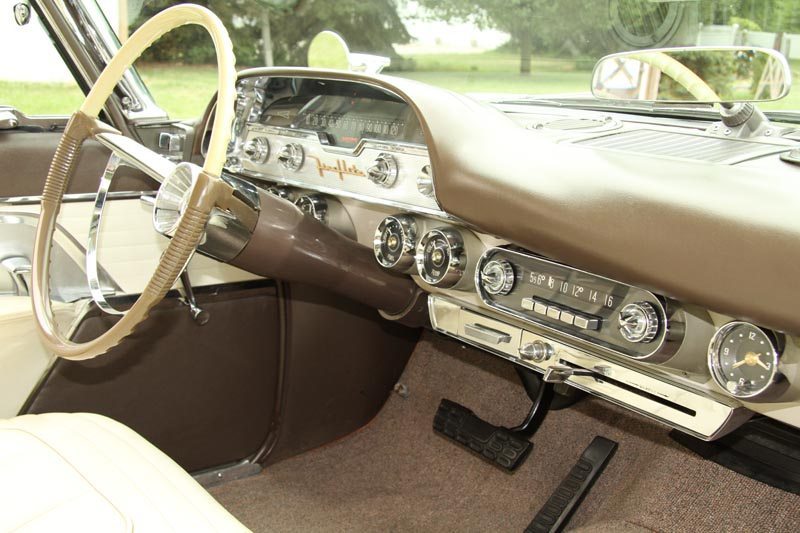 The DeSoto was much more exclusive, with lower production and a more stylish presentation. The most desirable of all is the Fireflite, with 295 horsepower delivered from its legendary Hemi V8 engine. Providing the most spectacular point of visual impact for these cars has to be those glorious tailfins, adorned with DeSoto's unique styling cue of stacked triple taillights mounted to the trailing edge of those fins and surrounded by chrome.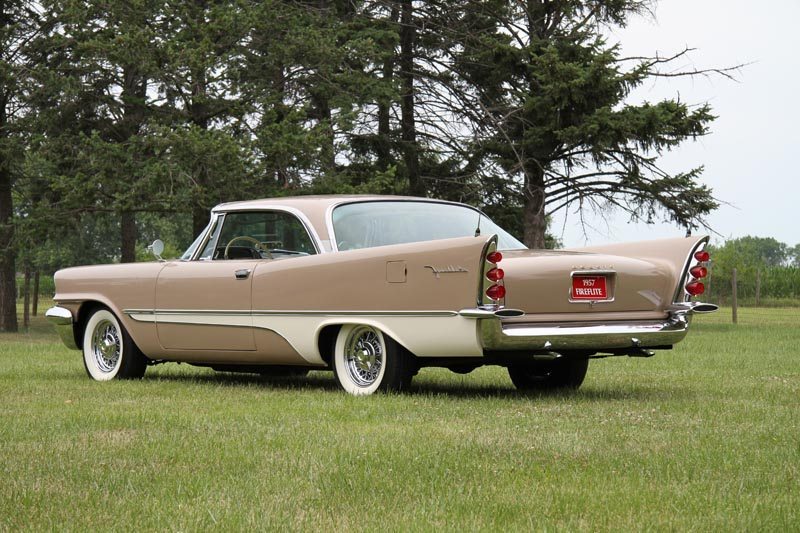 Photographed near Charlotte, NC is a superbly presented example of the top-line Fireflite Sportsman hardtop, finished in an original two-tone scheme of Sahara Tan and White. This beauty exemplifies all the touches that made these cars icons of their time. Once you inspect this finned jewel we are sure you will see why the ads of the day declared that DeSotos were "Delovely and Dynamic" in every way. Up front the wide-mouth chrome grill presents a strong image of mighty motoring with all the bright trim plated to a deep rich finish while the proper Kelsey-Hayes wire wheels sparkle in the sunlight whenever it is driven.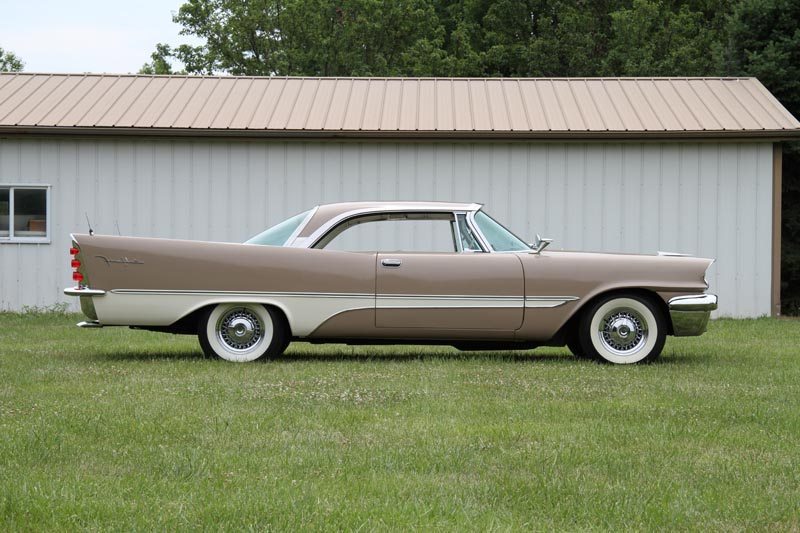 This car is well equipped and features the ease of push-button shifting with the dependable three- speed Torque-Flite automatic transmission controls mounted in their unique pod to the left of the steering wheel. Looking to the passenger compartment, plush full-width bench seats are done in a tasteful vinyl that provides an authentic appearance. The padded dash, carpeting and headliner are likewise in great condition. This sharp looking 2 door is also equipped with dash-mounted clock, push-button AM radio with dual swept-back antennas atop the rear fins, plus factory heater and defroster.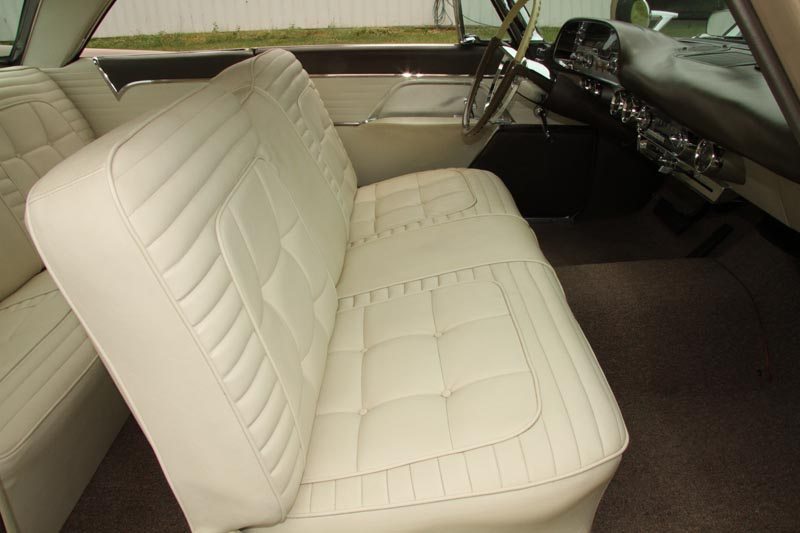 Under the hood you will first notice those beautifully detailed and correct "Fire-Flite" Hemi V8 valve covers and then the unique design of the air-filter canister, which was styled to remain low enough so the hood could be closed. It is also fitted with original power-steering and brakes, which was a $145 upgrade when this car was new.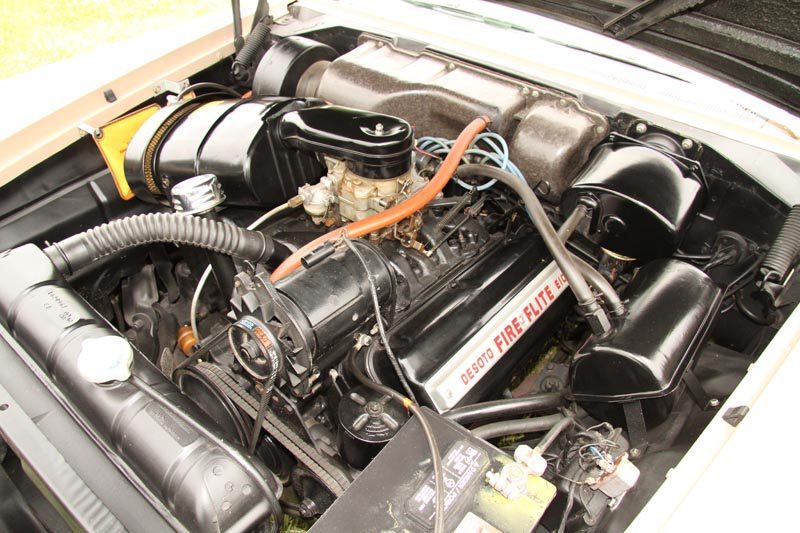 To allow that Carter AFB carburetor fed Hemi V8's full-throaty roar to be heard is a set of dual-exhaust complete with the chrome-plated tips signaling that this car meant business. In addition to the totally new styling for 1957 was the unique Torsion-Bar front suspension which veteran automotive tester Tom McCahill declared was "So far superior to anything else being made in this country that the contest isn't even close." This new innovative method gave these cars superb handing when driving at speed through tight curves and corners powered by that mighty Hemi V8.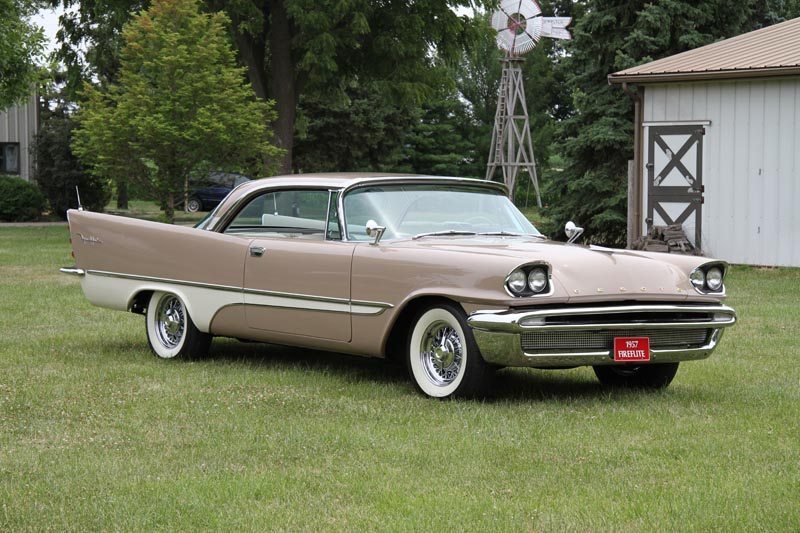 Thank you to the owner for allowing us to inspect this beautiful DeSoto – everything sure looks right on this Fireflite.
Technical Specifications
Hemi 341ci V8 engine, 295 HP
4-barrel carburetor
Three-speed Torque- Flite automatic transmission
Torsion bar front and coil-spring rear suspension
Four-wheel power-assisted hydraulic drum brakes
126″ wheelbase
If you have a DeSoto or another collectible you'd like to insure with us, let us show you how we are more than just another collector vehicle insurance company. We want to protect your passion! Click below for an online quote, or give us a call at 800.678.5173.