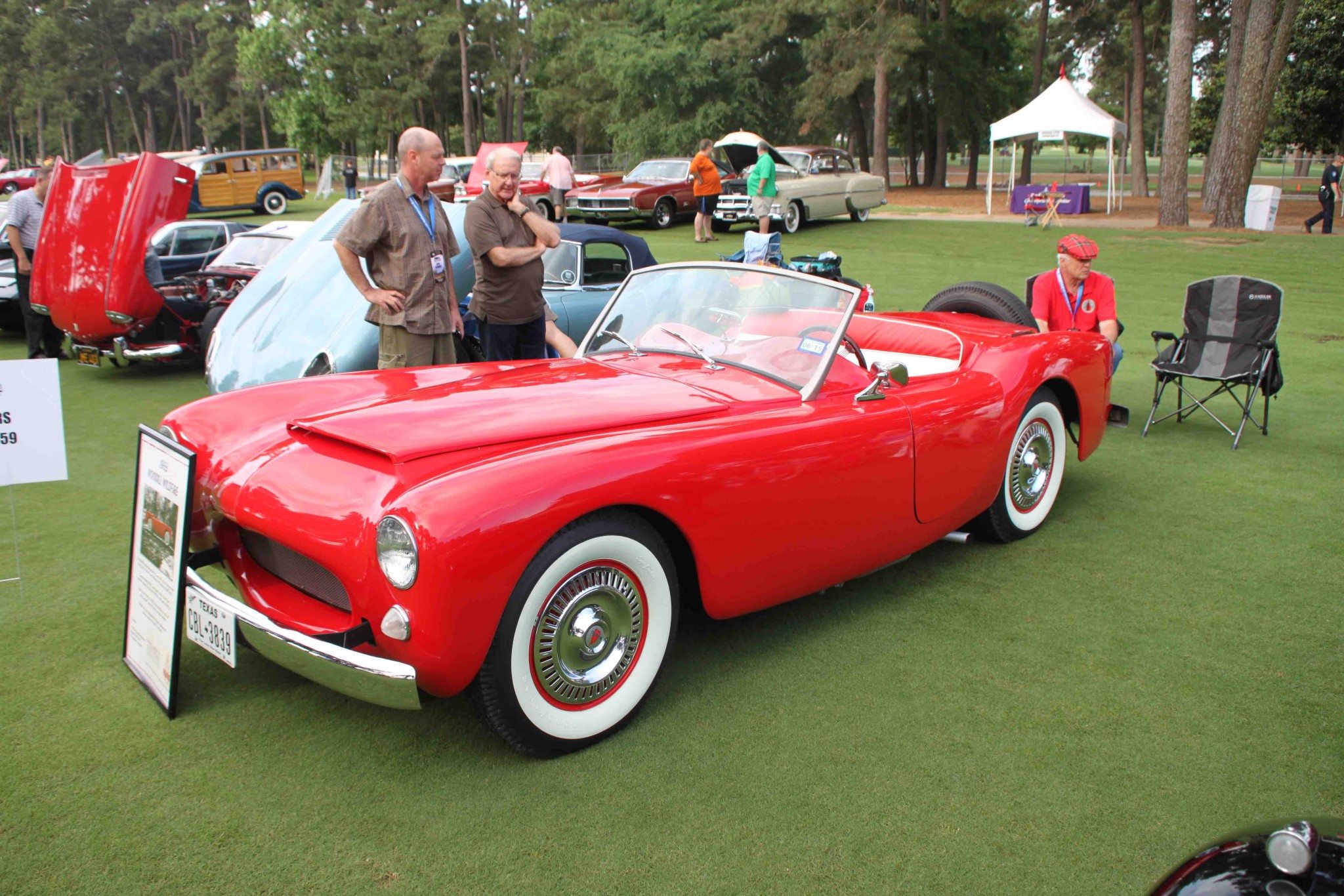 Post-war America saw a number of attempts by would-be automakers to produce new, and often novel, sports cars. They all failed to become mainstream production cars – Bobbi-Kar, Kurtis, Muntz, and others, but they did not fail tom advance the idea of a fiberglass sports car. To that list must be added B. Robert "Woody" Woodill's two-seater sports car, the Woodill Wildfire.
Woody was always a car nut, and went into partnership with his father at the family Dodge Agency in Downey, California. In 1948, he added a Willys franchise, and sports car fever soon afflicted Woody. He wanted a Jaguar, but his service manager talked him out of it as an undependable choice. Undaunted, he decided to build his own, largely with Willys parts, as an assembly plant was nearby. So was Glasspar, who was busy building boats and bodies for the Kaiser Darrin, and the Post Body Shop, who built the frame. Thus, Woody ended up with a car with a custom-built frame, Willys engine, and a Jeepster front axle and bumpers, and called it the Series I. He later modified the original Glasspar body with a higher hood, rear deck, a dummy hoodscoop and Aero-Willys taillights, and the Series II was born.
The Woodill Wildfire was first seen at the 1952 Motorama in Los Angeles put on by Petersen Publishing Company. Interest ran high, so Woody set about producing both fully assembled and kit car versions. A rectangular steel frame was devised to accept Ford engines and running gear, leaving the Wildfire with close to 50/50 weight distribution. The fiberglass body kept weight low, so performance was brisk.
The beautiful red car we photographed at the Concours of Texas has a well-built Buick V-6 engine pushing 3.8 liters, mated to a 5 speed manual transmission. It is quite likely the only one-owner Wildfire still in existence, and the owner, now into his 80's, drives it regularly with his grandkids. This rare example wears a lovely new 2-tone tuck and roll interior and whitewall tires. The car has brutish power and impressive acceleration, and is one of the fastest sports cars of the era, and the owner drove to the Concours before winning it's class.
Brock Yates believes there were 15 Series I cars built in the factory, and just nine factory assembled Series II cars. The owner reports he had it completely restored an a retirement project about 20 years ago, and it remains today in very tidy condition. The Wildfire is believed to be the first production fiberglass sports car, and it received a lot of publicity in movies like Knock on Wood, Written on the Wind, and Johnny Dark, a racing film starring Tony Curtis and Piper Laurie, where the Wildfire is prominently featured in the racing segments. The Wildfire never really did become a major production car, as only about 25 were built, plus an estimated 100-300 kits. Part of the Wildfire's challenge was the new Corvette, which was here to stay, as it was backed by a national dealer network and had a lower retail price than a Wildfire.

The Wildfire can be appreciated for the pioneering role it played in fiberglass bodywork, and Woodill produced a bona fide, high-quality, competent sports car that today is considered to be a landmark vehicle, with performance on par with anything in the world. Today was a great day to meet an original Wildfire owner who has been it's caretaker for 50 years.
If you have a Woodill or another collectible you'd like to insure with us, let us show you how we are more than just another collector vehicle insurance company. We want to protect your passion! Click below for an online quote, or give us a call at 800.678.5173.