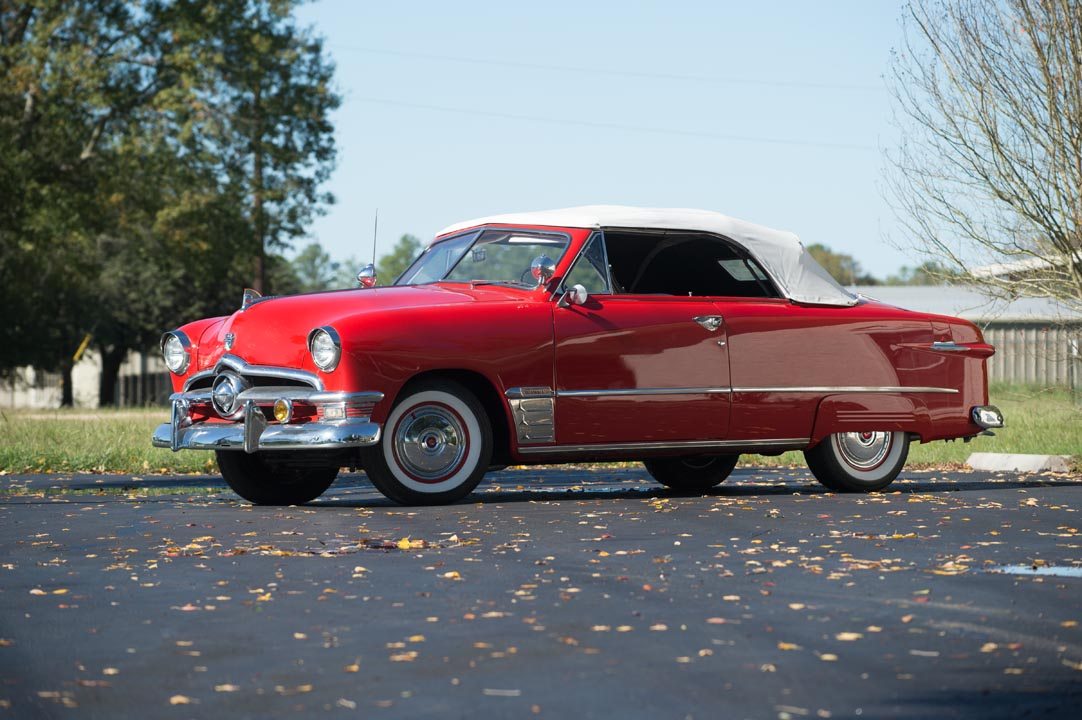 It took a few years after World War II for automakers to introduce completely new postwar era cars. Most had been updates of pre-war cars, and with demand high, Ford had to respond. Their troubles began during the 1930s, as the Great Depression and increasing competition had slowed some of the company's success. Henry Ford's persistence on updating the antiquated suspension system had been another factor, and as the war came to an end, the Ford Motor Company emerged in declining financial health. They turned to designer George Walter, commonly known as the 'Cellini of Chrome' for a sleek new streamlined design to take them into the 50's, and the Ford brand was off and running again.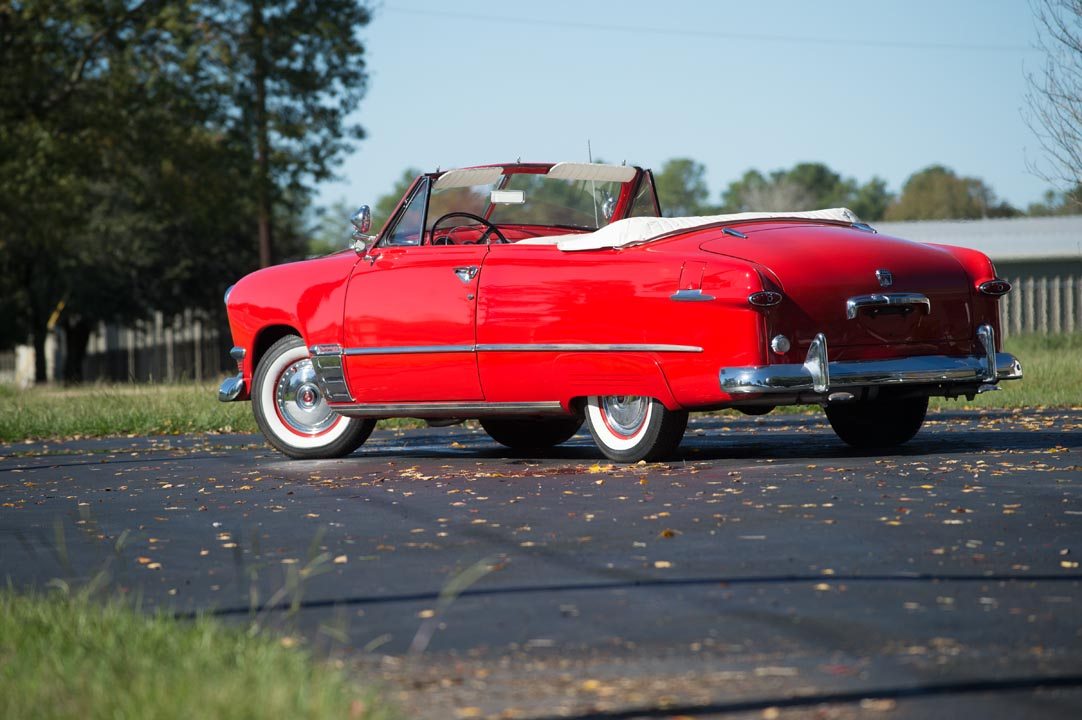 The Custom Deluxe V8 series featured the top trim level for Ford, including chrome window trim, chrome horn ring, dual sun visors, armrests on all doors and deluxe chrome trim along the lower half of the body. Base price of the Custom Deluxe convertible was $1,950 without options. Power was supplied by Ford's 239 cubic-inch V8 engine that produced 100 horsepower. A manual three-speed transmission was standard and overdrive was optional.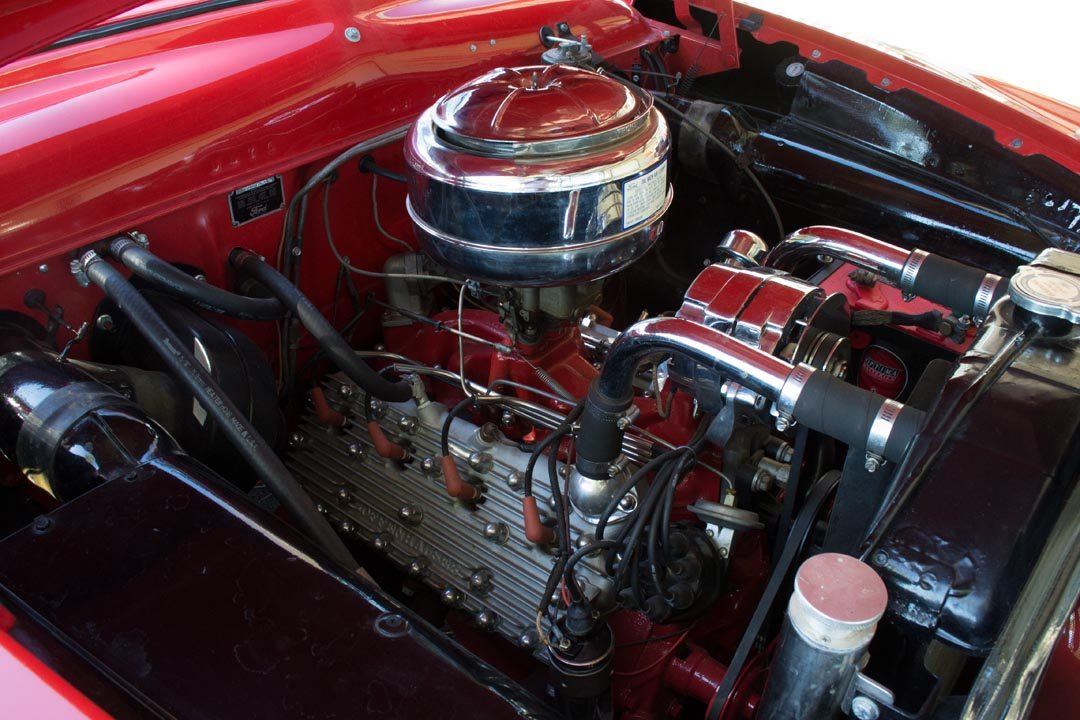 This beautiful red Ford convertible was the favorite piece of a local Texas collector's stable, and he spared no expense making her perfect, spending almost $150K to restore and customize the car several years ago. With just under 8,000 miles since, this old Ford is still extremely clean and obviously nicely cared for. It needs nothing to take to a local event or cruise for the weekend, and the flathead starts easily, shifts smoothly, and the car stops just like it should.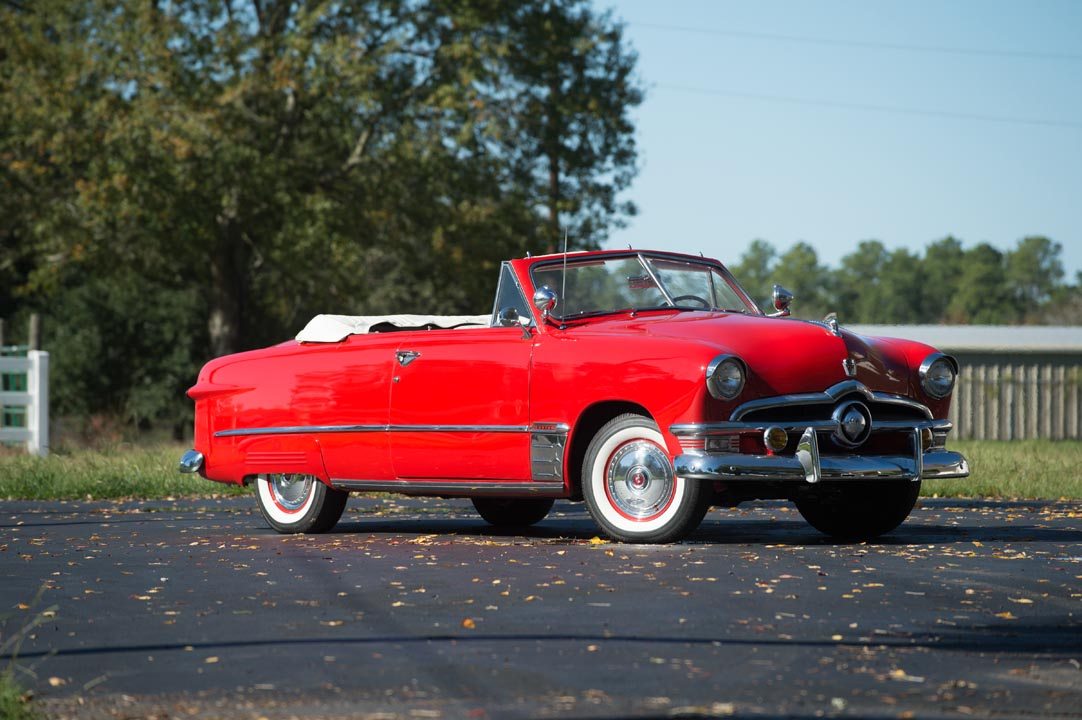 Visually, from the outside, it looks bone stock, with nice straight panels and a fine finish, and even the factory rear wheel skirts. The chrome and glass are both excellent, as is the extensive stainless trim. The car just looks right riding on the stock painted wheels, 15" factory hubcaps, and new Coker Classic Wide Whitewall radials. Look inside, and a completely new white interior lets you know that this slight custom was done with no expense spared. The new interior includes tuck and roll seats, door panels, and a matching parade boot, and features a Factory Magic Heater, Sun Pro water temperature gauge, and a Sony CD player tucked in the glove box. The vehicle still has the factory tools, a full sized spare, and custom floormats.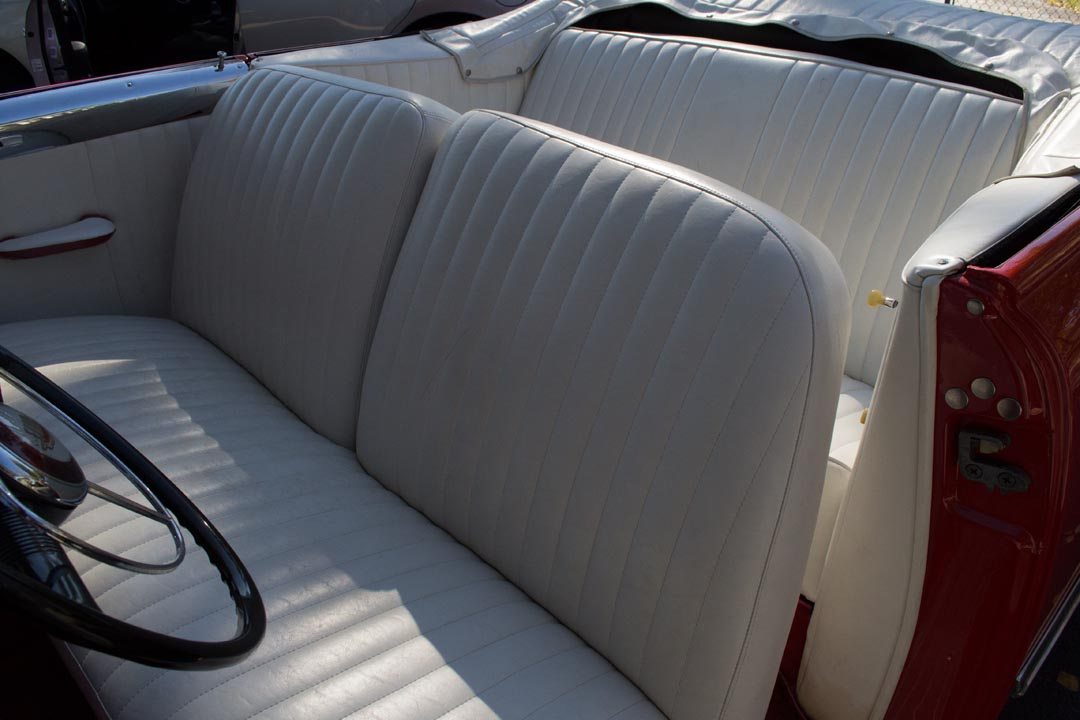 Pop the hood, and fully chromed 100 HP Flathead V-8 gleams like jewelry, with a modern alternator and Optima Red Top battery already in place. The engine sounds great when you push it a bit, but idles quietly on request. One look and one listen will tell you, this isn't your Grandpa's old Ford. Even the tail lamps are slightly customized with Dual Wink Lights.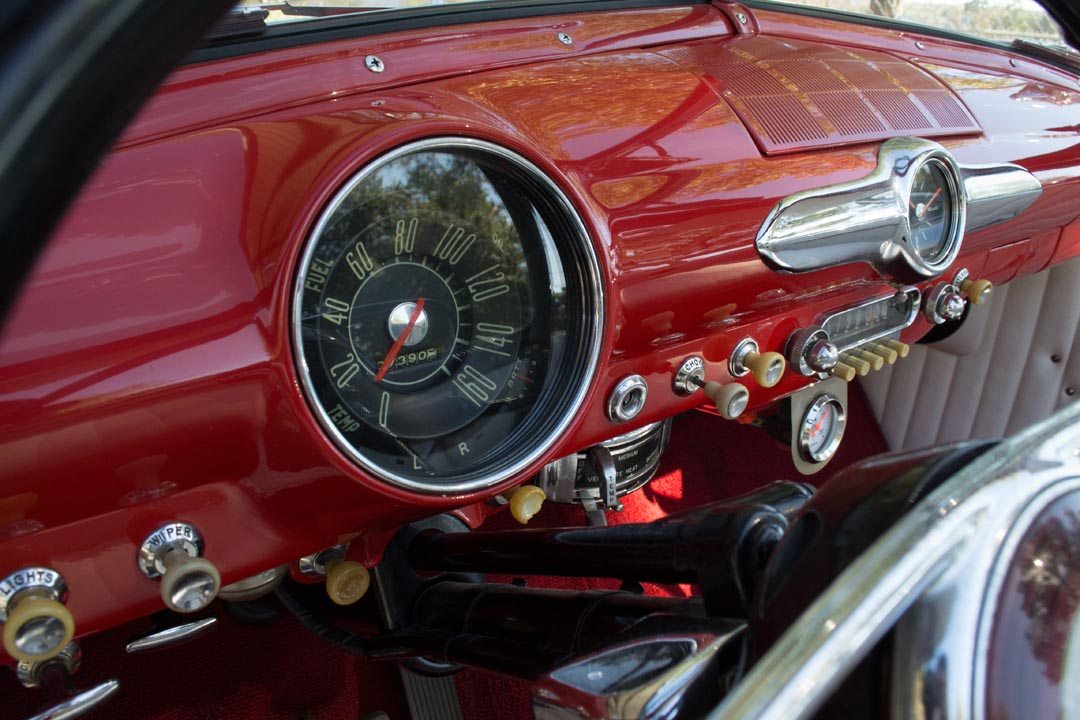 One of the first truly new offerings from Ford after World War II, this Custom Deluxe Convertible is one of Ford's iconic vehicles, and surely will be of interest and value to collectors for generations to come. Ready for show or touring, it's a car that will never go out of style.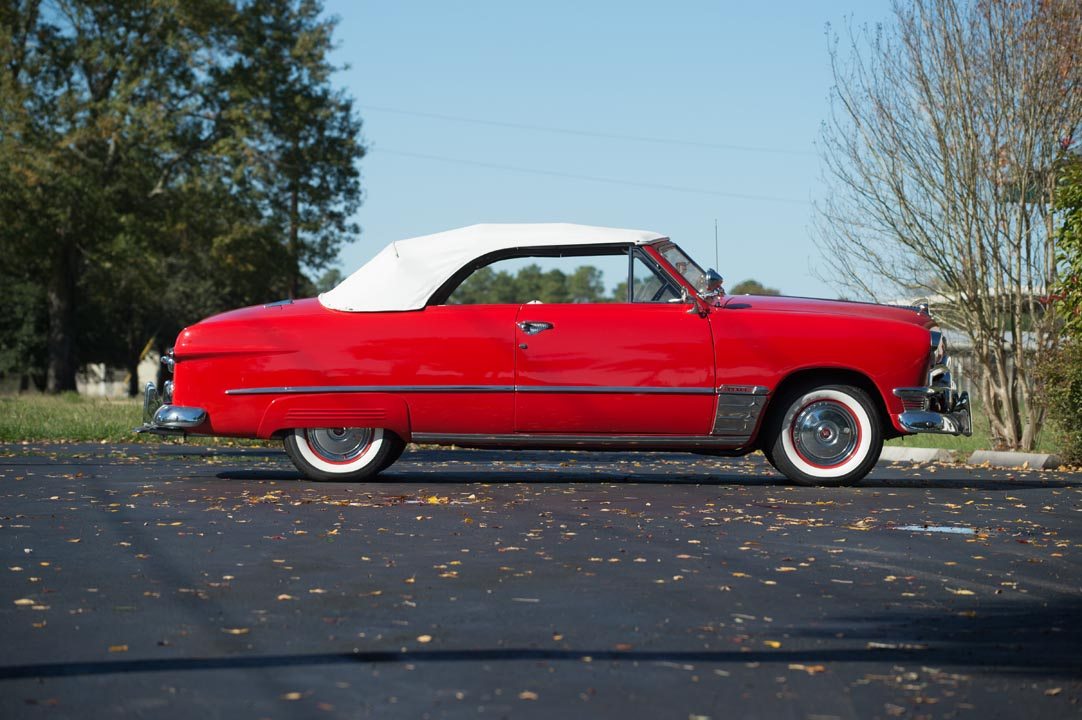 239 ci V-8 engine, 100 HP
3 speed manual transmission
Independent front suspension
Leaf spring rear suspension
114" wheelbase
If you have an early model Ford or another collectible you'd like to insure with us, let us show you how we are more than just another collector vehicle insurance company. We want to protect your passion! Click below for an online quote, or give us a call at 800.678.5173.