Thu Jul 27
SVRA Portland Vintage Racing Festival – July 27-30, 2017
The SVRA returns to the Portland International Raceway on July 27-30 once again to celebrate a long history of motorsports at this iconic track.
More than half a century ago, the Portland International Raceway site was something quite different than a park: a city.
Built during World War II as housing for Kaiser shipyard workers, the city of Vanport was home to nearly 40,000 people at its peak, making it the second largest city in Oregon. But, built behind dikes, Vanport was washed away by a flood in 1948, never to be rebuilt.
The site, 640 acres of low-lying farmland, was America's largest public housing project, and was built in less than 10 months. There was a library, post office, police station, several fire houses, an infirmary, stores, five elementary schools and a 750-seat movie theater. Vanport College, created after the war to support veterans headed to school on the G.I. Bill, moved after the flood to become Portland State University.
Left from the remains of Vanport was an intact street system, and little else, when acquired by the City of Portland in 1960. It was a time of growing interest in sports car and drag racing, and the Portland Jaycees saw that the abandoned roads of Vanport had the potential to become a road race course. In 1961 the first Rose Cup race was held as part of the Portland Rose Festival.
By 1965 the track was hosting all types of racing, including vintage races beginning in the 80's.  Today, the SVRA runs a full slate of classes and hosts hundreds of vintage race cars each year.
TRhere will be racing all weekend, and Saturday features a Car Show on the infield, and a lunchtime parade lap around the track.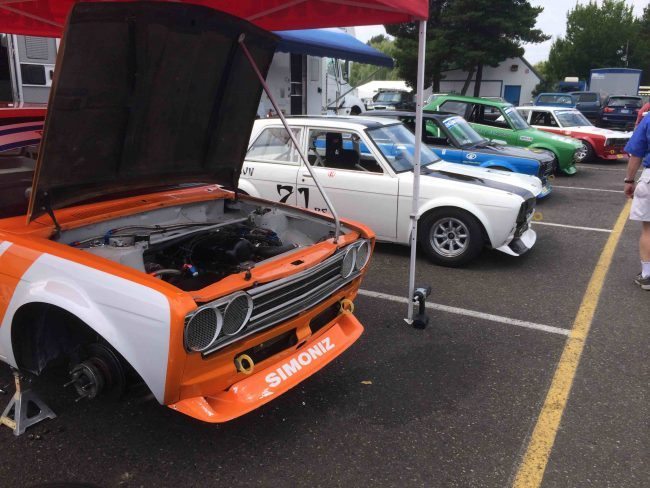 Full details will be available soon at www.svra.com.

/* Event search Custom Code */