SAAC and SVRA Visit Mid-Ohio Sports Car Course – June 23-25, 2016
Front and center on our radar screen of really cool events for 2016 is SAAC-41, which is held in conjunction with the SVRA at Mid-Ohio on June 23-25, 2016. Our friends from SAAC sent over the following outline of the event. Join Heacock Classic and SAAC for a celebration of all things Shelby at the amazing 15-turn Mid-Ohio Sports Car Course.

It seems like we're looking at a 50th Anniversary of something every year now, and since so many things were happening at Shelby American back in 1966, choosing one to focus on wasn't easy. This year SAAC officials settled on the GT350 Hertz program. It was only 1,001 cars but it represents a unique aspect of Shelby American history – so unique that it was resurrected some forty years later.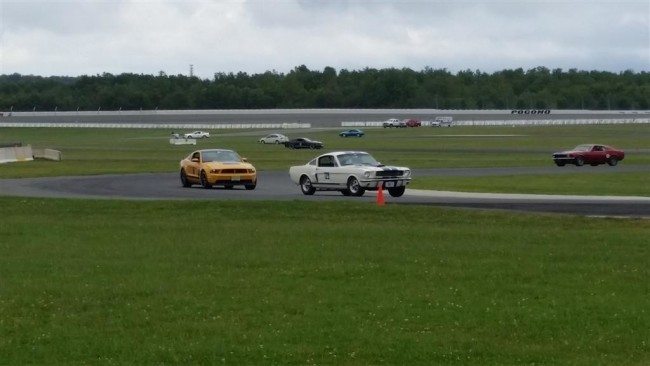 The track is located in north central Ohio, a little west of Mansfield and at the center of a triangle formed by Columbus, Akron and Toledo. There aren't any hotels in the Mansfield area that can accommodate the SAAC Group, so we have selected two hotels that are right across the road from each other: Quality Inn & Suites and Comfort Inn in Bellville, Ohio. They are only 6.4 miles from the track, and 10 miles from the Mid-Ohio Conference Center, where the Friday evening dinner and program will be held.
FLYING IN TO THE CONVENTION. The closest large airports are in Columbus and Cleveland. Both are about an hour from the track and hotels.

TENTATIVE SCHEDULE:
We haven't plugged actual times in yet but we don't expect things to be too different from last year. Of course, if you weren't there you'll have to wait until the details become available. We will, again, be sharing the Mid-Ohio's 15-turn 2.4-mile track with SVRA.
WEDNESDAY JUNE 22. We list this as an arrival day on our schedule
THURSDAY JUNE 23. Day One. Registration will open at 7 AM and close at 1 PM. Tech Inspection? Same times as registration. The Drivers Meeting is always at 7:15 a.m.
The Thursday Evening Mixer will be held at the Deer Ridge Golf Club, 900 Comfort Plaza Dr, Bellville, OH 44813 419-886-7090. The Deer Ridge also serves dinner. If you wish to dine there on Thursday evening before the mixer please make reservations. Figure the mixer begins at 7 p.m.
FRIDAY JUNE 24. Day Two. Registration at the track: 7 am to 1 pm. Same hours for Tech Inspection. Drivers Meeting at 7:15 am. Run groups all day.
Parade Laps: no details yet but we'll flush this out as we go along. The Concours will be scheduled all day, starting about 8 am. Most of the vintage race cars will be running SVRA's Group 6, with practice typically on Friday, qualifying on Saturday and the race on Sunday. We will have a special SAAC vintage race on Friday afternoon. Details to come.
The Friday night dinner and evening program will be held at the Mid-Ohio Conference Center. Figure dinner for 7:30 pm, followed by an evening program.
SATURDAY JUNE 25. Day Three. Registration will be open until about 11 am. Tech Inspection will be open for a couple of hours. Drivers Meeting will be at 7:15 AM. There may be a few open track sessions and we're not sure about Parade laps.
The big event on Saturday will be the Popular Vote Car Show. We schedule it for Saturday so that people who can only attend on the weekend won't miss out. Cars start arriving at 8 am. Ballots are available at 10 am and they are turned in at 12 noon sharp. Results are determined and trophies handed out around 2 pm.
One more thing: If you have a Hertz Shelby you really should plan on bringing it. For all of the Hertzophiles out there this will be a very memorable convention.  Visit www.saac.com for details.
Did you know that we insure race cars, too? If you have a race car or another collectible you'd like to insure with us, let us show you how we are more than just another collector vehicle insurance company. We want to protect your passion! Click below for an online quote, or give us a call at 800.678.5173.

/* Event search Custom Code */