Duesenberg Mormon Meteor Wins Arizona Concours
Once again, the cream has risen to the top of the collector car world, as Ab Jenkin's Mormon Meteor was named Best in Show at yesterday's Arizona Concours. A stunning combination of true historical significance, an amazing story, and the immaculate condition of the car made the judge's decision no surprise at all. Congratulations to owner Harry Yeaggy and his crew for a fantastic presentation.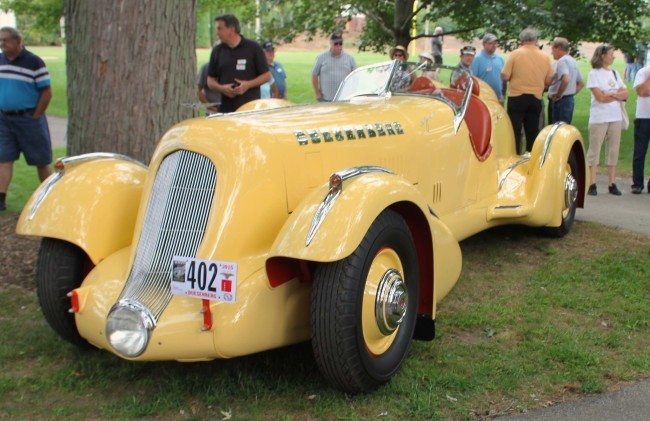 Built in 1935 on a Model J chassis, and first called the Duesenberg Special, it features a dropped front axle, 18 inch wheels, and a very non-standard 3:1 rear axle ratio. Augie Duesenberg also raised the compression ratio in the 420 cu inch inline 8 to 7.5:1 and had high-speed bearings installed. Ab Jenkins himself raised the money to finance the effort, guaranteeing his sponsors they would be part of a record setting effort. Jenkins delivered on his word in October of 1935 at the Bonneville Salt Flats, driving solo to one-hour record of 153.97 MPH and a 24-hour record average of 135.57 MPH.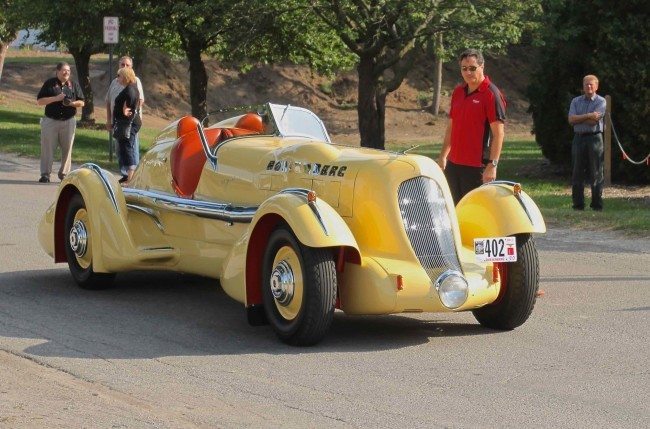 Still looking for more, Ab replaced the big Deusenberg inline 8 with a V-12 Curtis Conqueror aircraft engine, with 1,570 cu inches and an estimated 750 HP. Still working with Augie Duesenberg on the drive line, his crew now included his son Marv Jenkins. The records began to fall, including the 24-hour average of 153.82 MPH and the 48-hour record of 148.64 MPH. In 1937, Jenkins and Louis Meyer increased the 24-hour record to 157.27 MPH.
The V12 aircraft engine and the nearly stock Duesenberg chassis caused understeer at high speed, so Jenkins had Augie Duesenberg, now an independent engineer after the closure of Duesenberg Inc., design and build a new chassis to contain the aircraft engine. This vehicle became the famous Mormon Meteor III, which went on to even greater speeds due to it's aerodynamic shape and huge stabilizing tail fin, not to mention a 145.6 inch wheelbase.
After the aircraft engine was removed from the original Mormon Meteor in 1938, the car was restored to Duesenberg Special specifications, the body was modified back for road use, and the car was driven by Ab and Marv Jenkins on the streets of Salt Lake City, where Ab was the mayor, for about 20,000 miles until 1943.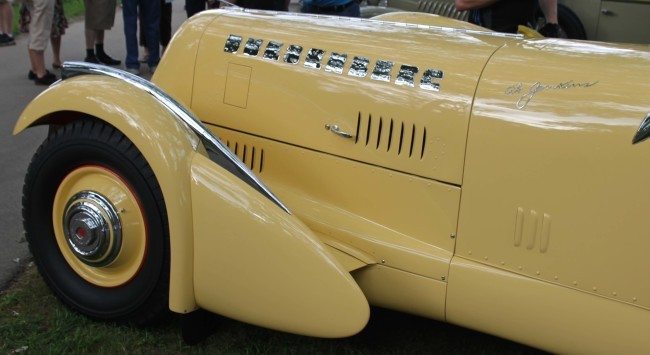 The car was kept in street form until 2004, when the family that had owned it since 1959 sold it at Gooding & Company's Pebble Beach Auction for a bit over $4 million dollars. The new owner, Mr. Yeaggy, had the car restored to its 1935 racing condition and has entered it in many fine concours, including the 2007 Pebble Beach Concours d'Elegance, where it also took Best in Show.
If you have a Duesenberg or another collectible you'd like to insure with us, let us show you how we are more than just another collector vehicle insurance company. We want to protect your passion! Click below for an online quote, or give us a call at 800.678.5173.

/* Event search Custom Code */