2017 Amelia Island Concours Announces Brumos Feature Class
Our gratitude to Hemmings Daily and Kurt Ernst for this article, and photos by our good friend Bill Warner, courtesy Amelia Island Concours d'Elegance.
Brumos Racing has been (mostly) inactive since the end of the 2013 season, but the name still strikes a chord with fans of sports car racing worldwide. Fittingly, given its proximity to Brumos's Jacksonville, Florida, home, the 2017 Amelia Island Concours d'Elegance will pay tribute to Brumos Racing with a special "Cars of Brumos Racing" class.
Brumos began as Brundage Motors, a Volkswagen dealership founded by Hubert Brundage in 1953. Originally based in Miami Springs, Florida, Brundage moved his operation north to Jacksonville by the middle part of the decade, becoming a distributor for Porsche in 1959. An avid amateur racer, Brundage claimed to be the first to race a Porsche automobile outside of Europe, and records show him campaigning a Porsche 356 as early as the 1953 season.
Brumos, the Telex contraction of BRUndage MOtorS, first appeared on a racing car at the 12 Hours of Sebring in 1960. In the early days, racing was a sideline and not a business, and though customer cars carried Brumos Racing Team lettering, there appeared to be little budget to mount a concerted effort.
In 1964, Brundage was killed in a motor vehicle accident, and the dealership was sold to friend and customer Peter Gregg in 1965. Gregg was, at the time, an amateur racer, but within a few years his skills would improve to the point that he was winning races on a regular basis. At a 1967 autocross event, Gregg met a talented young driver named Hurley Haywood. When Haywood delivered the fastest time of the day, the two struck up a conversation, and soon after, a friendship.
Haywood began crewing for Gregg, but his ambitions were to get behind the wheel of his own race car. Following Haywood's 21st birthday, Gregg gave him the opportunity to test at Roebling Road, and again Haywood bested his mentor, delivering a faster lap time in the same Porsche. Gregg reportedly hired Haywood as a driver on the spot, and the pair teamed up for the very first time at The Six Hours of Watkins Glen in July of 1969. Perhaps a sign of things to come, Gregg and Haywood delivered a class victory in their very first outing.
Then Haywood received his draft notice, halting his racing career for the next two years. Upon his return from Vietnam in 1971, Haywood picked up where he left off, and in just his third race back, helped to deliver a win for Brumos Racing with co-driver Gregg at a 300-mile race in Virginia in April of 1971. The pair became known as the "Dynamic Duo," and in 1973 scored wins at both the 24 Hours of Daytona and the 12 Hours of Sebring (despite a short-lived attempt at retirement by Gregg in January of 1973).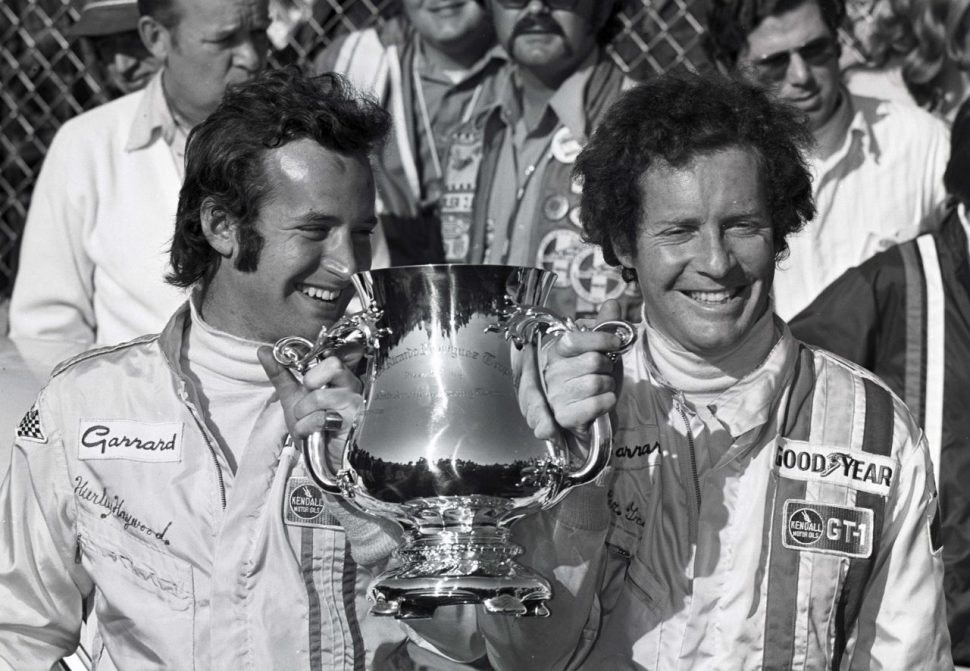 With Gregg and Haywood behind the wheel, Brumos Racing would go on to capture IMSA Championships in 1974, '75, '78, and '79, and Gregg would even take the Trans Am driver's championship in 1973 and 1974. En route to a practice session for the 1980 24 Hours of Le Mans, Gregg was involved in a road accident resulting in a concussion, one that left him with lingering vision problems. After a failed qualifying attempt for a Daytona race in November, IMSA revoked Gregg's racing license on medical grounds, and two weeks later Gregg took his own life.
For the next decade, Gregg's widow, Deborah Gregg, continued the operation of Brumos Motors, but the Brumos Racing operation was shuttered. In 1990, dealership general manager Bob Snodgrass teamed up with Jacksonville businessman Dan Davis to buy the business, and, ultimately, to return Brumos to its racing roots. It didn't take much to convince Haywood to return, and in 1991 the driver earned his fifth 24 Hours of Daytona win, again behind the wheel of a Porsche carrying the Brumos Racing logo.
In 1999, the Grand-Am Road Racing Association was founded, and Snodgrass was appointed as vice chairman of the series. When the Daytona Prototype class was introduced in 2003, Snodgrass demonstrated his support by fielding a pair of Brumos Porsche entries, and in 2010, Brumos ended the season as the only team to have run every Daytona Prototype race since the class's inception.
Snodgrass died in 2007, but Davis continued operations of the racing team. In 2009, Brumos finished first and third at Daytona (in the Prototype class), ending the season with a win at Homestead. Following the 2010 season, Davis made the decision to return the team to its roots, exiting the Prototype class to focus on campaigning a Porsche 911 GT3 in the GT class. It proved to be the right choice, as Brumos drivers Andrew Davis and Leh Keen took the 2011 GT class championship.
Despite a podium finish at Daytona (in Hurley Haywood's last race), the team struggled in 2012, finishing fifth in the GT class point standings. The following season (the last before the 2014 merger between Grand-Am and the American Le Mans Series) saw Brumos run a partial schedule, and at the end of the year Brumos ended its formal racing efforts. The team's colors returned on a Wright Motorsports entry for the 2015 24 Hours of Daytona and 12 Hours of Sebring, but the effort was largely a tribute to fans, and not a return to racing. In December of 2015, Field Automotive purchased the Brumos family of dealerships, and in March of 2016 the Brumos name vanished from Jacksonville, at least temporarily.
Davis retains the rights to the name, as well as a collection of team racing cars, and in 2017 plans to open a Brumos Collection Museum at a new facility in Jacksonville. Attendees of the 2017 Amelia Island Concours d'Elegance will get to see several of these cars on display, including a 1972 Porsche 917-10; a 1979 Porsche 935; a 2007 Riley Prototype; a 1971 914-6 GT; a 1986 Porsche 962; and a 1971 911S Trans-Am Car.
The 2017 Amelia Island Concours d'Elegance will take place on March 10-12. For additional information, or to purchase tickets, visit AmeliaConcours.org.
If you have a collectible you'd like to insure with us, let us show you how we are more than just another collector vehicle insurance company. We want to protect your passion! Click below for an online quote, or give us a call at 800.678.5173.

/* Event search Custom Code */