1929 duPont Speedster Wins Big at the Lake Mirror Classic
Saturday, October 17 was a big day in Lakeland, Florida. It was the 16th Annual Lake Mirror Classic Auto Festival, founded by Ford Heacock of Heacock Insurance Group. Over 720 cars were displayed, including 120 hand-selected vehicles in the Concours.
The Classic included "something for every auto enthusiast," including a new car show; Friday's hot rod rally; special club meet areas for Model As, Corvettes, Mustangs and exotic cars; and Saturday's Lake Mirror Classic Concours d'Elegance.
A new feature, sure to be repeated and replicated, was the "Auto-Biography." Six classic cars were featured on Friday evening and at the Concours on Saturday. One of them was a 1929 duPont 4-Place LeMans Speedster owned by Thomas L. duPont, Publisher of the duPont REGISTRY™. As a part of the program, Mr. duPont drove his automobile onto the awards ramp on Saturday and was interviewed by Ford Heacock and Bill Warner, Chairman of the Amelia Island Concours d'Elegance. Five other classics were also reviewed, including a 1929 Tracta, the 1930 Sampson Miller Indy Roadster, the 1933 "Eddie Hall" Bentley, a 1939 Mercedes benz 540K Roadster, and at the 1960 Cunningham Corvette from the Lance Miller collection.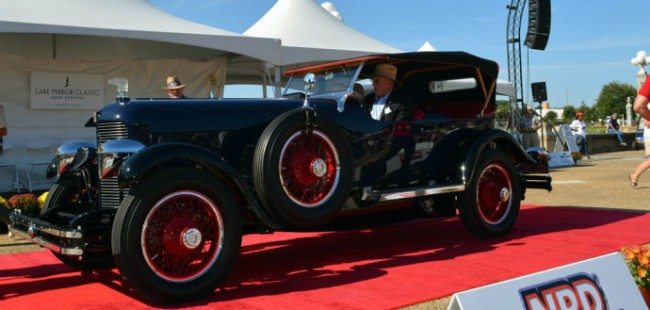 The afternoon was hardly over for Mr. duPont. While emceeing the parade of award winners, Ford Heacock stopped the process to make a special presentation. The prestigious Lee Iacocca Award was presented to Mr. duPont in recognition of his "Dedication to perpetuating the American Automotive Tradition."
Ford Heacock and Rick Schmidt from National Parts Depot, who sponsored this esteemed award, presented the plaque to Mr. duPont. In receiving this highly regarded national award, Mr. duPont said that he was aware of the distinguished roster of Lee Iacocca award recipients and he was humbled and honored to become a member of such an elite group. See the Lee Iacocca Award's website for more information.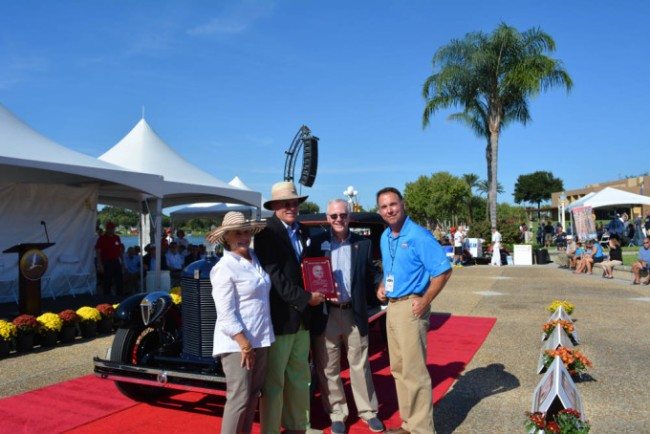 The final achievement of the day occurred when Mr. duPont's 1929 duPont 4-Place LeMans Speedster was awarded "Best in Show – Classic." The sleek dark-blue and black open roadster with red wheels made its third trip to the awards ramp to capture this prestigious award.
Mr. duPont remarked later, "It was a fabulous day — a true 'Auto-trifecta' that I will not ever forget. Congratulations to Ford Heacock and his team for putting on such a wonderful event. And, thanks for the opportunity for me – and my car – to be recognized in so many wonderful ways. A big thanks to all who came out on a warm, sunny Florida afternoon to enjoy another Lake Mirror Classic in downtown Lakeland, Florida. Happy Motoring!"
Full results and a great photo gallery are available at www.lakemirrorclassic.com.
If you have a show worthy or another collectible you'd like to insure with us, let us show you how we are more than just another collector vehicle insurance company. We want to protect your passion! Click below for an online quote, or give us a call at 800.678.5173.

/* Event search Custom Code */